VOTD: Matt Reeves Breaks Down A Key Scene From 'War For The Planet Of The Apes'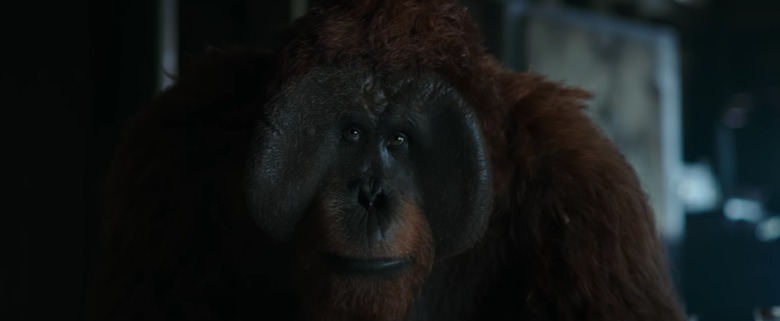 Even though we've been caught up in the craziness of San Diego Comic-Con since the middle of last week, we can't forget that just before the convention kicked off, some great movies hit theaters. One of those movies is War for the Planet of the Apes, which begs to not only be seen, but is good enough to see multiple times.
If you haven't seen War for the Planet of the Apes yet, maybe listening to director Matt Reeves break down one of the key scenes from the film will get you excited enough to see it right away. His passion for these characters is undeniable, his respect for the artistry that goes into bringing these apes to life is clear, and he points out subtle details that you otherwise might not have been privy to while watching the scene.
Here's the War for the Planet of the Apes scene breakdown from Vanity Fair:
Not only does Matt Reeves talk about the emotional beats that exist in this scene between Caesar (Andy Serkis), Maurice (Karin Konoval) and the human girl Nova (Amiah Miller), but he also gives a rundown of the various techniques they had to employ in order to have the apes brought to life by way of motion-capture performance. One particular trick involves actress Konoval wearing a blue screen backpack to fill space between her real body and that of child actress Amiah Miller, in order to complete the illusion of Maurice's size.
While it's east to just acknowledge impressive visual effects and move on, in something like War for the Planet of the Apes, it's even more impressive. A human performance comes through layers of visual effects to make you care for the apes. We're not talking about fake, glass-eyed characters from the likes of The Polar Express and Beowulf, but real performances that emote through those visual effects. As Reeves says, "The idea of the movie is to create emotional empathy and identification with apes so that, by the end of the movie, everybody watching the movie is an ape." War for the Planet of the Apes certainly succeeds at that, and you can see it for yourself in theaters everywhere now.