'Captain Marvel' Will Be A Prequel Set In The Early '90s, Samuel L. Jackson Confirmed To Co-Star [Comic-Con 2017]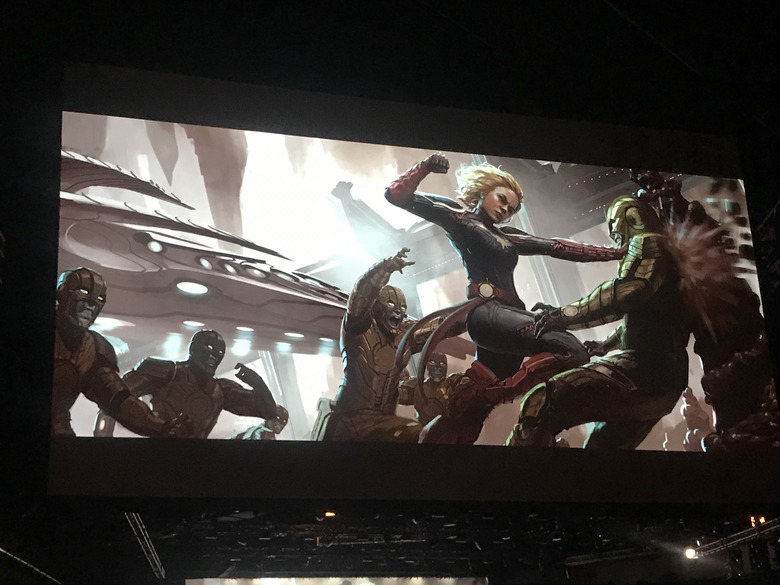 The Marvel Studios panel at Comic-Con 2017 couldn't feature footage from Captain Marvel (because it hasn't started filming yet), but it could reveal a number of tantalizing details about the Brie Larson-starring superhero movie due out in 2019. First, we learned that the rumors are true: Samuel L. Jackson's Nick Fury will play a role in the movie. Second, we learned something of a bombshell: the film will be a prequel, set long before the events of the first Marvel Cinematic Universe movies.
Marvel Studios president Kevin Feige dropped the news early in the panel. The details are vague, but here's what was revealed. Captain Marvel will take place nearly 20 years before the events of the original 2008 Iron Man. Feige said it will be set in the "early '90s," but did not specify a year or why it needs to take place in this time period. He also confirmed the return of Jackson, wryly noting that we will see both of Nick Fury's eyes in the film. So, in addition to introducing a new female superhero to the MCU, Captain Marvel sounds like it could supply an origin story for that famous eyepatch.
In another bombshell piece of news (at least for comic book fans), Feige revealed the villains of the new movie: the Skrulls will be coming to the MCU. In the pages of Marvel comics, the Skrulls are a devious alien race with green skin and shapeshifting abilities who have been waging war against their adversaries, the Kree, for generations. You may remember the Kree from Guardians of the Galaxy, which immediately ties Captain Marvel to the deepest, cosmic depths of the MCU.
While we haven't seen Brie Larson in costume yet, the panel did reveal the next best thing: concept art depicting the Oscar-winner in her suit, which is a fairly accurate take on the character's current comic book uniform. We also saw concept art featuring her punching some baddies in the face, along with an early look at some (very comics-accurate) Skrulls.
So, how does Captain Marvel figure into the MCU, especially since its a prequel? Will Larson continue to play the character in the future, not aging due to her powers? Honestly, these reveals raise more questions than anything, but they're questions we can't wait to see answered. Just when you think the MCU is falling into a familiar template, it takes a hard left turn.
Captain Marvel is directed by Anna Boden and Ryan Fleck and is set to open on March 8, 2019.