'Westworld' Season 2 Will Arrive In The Spring Of 2018 [Updated]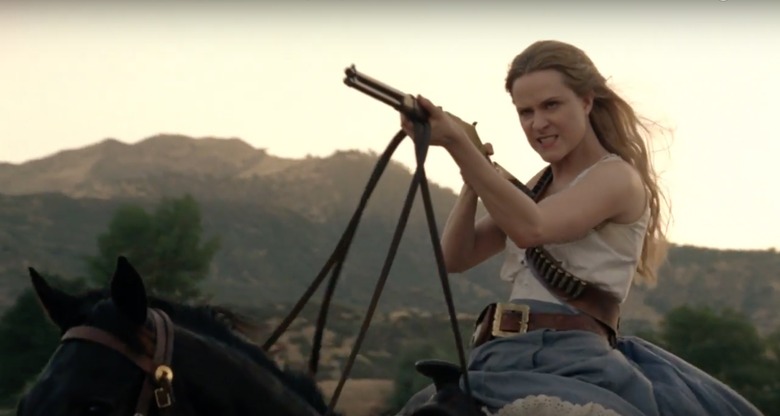 Update: Fresh off the first trailer from Comic-Con, HBO has announced that Westworld season 2 will arrive in the Spring of 2018. Not exact date has been given yet. Our original Comic-Con post, complete with the new trailer, continues below.
***
Westworld season 2 has only been filming for a week, but that didn't stop HBO's ambitious science fiction series from bringing a few minutes of footage to Comic-Con 2017. After a panel that was mostly about fun banter amongst the assembled cast and a steadfast refusal to comment on the upcoming second season in the slightest, it all wrapped up with a cryptic teaser and a release year.
As expected, the first trailer reveals that Westworld season 2 will arrive in 2018, but a specific date is not named. Since the first season took a full two years to create, it's likely that the show will return in the Fall of 2018, headlining the back half of HBO's year.
While there may not be too much in this trailer, it's appropriately cryptic and filled with beautiful, awful images that tell us a great deal about where this show is going in its second season.
As you may remember, the first season of Westworld concluded with Evan Rachel Wood's Dolores achieving consciousness and kickstarting a revolution against the humans who have used and abused the robotic hosts for so long. The finale cut to credits just as the massacre was getting started, but this trailer promises we'll see a lot more. In the trailer's best moment, we see Dolores and Teddy (James Marsden) riding down a few hapless Westworld guests, opening fire and taking no prisoners. How often do we get to see a full-fledged robot uprising from the machines' point of view? And Westworld is crafty enough to have us on their side.
There are other tantalizing images, of course. There's William, the Man in Black (Ed Harris), still alive after taking an injury in the finale but looking worse for wear. There's Bernard, looking lost as he stands over the corpse of a tiger (because who knows what else Delos is cooking up in the laboratories?). In one moment that will certainly make you go "Hmm," we see the head of security Stubbs (Luke Hemsworth) leading a convoy of security vehicles through the park, presumably heading out to put down the uprising. But why is Bernard in his back seat? Has he turned traitor and has decided to join the humans? Or is he going undercover, taking advantage of Stubbs not knowing his true identity?
The Comic-Con panel did not answer these burning questions...but it was certainly amusing to watch Ed Harris simply exist at Comic-Con. Also funny: Jeffrey Wright noting that he visited Reddit to explore fan theories, executive producer and showrunner Lisa Joy revealing that she obeys traffic Laws in Grand Theft Auto, and Ben Barnes claiming that "you won't know true terror or true joy" until you've ridden a horse naked.
But what about season 2? More specifically, what about those robot samurai? Executive producer and showrunner Jonathan Nolan would only say "Doesn't look like anything to me." Get comfortable, folks. Westworld season 2 is coming...but it's still a big mystery box.
Westworld was one of 2016's most pleasant surprises, an ambitious HBO epic that looks and feels ready to fill Game of Thrones' giant shoes as the network's flagship series. The dense mythology may recall the sprawl of that show, but the complex structure and reliance on fascinating (and frequently troubling) science fiction concepts also makes this the spiritual sibling to shows like Lost. The production of the first season was famously arduous, even shutting down at one point for some serious script retooling. Still, you can't argue with the results. Let's enjoy the mystery.