Ben Affleck Doubles Down On 'The Batman', Denies Rumors Of Leaving DCEU [Comic-Con 2017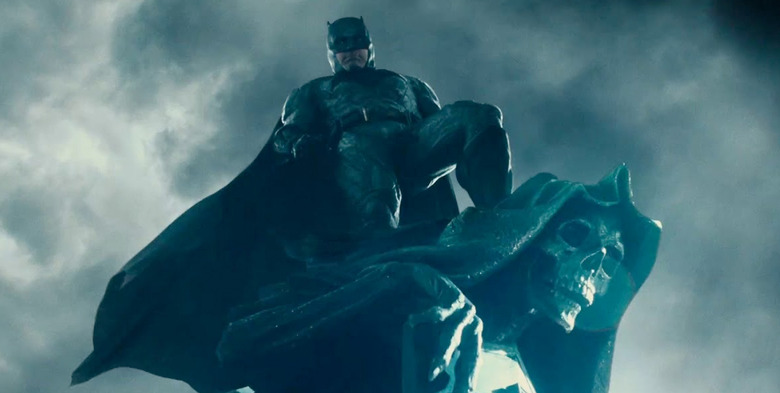 The internet has been awash in rumors that Ben Affleck was getting ready to hang up his cape as the Dark Knight of Gotham City and that Justice League would mark his final appearance as Batman. And even though we've heard similar stories through the grapevine, Affleck himself officially shot them down at San Diego Comic-Con today.
Ben Affleck joined other members of the Justice League cast on stage during the Warner Bros. panel and moderator Chris Hardwick (possibly looking to nip some mast Q&A questions in the bud) brought it up. Was Affleck done with The Batman? Would War for the Planet of the Apes director Matt Reeves have to find a new Bruce Wayne for the solo movie he's developing?
Affleck responded with a big ol' nope:
"I am the luckiest guy in the world. Batman is the coolest f***ing part in any universe. It's f***ing amazing and I still can't believe it after two films... And Matt Reeves doing it, I would be an ape on the ground for Matt Reeves. And I think you'll see why I'm so excited to be Batman."
Rumors of Ben Affleck leaving Batman initially began circulating shortly after the negative critical reception to Batman v Superman, gained more steam after he dropped out of directing the next Batman movie, and reached a boiling point when it became clear that Reeves was throwing out the screenplay Affleck had written with Geoff Johns. While there may have been hesitation behind the scenes, it seems like he's sticking around. For now.
Heck, maybe Affleck is being honest and Reeves is an exciting enough director to keep him in the cowl. Since Affleck was the highlight of Batman v Superman and Reeves is an astonishing talent, these two sticking together could make for something special.
Warner Bros. Pictures certainly isn't hesitating to keep the hype for this movie going strong as The Batman was one of several title cards included in their sizzle reel of upcoming projects, appearing alongside Suicide Squad 2, Justice League Dark, Batgirl, Green Lantern Corps and Wonder Woman 2. So for now The Batman is on track to keep moving forward and Ben Affleck will suit up as The Dark Knight yet again. We'll be sure to keep you updated as the project develops.