'Teen Wolf' Isn't Even Done Yet, And MTV Is Going To Reboot It As...a Podcast? [Comic-Con 2017]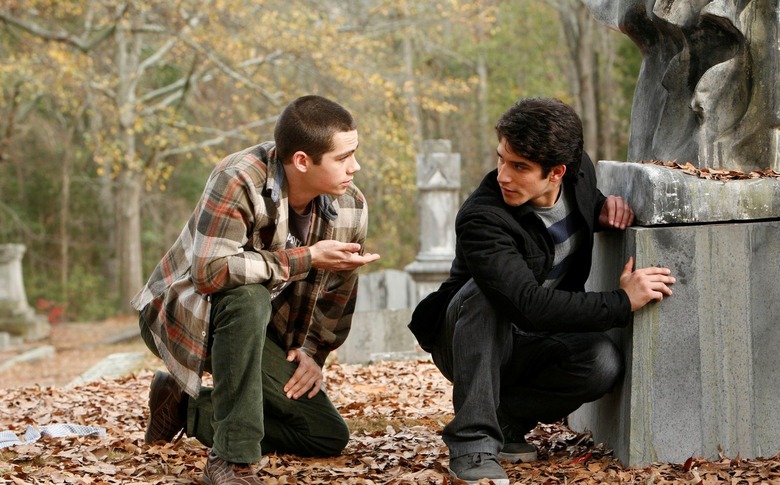 MTV's television reboot of Teen Wolf hasn't even shed its claws yet, and the cable network is already looking to reboot it again...but this time as a podcast. Um, what?
You read that right: Teen Wolf, which itself was a gritty TV reboot of a 1985 camp classic film starring Michael J. Fox, is facing another transformation into an anthology series and a continuation of the current series in podcast form.
The supernatural series was one of MTV's flagship television shows, an essential part of its pivot into scripted dramas. So it makes sense that the former music network wouldn't want to let go of its cub. But it's barely weeks before Teen Wolf airs its final 10 episodes and MTV is already discussing a new version of it.
According to The Hollywood Reporter, the cable network is in early talks with creator and showrunner Jeff Davis to turn Teen Wolf into an anthology series with a largely new cast, some returning members, and a new setting.
But Davis and MTV want to continue the current story surrounding Scott McCall (Tyler Posey) and his pack, including best friend and fan favorite Stiles Stillinski (Dylan O'Brien), in podcast form after the series wraps this summer.
MTV president Chris McCarthy told The Hollywood Reporter:
"These characters and these stories have hit a peak. We are talking with Jeff about how do we actually keep that franchise alive. And the beauty of the evolution of media is you can see the series going on through a series of podcasts and then see a resurrection of a new class in a couple years."
In a way, McCarthy is right that the stories have hit their peak — the majority of the cast is nearly in their 3os and can no longer be comfortably called "teens." Lead and titular "Teen Wolf" Posey is now 25.
As someone who watched Teen Wolf way past its expiration date (honestly, the show went downhill after Crystal Reed's Allison died), this may actually be a good step for MTV. They're obviously unwilling to let go of the Teen Wolf brand, and if they need to keep milking that cow, it may as well be through an anthology series where they can explore new concepts and new monsters every season without worrying about continuity or dumb character choices. With an uncharismatic new generation introduced a few seasons ago who have trouble standing out alongside the original cast, the show has become tedious to watch, and bogged down by shaky mythology. It would be good to start afresh. Besides, the promising show that Teen Wolf could've been (and almost was in the first two seasons) was already done in Buffy the Vampire Slayer.
And what of the podcast, which will presumably keep the characters of the original series alive, but without the obligations of the actors? It's a radical concept, but McCarthy is confident that the podcast can be used to help phase in the future reboot:
"How do we keep this franchise alive in podcasts, in the spirit of Serial, and then how do we actually reboot an entire new class? Because the heart of MTV is around these timeless issues of young people and coming of age, but the timely piece will be the whole new cast, new set of issues and stories to explore through them. With Teen Wolf, we have such a beautiful gem. And when you have a creator like Jeff that is such an amazing partner and the fan base that is hungry for more, we're crazy not to."
See the Comic Con trailer for Teen Wolf's season 6B here:
Teen Wolf premieres its final episodes on July 30 on MTV.