'Pacific Rim Uprising' Teaser: John Boyega Recruits New Jaeger Pilots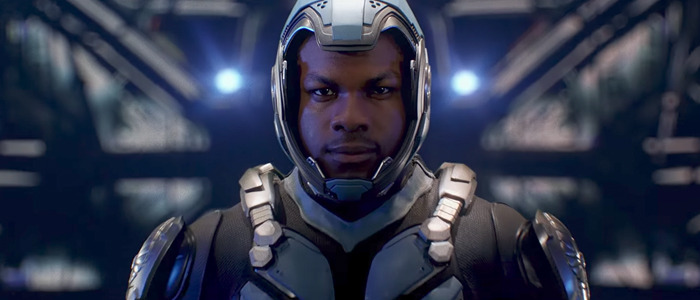 Guillermo del Toro's 2013 kaiju vs. robots movie Pacific Rim had a reported $190 million budget, but only earned $101 million at the domestic box office. Thankfully for fans of the film, it ended up making $411 million worldwide because international audiences ate it up, and after some intense number-crunching by the studio, a sequel was eventually given the green light.
Now, four years later, the first teaser trailer for Pacific Rim Uprising has arrived, and it features a quick appearance by star John Boyega. Check it out below.
Pacific Rim Uprising teaser
As you can see, there's not too much real footage from the movie, but instead more of a recruitment video that re-introduces us to the concept of jaegers. Looks like Boyega is piloting the new Gipsy Avenger, but we still aren't sure if that's a repurposed version of the first film's Gipsy Danger or if it's a brand new upgraded model that used Danger as an inspiration for its design.
We don't know much about the plot of Pacific Rim Uprising yet, but we do know that Boyega plays Jake Pentecost, the son of Idris Elba's Stacker Pentecost; Stacker was the leader of the army in the last film who famously vowed to "cancel the apocalypse." It seems like Boyega's character will be at the forefront this time around since Charlie Hunnam won't be back to reprise his role as Jaeger pilot Raleigh Becket, and the younger Pentecost will presumably be teamed up with Scott Eastwood (who's currently neck and neck with Jai Courtney for the title of Hollywood's blandest leading man). How Eastwood could ever be drift-compatible with someone as charismatic as Boyega, I'll never know.
Guillermo del Toro, who directed the first film, initially planned to direct the sequel as well, but when the studio wanted to put the movie on a nine month hold, del Toro stepped back into a producing capacity instead and went off to make The Shape of Water instead, choosing Daredevil showrunner Steven S. DeKnight as his directorial replacement on Uprising.
Boyega and Eastwood will star alongside Cailee Spaeny and Jing Tian in a story of a new generation of Jaeger pilots who represent humanity in the fight against massive kaiju monsters. Rinko Kikuchi (jaeger pilot Mako Mori), Charlie Day (the very Charlie Day-esque Newt Geiszler), and Burn Gorman (the constantly-flustered Dr. Hermann Gottlieb) are all coming back to reprise their roles from the first movie.
Pacific Rim Uprising hits theaters on February 23, 2018.