Darren Aronofsky's 'Mother!' Trailer Attached To Some 'Dunkirk' Screenings, Movie Gets A New Release Date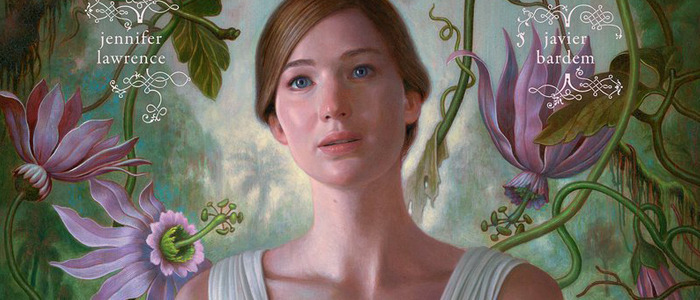 Here's a cool bonus for some of you who are heading out to see Dunkirk tonight. The first trailer for mother!, the new horror thriller from director Darren Aronofsky (Black Swan), has debuted in front of select screenings of Christopher Nolan's epic World War II film. The trailer doesn't appear to be online yet, but you can read a brief description of it below and find out the film's brand new release date while you're at it.
A reader first told us that a mother! trailer played before an IMAX screening of Dunkirk in New York City's AMC Empire 25 tonight, and we've also corroborated reader reports of the trailer playing in least two other locations in NYC: AMC 34th Street and Regal Union Square. No word yet on any other theaters in the country, but we'll be keeping our ears open. We've also confirmed that the mother! trailer is not attached to every print of Dunkirk, so it looks the studio might be zeroing in on a specific market here.
They say that the trailer features no actual footage from the movie and is instead mostly a black screen with words appearing on the screen, all cut to audio from the film. The trailer ends with a reveal of the movie's new, earlier release date: September 15, 2017. (The movie was originally set for an October 13, 2017 release date.) It'll now face off against the survival thriller Alpha and the ensemble action film American Assassin at the box office, so hopefully audiences won't make their choices about what to see based solely on the title's alphabetical placement that weekend.
We haven't seen the trailer arrive online, so it's unclear whether Paramount is holding it for an exclusive run in theaters or whether they'll be dropping it online at any minute. David Fincher did a similar thing for The Curious Case of Benjamin Button and that trailer wasn't released online until weeks later, so maybe that's the plan here. One thing's for sure: since the studio is skipping San Diego Comic-Con this year, it won't be surprising Hall H audiences during a presentation at the fan convention this week.
Aronofsky wrote the screenplay for mother! in addition to directing, and his movie follows "a couple whose relationship is tested when uninvited guests arrive at their home, disrupting their tranquil existence." It stars Jennifer Lawrence, Javier Bardem, Michelle Pfeiffer, Domnhall Gleeson, Ed Harris, and Kristen Wiig. We also know that Jóhann Jóhannsson will compose the score, and his work on films like Sicario and Arrival has me incredibly excited to see what his collaboration with Aronofsky will yield.
Let us know if you've seen the new mother! trailer below. If you can give us any more information about it, feel free to leave it in the comments. Here's the film's provocative poster: