'Kingsman: The Golden Circle' Red Band Trailer: Time For Some Culture Shock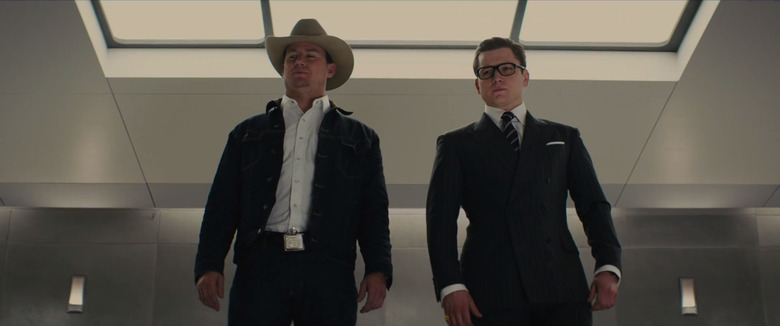 Everyone's bleeding in red, white, and blue in Kingsman: The Golden Circle.
The over-the-top, gratuitous violence that we knew and loved in 2014's Kingsman: The Secret Service is back and raring to go in the new red band trailer for its sequel, which sees Taron Egerton return as Eggsy, who clashes with crass American Statesman, lead by Channing Tatum and Pedro Pascal. And a beloved character from the first film makes a surprising return.
Well, it seems Kingsman isn't holding back on spoilers, even in its thumbnails for the red band trailer. Yes, that's Colin Firth's Harry Hart, returned from the dead with a pretty cool-looking sunglasses eye patch. But his return is not even the most explosive part of this trailer. First, there's Julianne Moore's smooth-talking villain blowing up and offing the Kingsman one by one, until only Eggsy, Merlin (Mark Strong) and Roxie (Sophie Cookson) are left behind in "a bit of a save-the-world situation." Forced to team up with the brash, lasso-wielding American Statesman lead by Tatum and Pascal, with technical help from Halle Berry, the two teams deal with a clash of cultures — violently.
But the best part of this trailer, other than Pascal's injured defense of his awesome lasso weapon, is the fact that the American agents are named after types of alcohol because of course they are. Tatum is Agent Tequila, Jeff Bridges is Agent Champagne, and Pascal is Agent Whiskey. I love everything about this movie already.
"Kingsman: The Secret Service introduced the world to Kingsman – an independent, international intelligence agency operating at the highest level of discretion, whose ultimate goal is to keep the world safe. In "Kingsman: The Golden Circle," our heroes face a new challenge. When their headquarters are destroyed and the world is held hostage, their journey leads them to the discovery of an allied spy organization in the US called Statesman, dating back to the day they were both founded. In a new adventure that tests their agents' strength and wits to the limit, these two elite secret organizations band together to defeat a ruthless common enemy, in order to save the world, something that's becoming a bit of a habit for Eggsy..."
Kingsman: The Golden Circle is helmed by returning director Matthew Vaughn, with a screenplay written by Jane Goldman and Vaughn. The story is based upon the comic book by Mark Millar and Dave Gibbons.Kingsman: The Golden Circle hits theaters September 22, 2017.