'Only The Brave' Trailer: Joseph Kosinski Tells The Story Of The Granite Mountain Hotshots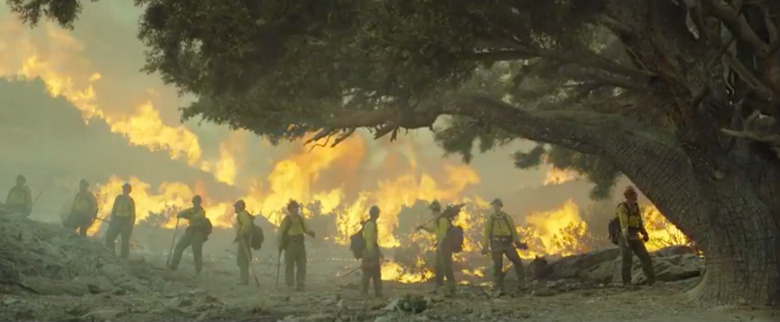 Joseph Kosinski's first two films, Tron: Legacy and Oblivion, lived in fantasy land. Both science-fiction movies showed what a precise eye he has, with smooth camerawork and stunning compositions. He's crafted two lavish, visually appealing films, which, dramatically, sometimes leave more to be desired. The director is taking on more dramatic material with his next feature, Only the Brave, based on the true story of the Granite Mountain Hotshots.
Below, watch the Only the Brave trailer.
The Granite Mountain Hotshots are a group of brave firefighters based in Prescott, Arizona. In the summer of 2013, the team fought the Yarnell Hill fire, which led to the death of 19 crew members. In a community of over 600 people, 200 homes were lost. Kosinski's film tells the story of the Granite Mountain Hotshots' bravery and struggle. Ken Nolan (Black Hawk Down) and Eric Waren Singer co-wrote the Lorenzo Di Bonaventura-produced (Transformers) movie.
Josh Brolin is portraying the superintendent of the Granite Mountain Hotshots, Eric Marsh, while Miles Teller is playing Brendan McDonough. Kosinski told GQ he cast those roles first, as the story is told from their perspectives. Only the Brave, which was previously titled No Exit, co-stars Jeff Bridges, Jennifer Connelly, James Badge Dale, Taylor Kitsch, and Andie McDowell.
While Kosinski's last two movies aren't particularly emotional (which is fine for what they are), Only the Brave is clearly a far more human story for the filmmaker. He seems be honoring the Granite Mountain Hotshots, not making a thriller or an action movie out of what happened, as early trade reports indicated.
Kosinski wanted to make his depiction of the events depicted feel real, so as he explained to GQ, all involved did as much in-camera as possible for the film:
My approach was really to try to get as much in camera whenever possible, and try to shoot real fire whenever possible, and to shoot the movie on location as much as possible. There's very, very little stage work and almost no blue screen in this movie. It was shot in New Mexico, outside of Santa Fe. We shot with real fire whenever we could do it safely. We did build a forest on a backlot, which was lined with propane, so we could have a controllable forest fire that we could turn on or off. That proved very useful for certain sequences. But the overall philosophy was to make it as real as possible.
Next up for the filmmaker is the sequel to Top Gun. He's completed Only the Brave, which he's already shown to some family members of the Granite Mountain Hotshots. "Of all the opinions on a film, [the family members' reaction] is one that truly matters to me on the deepest level," he said. "And so far, every reaction I've gotten from the family members is that we did our job."
Here's the official synopsis:
All men are created equal... then, a few become firefighters. Only the Brave, based on the true story of the Granite Mountain Hotshots, is the heroic story of one unit of local firefighters that through hope, determination, sacrifice, and the drive to protect families, communities, and our country become one of the most elite firefighting teams in the country. As most of us run from danger, they run toward it – they watch over our lives, our homes, everything we hold dear, as they forge a unique brotherhood that comes into focus with one fateful fire.
Only the Brave opens in theaters October 20.