New 'Game Of Thrones' Trailer Reveals The Return Of A Major Player [Comic-Con 2017]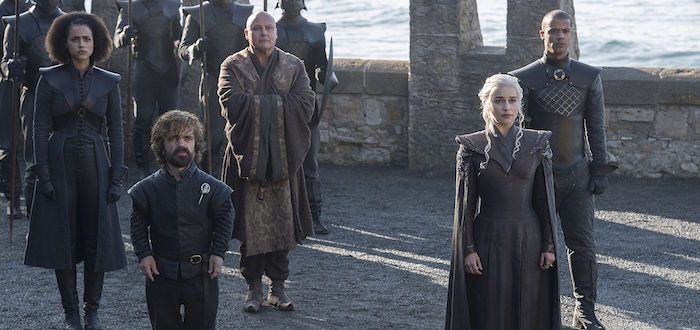 Due to a shifted production schedule, this year's Game of Thrones Comic-Con panel arrived at a very interesting time. Season 7 of HBO's fantasy drama (arguably the most popular show in the world) was still airing as members of the series' cast assembled at the front of Hall H to talk about all things Westeros, a first for the show.
And because there was nothing gigantic to reveal beyond a brisk look at the episodes ahead (teasing the return of a major character), the panel was just an extended riffing session, with the various actors cutting loose, goofing off, and spitballing about various aspects of the show.
The panel kicked off with the ultimate fan service: the reveal that Kristian Nairn, the actor behind the dearly departed Hodor, would be moderating the panel. After stepping behind the microphone (and offering the crowd a well-received "Hodor"), Nairn introduced the panel: John Bradley (Samwell Tarly), Nathalie Emmanuel (Missandei), Liam Cunningham (Ser Davos), Sophie Turner (Sansa Stark), Jacob Anderson (Grey Worm), Conleth Hill (Varys), Alfie Allen (Theon Greyjoy), Gwendoline Christie (Brienne of Tarth), and Isaac Hempstead-Wright (Bran, or as Nairn described him, "a monkey on my back for six years"). 
The ensuing panel was short on details about the new season beyond a quick preview of upcoming episodes, but it was long on cute banter amongst the cast. But first, what did we see in the new footage that was screened?
The New Trailer
Much of the footage is intentionally vague, but there are a few tantalizing images and lines of dialogue. In-between shots of characters looking concerned and determined, we see Jon Snow's allies encouraging him to make use of Daenerys' dragon fire to fight the White Walkers, Euron Greyjoy marching triumphantly through a city, and, in the preview's only huge revelation, the exiled Melisandre meeting with Daenerys in the Dragonstone throne room.
The red priestess tells the Mother of Dragons. "I believe you have a role to play, as does another." Fans have long-speculated that Daenerys is the "prince that was promised" and will fulfill Melisandre's prophecy, but who could the other be? Jon Snow? Or another character whose destiny has led them to this point? The new theories about Sandor Clegane, reshaped by fire and heading toward the Wall, will only ignite further speculation from the show's rabid fanbase.
The Panel
Nairn kept the panel loose and informal, lobbing softballs that really felt like an chance for the cast to riff. Let's run through the highlights.
On the subject of Brienne and Tormund eventually hooking up, Christie explained that Brienne doesn't need a man, but she wouldn't be opposed: "Who doesn't love being appreciated as [a woman and a warrior]? Underneath any awkwardness is a potential secret enjoyment." However, Christie went on to explain that Brienne is driven by her uniquely feminine perspective. "The relationship between Brienne and Catelyn Stark is a moment where she recognized strength in a woman," Christie said. Brienne no longer had to force her path to follow a "mold of masculinity" to develop a moral compass.
Cunningham quickly proved himself to be the panel's MVP, joking that that first Game of Thrones spin-off would be called Better Call Davos. Would the Onion Knight actually make good on his threat to kill Melisandre if he saw here again? "I don't think he's the vindictive type," Cunningham mused, saying he wouldn't hunt her down. But if he just saw her walking down the road? That's a different story: "I think there's a good chance he'd whip out a Glock and pop a couple caps in her ass." Jokes aside, Cunningham explained that he loves Davos because he's so simple and "doesn't have the addiction for the horrible drug that is power."
Sophie Turner spoke about Sansa's transformation from the innocent and naive girl of season 1 to the toughened survivor of the current season. She has no need for love or a relationship at the moment, Turner noted. "She trusts no one, whether it be family member or not, men or woman," she said. "I think that's important when you play the game of thrones." Turner also explained that she's learned an awful lot from the men who have manipulated her over the years: "...She's been silently absorbing and learning and adapting. In my opinion, she's just as good at playing the game as [Littlefinger] is at this point."
The biggest "aww" moment of the panel came from John Bradley, who explained that Sam's status as an outsider has ultimately revealed a more important lesson. He didn't fit in at home, at Castle Black, or at the Citadel, but he now has Gilly and the baby in his life. And they matter more. "Being loved by two people is [more important] than being accepted by hundreds," he explained.
If you're wondering what the sorcerer said to Varys many years ago, Conleth Hill can't help you...but he does know that the red priestess reminding him of this moment did shake the usually unshakable Spider. "Because she was cray," Hill deadpanned. And maybe because of this, he thinks Varys is doomed. "Oh God, I'm going to be holding the door for someone," he said to big laughs.
Game of Thrones season 7 premiered last week to record-breaking numbers, proving that interest in the Seven Kingdoms and its many doomed citizens keeps on expanding as the series marches toward its endgame. The first new episode in over a year was the show at its best – expansive, character-driven, brutal, and unafraid to put characters (both beloved and loathed) through the wringer. And to be perfectly honest, it's always a delight to see the cast speak about their work in real life. Not only because they are a charming bunch, but because it's a nice reminder that they not being regularly tortured and hunted and forced to make morally complex decisions with life-and-death consequences in real life.Game of Thrones season 7 will air on Sundays on HBO throughout the rest of the summer.