HBO's 'Winter Is Here' Exhibit Invites You Into 'Game Of Thrones' [Comic-Con 2017]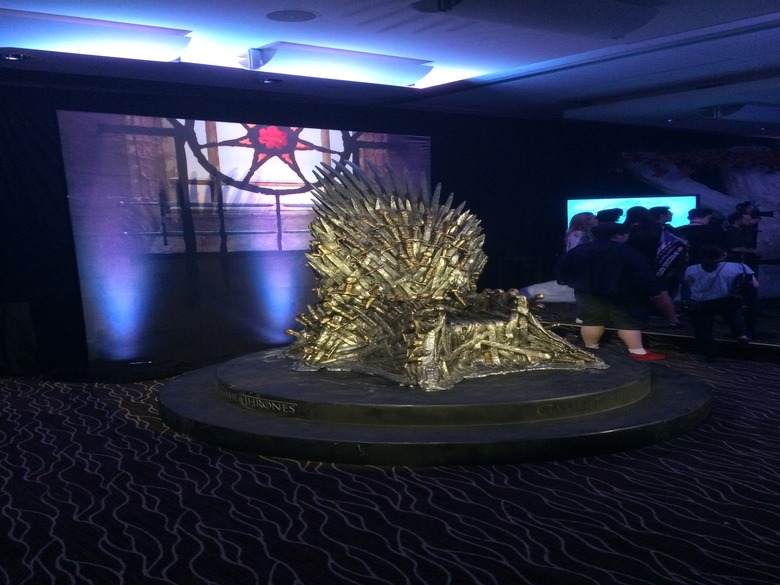 It may be warm and sunny in San Diego, California, but winter is here. Or at least, a Westeros winter is here, a season that promises to be long and deadly and dark (and full of terrors, both literal and metaphorical).
At least, that's the angle of "Winter is Here," a special Game of Thrones-themed "environment" that HBO has brought to Comic-Con 2017. Once you enter the ordinary looking building with some seasonally inappropriate frosted windows, you are transported to a world of dragons, thrones, and White Walkers. And maybe a very long wait. But hey, this is Comic-Con. That's just part of the package.
Let's just make one thing clear right away: If you're a Game of Thrones fan, this exhibit is surely going to make you happy. Upon entering, you are given an RFID wristband (decorated with some White Walker-killing Dragonglass, naturally) and step under a large stone archway. Suddenly, you find yourself in Winterfell. Or rather, an environment themed to look like House Stark's Great Hall. You (and a few friends, if you're with a group) can take a seat behind the same table where the leaders of the North have always sat and, with a camera trained on you, footage from the show will declare you the "King in the North." The resulting clip, which blends scenes from the series with footage shot of you right then and there, is sent to your RFID wristband, giving you an amusing little clip to share with your friends.
As you wait, a monitor lets you watch everyone in front of you try on their best Jon Snow. Some took it very seriously. Others saw this as a grand opportunity to just goof off. The experience is what you make it.
From there, the line twists past a Weirwood tree and into Dragonstone, where the snazzy new uniforms worn by Tyrion Lannister and Daenerys Targaryen are on display. Nearby, a giant table snapped like the Seven Kingdoms (the same one Stannis used to plot his war before losing his head) is on display, complete with large markers representing the various houses. If you're a total dork, you'll probably re-arrange them to sit in their proper territories. The OCD nerd in me just couldn't deal with the House Tyrell marker being in Baratheon turf.
But these are just distractions, things to keep you occupied, until you get to the room's main event: a chance to sit on the Dragonstone throne and pose like a Serious Ruler or a big goofball. Your choice.
So yeah, these fun environments ultimately boil down to a series of photo ops. The next room is King's Landing, where you can sit on the Iron Throne. The most unique of the bunch comes after that, where a swirling camera will capture you swinging weapons (as dramatically or as ridiculously as you like) while surrounded by a mural of White Walkers. This is certainly the most ambitious stop on your tour of Westeros and there's amusement to be had in just watching the simple but very cool camera rig do its job.
Finally, the tour ends at the Wall, where you (standing amongst a whole bunch of artificial snow) can "battle" White Walkers in a very simple arcade-y game that feels a bit like Fruit Ninja...but with ancient necromancers instead of bananas and apples.
Reading this description probably gives you an idea of whether or not this environment is something that will appeal to you. The diehard Game of Thrones fans at Comic-Con (and there's a whole bunch of them) will find a lot to treasure. Non-fans who inexplicably wander in will have a really bad time. During preview night, the line was slow-moving at best and those of us who attended solo had to do a whole bunch of Twitter-checking to pass the time as we inched toward the next room.
So while I recommend "Winter is Here," I do so with two caveats: don't brave the line unless you're a proper Game of Thrones fanatic willing to devote a lot of time to a series of cool photo ops that place you in iconic locations throughout the series and, if possible, bring a friend or two to provide conversation while you wait.
"Winter is Here" is located across the street from the Omni Hotel and is open to anyone with a Comic-Con badge. Here are the hours:
Thursday July 20 – Friday, July 21

from

11:00 a.m. – 5:00 p.m. PST
Saturday, July 22

from

10:00 a.m. – 5:00 p.m. PST
Sunday, July 23

from

9:00 a.m. – 1:00 p.m. PST