Tour 'The LAIKA Experience' With Our Gorgeous Photo Gallery [Comic-Con 2017]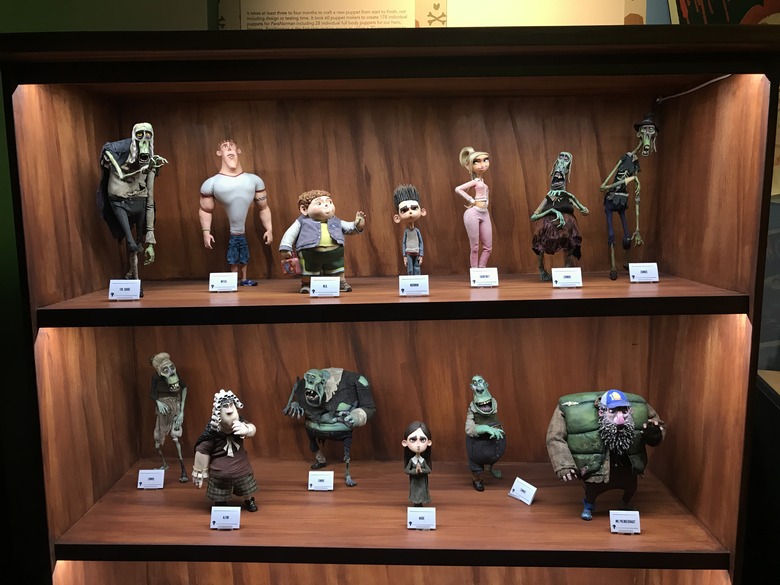 Comic-Con doesn't officially kick off until tomorrow (although it unofficially kicks off tonight with all kinds of previews and off-site presentations), but everyone in San Diego can already get a little taste of some cinematic magic. LAIKA, the stop-motion animation studio behind films like Coraline, ParaNorman, The Boxtrolls, and Kubo and the Two Strings has set up shop in the Gaslamp District, offering a walkthrough mini-museum showing off puppets and sets from their movies.
And while you don't have to be a Comic-Con badge holder to check out The LAIKA Experience, not everyone can be in San Diego. But we've got you covered. We checked it out and we returned with photos. Lots and lots of photos.
If you do happen to be in San Diego, here are the remaining hours when The LAIKA Experience will be open to the public:
Thursday, July 20

:

11:00 AM to 11 PM
Friday, July 21

:

11:00 AM to 11:00 PM
Saturday, July 22

:

11:00 AM to 11:00 PM
Sunday, July 23

:

10:00 AM-6:00 PM
But everyone else can peruse the gallery below (photos are by our own Peter Sciretta and Ethan Anderton) to get a taste of what the experience is like. These puppets and models are stunning in action on screen, but they're equally stunning when they're static and just on display behind glass. The level of detail and artistry put into the characters and their world is unreal.
If you happen to in San Diego for Comic-Con (or because, you know, you live in San Diego), The LAIKA Experience is worth a wait in line. As impressive as CG-animated movies are these days, there's just something downright magical about what this studio is doing. Being able to see actual, physical pieces like this is a reminder of why stop-motion is such a special medium.
Oscar®-winning animation studio LAIKA, creators of Coraline, ParaNorman, The Boxtrolls and Kubo and the Two Strings, brings its pop-up exhibit The LAIKA Experience to the heart of San Diego's Gaslamp Quarter from Friday, July 14th to Sunday, July 23rd.  Admission is free to the exhibit, which will feature props, puppets, monsters, and sets from LAIKA's award-winning films as well as fan art, a photo/GIF booth with LAIKA characters, daily drawings for a pair of Nike's LAIKA-themed shoes designed by Tinker Hatfield, social media activations, LAIKA merchandise offered for sale (including a new limited edition Coraline doll and display case), giveaways, and more.  In addition to the pop-up exhibit, LAIKA's walkaround costumed characters will appear at various locations in the Gaslamp Quarter for fan interaction and photos.
Travis Knight, President & CEO of LAIKA and director of Kubo and the Two Strings, will autograph merchandise purchased at the exhibit on Friday, July 21st at 3pm.
The LAIKA Experience, the innovative and interactive pop-up event, will be located at 520 Fifth Avenue and will feature an up-close look at the artistic detail and imagination behind LAIKA's groundbreaking films, all of which have been nominated for Academy Awards® and numerous other honors. The exhibit will showcase the evolution of the studio's unique blend of handcrafted stop-motion animation and visual effects magic in four imaginatively themed rooms inspired by each of LAIKA's films. The extensive display of original sets, puppets and props will immerse guests in LAIKA's fantastical worlds.
"LAIKA's films are a unique fusion of art, craft, science, and technology, commingling cinema's history with the future of film. But our techniques are often shrouded in mystery," says President & CEO Travis Knight.  "The LAIKA Experience offers a rare opportunity to peel back the curtain, giving fans an immersive, up-close look at our process, characters, worlds, and dreams made manifest."
"At LAIKA we're thrilled to take our 'act on the road'," says Brad Wald, CFO and Senior Vice President of Business Operations.  "Past LAIKA exhibits at Universal Studios and the Japanese American Museum  have been fan favorites and proved very successful in launching our new consumer products initiative, leading us to bring several 'exclusive' items with us to San Diego.  All of these exhibits, including a major eight-month long retrospective at the Portland Art Museum starting this October, are a direct response to our global fans clamoring to see more LAIKA in the marketplace. We're thrilled to bring LAIKA directly to them where they can connect with the studio in a more intimate way."