Get A First Look At Lando Calrissian On The Set Of The Han Solo Spin-Off [UPDATED]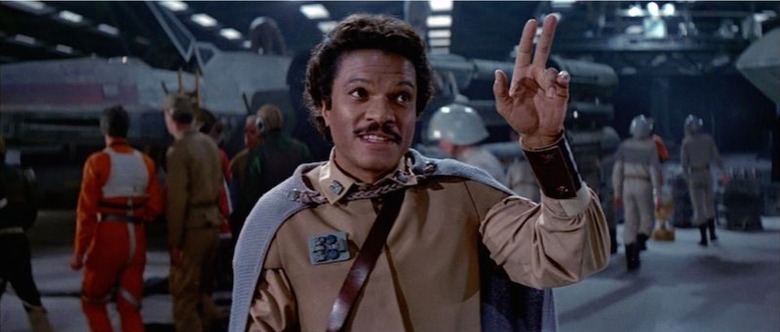 Update: Ron Howard has shared another image from the set, showing off another cool image that will delight Star Wars fans. Check it out below.
Production is back underway on the Han Solo spin-off that marks the next installment of the A Star Wars Story franchise films that are being released between milestone episodes of the Star Wars saga. Ron Howard stepped up to replace directing duo Phil Lord and Chris Miller, and now that the Apollo 13 and A Beautiful Mind director is hard at work on set, he's showing fans a little glimpse behind the scenes.
So far there hasn't been much to see on the set as Lucasfilm is still playing things pretty close to the vest while in production on the movie that has fans worried following the creative differences between Lucasfilm president Kathleen Kennedy and executive producer Lawrence Kasdan and the aforementioned departed directing duo. But today, Ron Howard shared a behind the scenes photo that finally gives us our first look at Donald Glover (or maybe his stand-in) as Lando Calrissian.
Ron Howard posted our first young Lando photo to his Instagram account:
That's Ron Howard with a Lucasfilm hat on, but it's the background you'll want to pay close attention to: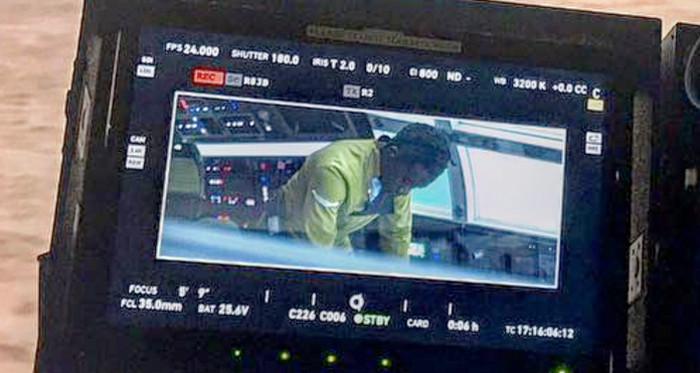 That appears to be Donald Glover on the monitor as Lando Calrissian, sporting a yellow jacket, and it looks like the jacket or the shirt under has a flap similar to clothing designs we've seen on both Han Solo and Luke Skywalker at some point in the Star Wars saga. Sadly, he's not wearing a cape as we've become accustomed to seeing on Lando Calrissian. But that doesn't mean we won't see Donald Glover looking glorious in a space cape at some point.
Ron Howard posted this photo a week ago featuring a look at the wardrobe of a certain character:
#UntitledHanSoloMovie Care to guess whose closet this is?
A post shared by RealRonHoward (@realronhoward) on
That's a whole line-up of bright and flashy clothing that Lando Calrissian would absolutely be comfortable wearing. That's a lot of wardrobe changes though. Will we really see Lando in all those different pieces of clothing? It's not out of the realm of possibility, and it would certainly make for quite the assembly of action figures.
So far, this is the only look we've gotten at Donald Glover as Lando Calrissian. We haven't even gotten a look at our main character from the set yet (at least not from official channels anyway) and it might be awhile before we get a better glimpse since the untitled Han Solo movie, since it's not slated to arrive until May 25, 2018. After all, we still have a whole other Star Wars film to get excited about in the meantime.
Update: Ron Howard took to Twitter to share a very cool image from the set, saying "Hyperspace is real. My first experience. Wow." And while it's not literally real, it is being created through a practical, old-school effect.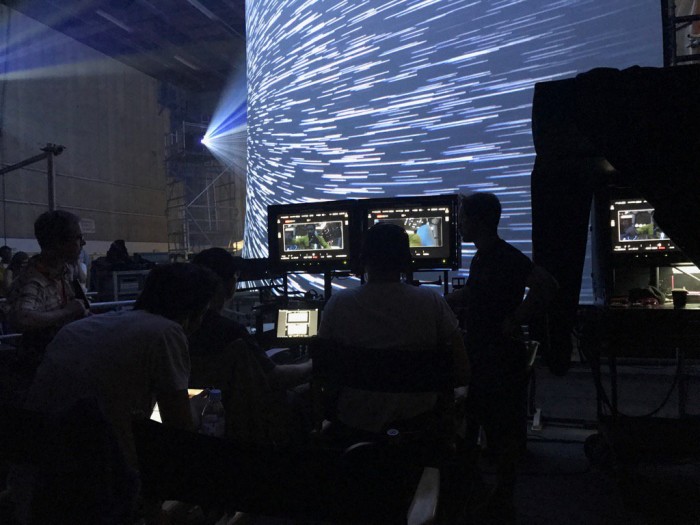 Note: A previous version of this story said Donald Glover was in the photo, but the possibility has been floated that it may just be the actor's stand-in as Ron Howard gets a shot ready. Since we're not sure, we mentioned that possibility in the story.