'Justified' Star Walton Goggins Joins The Cast Of 'Ant-Man And The Wasp'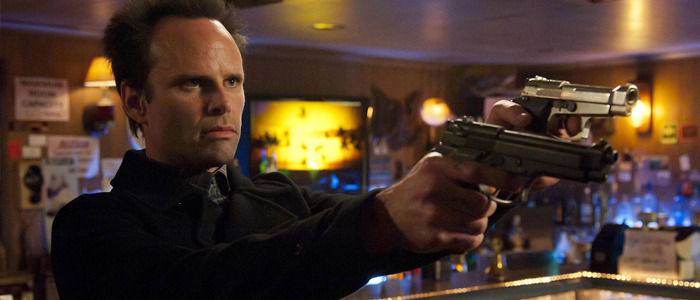 Did the Marvel Cinematic Universe just find a fun new villain? Actor Walton Goggins, who made waves as the smooth-talking antagonist Boyd Crowder on FX's modern western Justified, has joined the cast of Peyton Reed's upcoming sequel Ant-Man and the Wasp. Here's everything we know about the latest Walton Goggins Ant-Man and the Wasp news.
Deadline reports that Goggins has signed on to the superhero sequel to play an unknown role, but there are a couple of reasons I have my fingers crossed that he'll be playing a villain in this sequel. First, Goggins is so damn good at playing characters with compelling shades of gray; he excelled at that in Justified, but did the same in Shawn Ryan's corrupt cop drama The Shield years before. He's also playing the villain in the upcoming Tomb Raider reboot, and we know how much Hollywood loves to typecast actors, so it wouldn't surprise me if they want to utilize his famous Southern accent to similar effect here.
Second, Corey Stoll's Darren Cross ranks near the bottom on the list of Marvel Cinematic Universe villains so far. As much as I appreciate Stoll as an actor, it's one of the most forgettable performances in the history of the MCU, so I'd love for there to be some redemption for the Ant-Man franchise in the villain department.
I suspect we'll find out more this weekend during the Marvel Studios panel at San Diego Comic-Con, where the studio will take the stage in Hall H this Saturday at 5:30 PM Pacific Time to showcase their upcoming projects and potentially reveal some more surprises following their recent D23 presentation.
Goggins, who recently became a member of Quentin Tarantino's acting troupe with roles in Django Unchained and The Hateful Eight, joins returning stars Paul Rudd, Evangeline Lilly, Michael Douglas, Michael Pena, David Dastmalchian, T.I., and fellow newbies Hannah John-Kamen and Randall Park. As evidenced by the title, the new movie marks a big step up for Lilly's character Hope Van Dyne as she takes on the mantle of the Wasp alongside Scott Lang's Ant-Man. After getting a brief glimpse of her costume in a post-credits scene in the first Ant-Man film, we got our first look at her last week. Production on the film reportedly begins later this month in Atlanta.
Ant-Man and the Wasp hits theaters just over a year from now on July 6, 2018.