Fired Kermit The Frog Actor Says He Was 'Outspoken,' Disney Blames 'Unacceptable Business Conduct'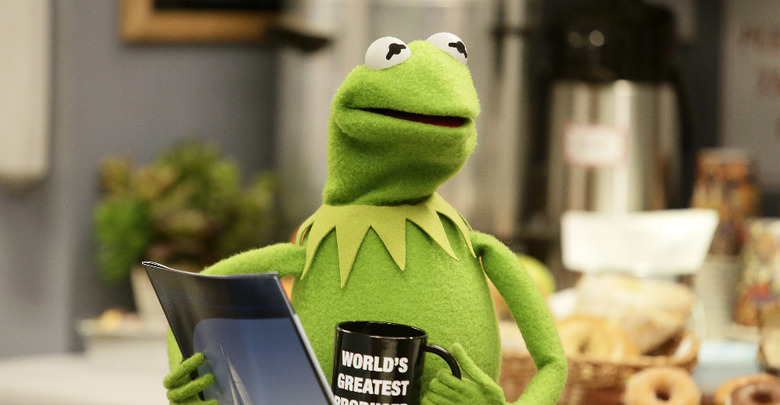 Steve Whitmire has played Kermit the Frog for 27 years, taking over from beloved puppeteer and creator Jim Henson after his death in 1990. But after nearly three decades of playing the beloved Muppet, Whitmire was suddenly dismissed by Disney, and the job of being green would go to pupeteer Matt Vogel.
Now, Whitmire is speaking up about his unceremonious firing, which he says was because he spoke up about changes to the character that he felt were against Henson's wishes. Disney and the Muppets Studio have different reasons, however.
Whitmire told The Hollywood Reporter that he was given two reasons by Disney when he was let go in October. "Unwanted notes during the short-lived Muppets reboot on ABC and a union disagreement," he listed.
"The first issue was that they felt I had been 'disrespectful' in being outspoken on character issues with the small group of top creative people during the ABC series. I have been outspoken about what's best for the Muppets since the Muppets came to Disney [2004], but the fact is I have respect for everyone who was involved in the creation of that series for their own particular contributions. At the same time, I also have insight into their limitations with respect to how well they know the Muppets."
Disney and The Muppets Studio stated that rather than just being "outspoken" Whitmire was "overly hostile and unproductive" and exhibited "unacceptable business conduct," they told THR.
A spokesperson for The Muppets Studio told THR in a statement:
"The role of Kermit the Frog is an iconic one that is beloved by fans and we take our responsibility to protect the integrity of that character very seriously. We raised concerns about Steve's repeated unacceptable business conduct over a period of many years and he consistently failed to address the feedback. The decision to part ways was a difficult one which was made in consultation with the Henson family and has their full support."
Whitmire explained that the notes on the Muppets reboot, which ran on ABC for one season from 2015-2016, had to do with a scene in which Kermit lies to his nephew over his break-up with Miss Piggy. The show certainly was criticized for taking too biting and cynical a tone to the beloved children's show. That optimistic brand of comedy was at its peak in The Muppets Show in the 1970s, which introduced the Muppets, and continued in future iterations, including the recent 2011 film starring Jason Segel and Amy Adams.
"I don't think Kermit would lie to him," Whitmire said. "I think that is Robin came to Kermit he would say 'things happen, people go their separate ways, but that doesn't mean we don't care about you.' Kermit is too compassionate to lie to him to spare his feelings."
The second issue over a union disagreement Whitmire says was because he was "caught in the middle of a dispute on a contract classification between SAG-AFTRA and Disney Labor Relations."
Whitmire was asked to take over Kermit by Henson's family after the creator's death in 1990. Vogel, who Whitmire says has his blessing, will make his debut as Kermit in the "Muppets Thought of the Week" video this week. Whitmire told THR that he was "truly honored to keep Jim's spirit intact" while he played the beloved talking frog.