'Blade Runner 2049' Trailer: Ryan Gosling And Harrison Ford Can't Outrun The Truth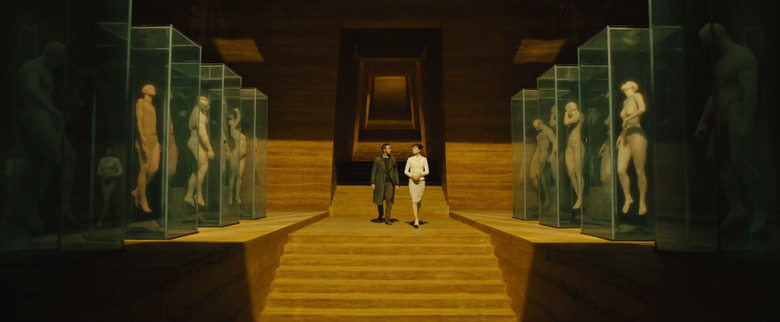 The newest Blade Runner 2049 trailer is out, and it reveals more than we've seen yet.
The trailer hit the internet after it premiered on Good Morning America, and this is certainly a good morning for us. Not only do we see more of the rich, neon-lit world brought to life by famed cinematographer Roger Deakins, we also get more insight into Officer K's (Ryan Gosling) mission, and how it leads him to drag Harrison Ford's former android-hunting police officer Rick Deckard out of hiding. Plus, we finally know what Dave Bautista is doing.
"The future of the species is finally unearthed," an unknown voice says ominously at the end of the newest blade Runner 2049 trailer.
An intriguing promise for the movie — which species are they talking about? Replicants or humans? That we probably won't find out until the movie arrives in October, but the newest trailer for Blade Runner 2049 does give us plenty of other reveals. First, we get another look at Dave Bautista's character, who Officer K shakes down for information at the beginning of the trailer. They fight — perhaps over Bautista being a Replicant in hiding, as we can see a Replicant that looks oddly like Bautista in a later scene when Officer K is shown a room full of them.
But something takes Officer K off the beaten path after he unearths a "long-buried secret" that leads him on his quest to find Rick Deckard, the former blade runner missing for 30 years. But once he finds him, Deckard reveals that he and now Officer K are being hunted, and all hell breaks loose. Robin Wright appears as an icy authority figure of some sort, while Jared Leto's villainous Neander Wallace waxes poetic. The trailer is the most heart-pounding and exciting we've seen yet, with more action and violence shown in addition to all of the intrigue we've seen in the past teasers. If I wasn't excited before to see Denis Villeneuve take on the classic sci-fi property, I am over the moon for it now.
Here's the synopsis for Blade Runner 2049:
Thirty years after the events of the first film, a new blade runner, LAPD Officer K (Ryan Gosling), unearths a long-buried secret that has the potential to plunge what's left of society into chaos. K's discovery leads him on a quest to find Rick Deckard (Harrison Ford), a former LAPD blade runner who has been missing for 30 years.
A sequel to 1982's Blade Runner directed by Ridley Scott, Blade Runner 2049 is written by Hampton Fancher and Michael Green. Ana de Armas, Jared Leto, Mackenzie Davis, Carla Juri, Barkhad Abdi, Edward James Olmos, and Dave Bautista round out the star-studded cast.
Blade Runner 2049 hits theaters on October 6, 2017.