'The Layover' Trailer: Kate Upton & Alexandra Daddario Stupidly Fight Over A Dude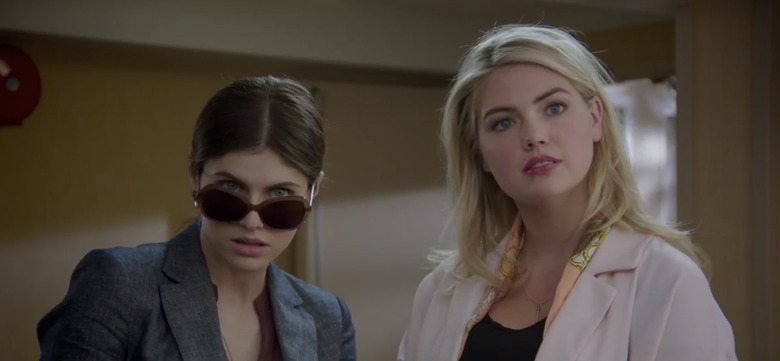 If you thought we'd gotten past the point where romantic comedies were about two women throwing away their friendship just so they can hook up with a hot guy while on vacation, think again.
The Layover follows two best friends, Alexandra Daddario of San Andreas and Kate Upton of The Other Woman, as they run away from the stress of their life by taking a quick vacation. However, when a hurricane forces them into a layover in St. Louis, they meet a handsome man (Matt Barr), and neither one of them is willing to give up the pursuit. Cue the ridiculous competition where these women commit atrocities against each other just so they can get some.
Watch The Layover trailer below if you dare.
This movie feels like it should have been made in the late 1990s or something like that. It has a premise that feels dated, and that's really a shame when you have a comedy that's being directed by actor turned filmmaker William H. Macy, especially after his solid debut with Rudderless in 2014.
What's even more disappointing is that this is a script that comes from David Hornsby and Lance Krall, both from It's Always Sunny in Philadelphia. This premise might have worked better on the show by focusing on a couple of the despicable characters from that series, but here in a feature film, it's just stupid. Maybe that's why it's been sitting on a shelf for a little while after production was completed over two years ago in June of 2015.
I suppose Alexandra Daddario and Kate Upton are doing fine with what they're given, but it's still pretty embarrassing. Maybe their natural chemistry on screen will help elevate the material, but there appears to be a lot of slapstick nonsense here that really doesn't help the situation any. It plays out like a bad sitcom on CBS, and everyone in the movie feels like they're above this, even Kate Upton, whose acting chops leave more than a little to be desired.
There might be some silver lining to be found since the supporting cast includes solid comedic talent like Rob Corddry (Ballers), Kal Penn (Harold & Kumar Go to White Castle), Matt Jones (Mom) and the fantastic Molly Shannon (Other People), but I'm not sure they can even save this mess of a romantic comedy from being a total disaster.
The Layover will arrive on September 1.