Disney's Star Wars Land Appears To Be Called Star Wars Galaxy's Edge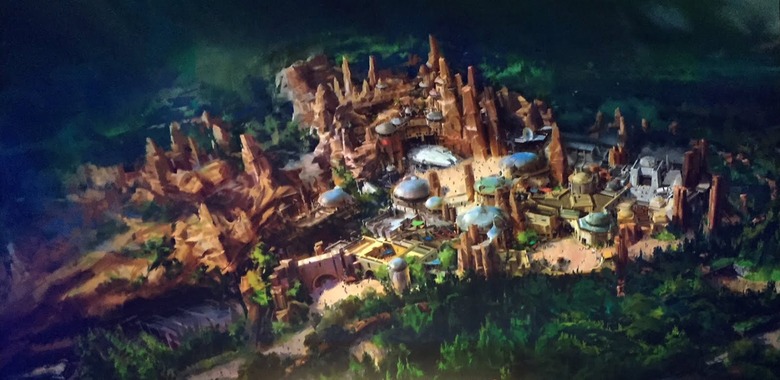 On the eve before the Parks and Resort panel at D23 Expo 2017, it appears that the name of Disney's upcoming Star Wars Land may have been prematurely revealed. Find out more below.
A few hours ago, an eagle-eyed Redditor noticed that the source code for a post on the official Disney Parks Blog seemed to reveal the official name of Star Wars Land as Star Wars: Galaxy's Edge. Let's look at the evidence.
First of all, if you type "Star Wars Galaxy's Edge" into Google, complete with the quotations around it to create a more specific search, the first result is the official Disney Parks website:

Secondly, if you look at that page's source code, you'll find this line in there as an alt tag in the HTML:

Previously it was rumored that Disney was thinking of calling the new lands, which are being constructed in Anaheim and Orlando, The Star Wars Experience. This name sounds a lot more cool, and it jibes with the concept of the park itself since the land is supposed to be a remote outpost of the edge of known space in the Star Wars universe. This kind of name also implies that we could get other Star Wars additions in the future with more sections being called Star Wars: Insert Name Here, not unlike how there's the Hogsmeade and Diagon Alley sections in The Wizarding World of Harry Potter
However, even if this title turns out to be the official name (which won't be confirmed until the Parks and Resort panel at D23 tomorrow afternoon), we still don't know what the planet will be called where this outpost exists in the Star Wars universe.
No matter what the name of the Star Wars Land at Disney parks is going to be, it will be positively huge when it opens. I know I'm already anticipated choosing a side in the Star Wars universe, either as a member of the Resistance or the First Order. Plus, being able to fly the Millennium Falcon is a lifelong dream that will finally be realized, not to mention the chance at drinking some tasty blue milk
Anyway, the D23 Expo is in full swing and we'll have more details on Star Wars Galaxy's Edge (if that is the real name) when the Parks and Resort panel unfolds tomorrow afternoon. Stay tuned for all our D23 coverage on the way.