Todd Strauss-Schulson Says 'Isn't It Romantic' Is A Comedy About The Love We Deserve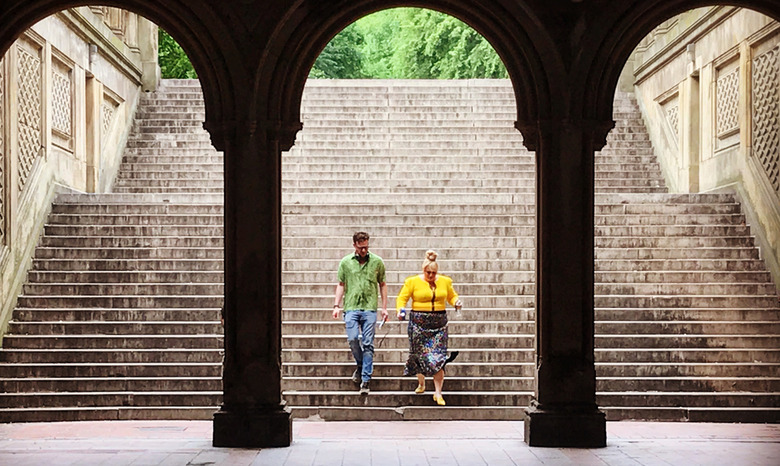 Over in New York City, production has begun on Isn't It Romantic, a new romantic comedy starring Rebel Wilson, Adam DeVine, Liam Hemsworth and Pryianka Chopra. The film is directed by Todd Strauss-Schulson (pictured above on set with Rebel Wilson), who brought us the horror comedy The Final Girls, and he's bringing some of the same meta cinematic style to the table.
Isn't It Romantic follows Rebel Wilson as Natalie, a New York City architect who works hard to get noticed at her job, but is more likely to be asked to deliver coffee and bagels than to design the city's next skyscraper. Her love life isn't faring any better as a lifelong relationship cynic, but when an encounter with a mugger knocks her out cold, she wakes up to discover that she's stuck in the kind of romantic comedy that she hates, and she's the leading lady.
We asked Todd Strauss-Schulson to tell us why he was drawn to Isn't It Romantic and why audiences should be excited to see the movie which sounds like a romantic comedy version of The Final Girls. Find out what he had to say below.
Think I sunburned by brain today.
A post shared by Todd (@straussschulson) on
Here's what Todd Strauss-Schulson told us about his passion for the Isn't It Romantic movie:
I've always wanted to make a movie in NYC where I was born and raised and I've always wanted to make a romance. Isn't It Romantic? is a great New York movie, and it's a comedy about romance.
Beyond the opportunity to make a film with Rebel Wilson, Adam DeVine, Liam Hemsworth and Priyanka Chopra, all of whom I adore, I also leapt at the opportunity to make a movie that talked a little about the adolescent stories about love and romance we tell ourselves and if those stories are harmful or hopeful.
So many romantic comedies, and romantic songs, and romantic novels lack any complexity and nuance and compassion – they are all about the fall, all about someone else completing you. It's so crazy that for a culture obsessed with long term monogamous relationships we only tell ourselves stories of the BEGINNING! Of the courtship! My own experience with movies like this is that they can sometimes feel punitive. You say "what's wrong with me that my life isn't like the movies"... you break up with people cause they aren't as charming as the people up on screen. They don't look at you like Hugh Grant looks at Julia Roberts. If someone doesn't love you enough to forgive you after lying to their entire family about marrying your comatose brother they aren't for you! (While You Were Sleeping reference for those keeping count)
I think art can help to rewrite the story. I hope in some way, this movie (beyond being hilarious, beautiful, charming and stylish) can also be consoling and a little more true to life. That we should be brave and try our best. That we should try to accept and love ourselves first, as flawed as we are, because no one is more deserving of it than ourselves.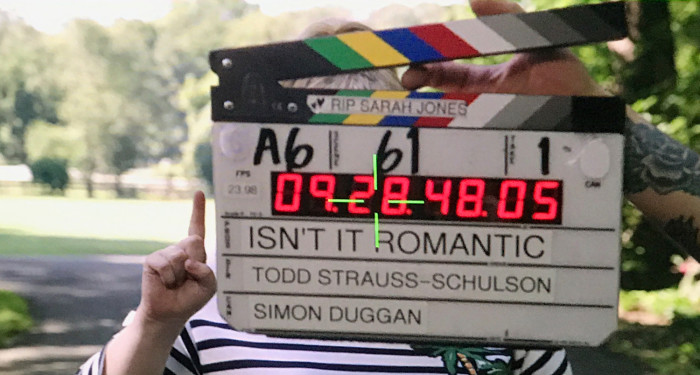 As we said, production is underway right now in New York City, so if you're in the area, keep an eye out. This week, Todd Strauss-Schulson has been shooting in Washington Square Park, and he's even posting behind the scenes glimpses (like the photos above) through his Instagram. You can even see a photo that we can't embed here because it's a copyrighted image and we don't like getting sued, but it looks to involve some kind of song and dance number in the park.
Strauss-Schulson has quite the crew working with him on this movie, including writers Erin Cardillo, Paula Pell (of Saturday Night Live), and Dana Fox & Katie Silberman. Shooting the movie is The Great Gatsby cinematographer Simon Duggan, with production designer Sharon Seymour (Argo), costume designer Leah Katznelson (Sleeping with Other People) and editor Andrew Marcus (Sing Street).
Isn't It Romantic sounds exactly like the kind of romantic comedy that I love to see with the added bonus of being self-aware enough to reference the tropes in a way that is less a goofy parody like They Came Together (which I also love) and more of an endearing tribute to the entire romantic comedy genre.
You'll be able to see Isn't It Romantic on the romantic day of February 14, 2019.