'Thor: Ragnarok' Trailer: The God Of Thunder Needs A Team To Battle Cate Blanchett [Comic-Con 2017]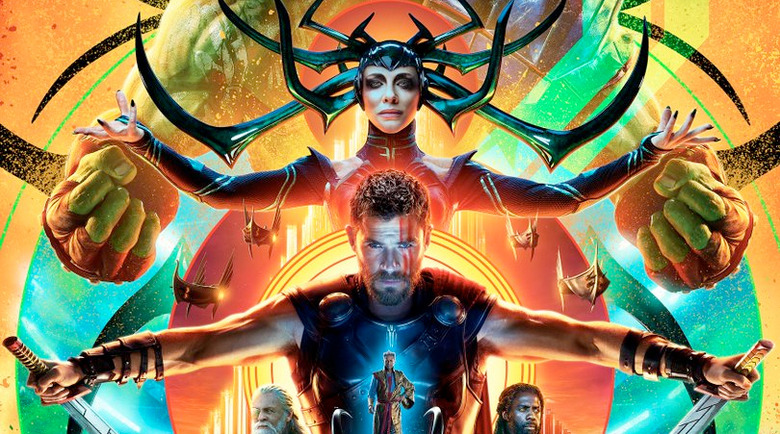 Now that we have Guardians of the Galaxy Vol. 2 and Spider-Man: Homecoming out of the way, we're down to just one more release from Marvel Studios, and it has the chance of being the best one yet. Though the aforementioned additions to the Marvel Cinematic Universe were satisfying in their own way, the next adventure featuring The Avengers' own God of Thunder looks surprisingly good.
Thor: Ragnarok released its first trailer back in April, letting Led Zeppelin drive the exciting, colorful, cosmic adventure from Hunt for the Wilderpeople and What We Do in the Shadows director Taika Waititi. Now a new Thor: Ragnarok trailer gives us an even better glimpse at the Marvel sequel, which looks to be the best film in Thor's own franchise to date.
Watch the new Thor Ragnarok trailer below.
Thor Ragnarok Trailer
This time, Chris Hemsworth finds himself in a position that he hasn't been before as the Asgardian prince. He's outmatched by Hela, the goddess of death played by Cate Blanchett, captured by the warrior Valkyrie (Tessa Thompson), forced to do battle with his Avengers buddy The Incredible Hulk (Mark Ruffalo), and he doesn't have his trusty hammer Mjolnir or his long golden locks. What's an Asgardian to do when faced with such insurmountable odds?
I could not be happier with how this trailer looks. The blend of comedy and bright, vibrant comic book action is incredible. The chemistry between Chris Hemsworth and Mark Ruffalo is outstanding, especially now that Hulk has enough of a vocabulary to carry on a conversation.
Furthermore, Cate Blanchett looks like a villain who could rival Loki in greatness, while Jeff Goldblum spices things up by doing exactly what you would expect Jeff Goldblum to do. This easily looks like it will be Thor's best adventure yet.
Oh, and here's a brand new Thor: Ragnarok poster that look absolutely amazing:
Check out the new #ThorRagnarok #SDCC poster that just debuted in Hall H! pic.twitter.com/VFabHZhFa7

— Marvel Studios (@MarvelStudios) July 23, 2017
Thor: Ragnarok also stars Tom Hiddleston as Loki, Jeff Goldblum as The Grandmaster, Idris Elba as Heimdall, Sir Anthony Hopkins as Odin, Karl Urban as Skurge, Benedict Cumberbatch as Doctor Strange, and director Taika Waititi himself as the motion-capture character Korg.
Thor (Chris Hemsworth) is imprisoned on the other side of the universe without his mighty hammer and finds himself in a race against time to get back to Asgard to stop Ragnarok – the destruction of his homeworld and the end of Asgardian civilization – at the hands of an all-powerful new threat, the ruthless Hela (Cate Blanchett). But first he must survive a deadly gladatorial contest that pits him against his former ally and fellow Avenger – The Incredible Hulk!"
Thor: Ragnarok arrives on November 3.