Pixar's 'Coco' Debuts New Footage And Music From 'Frozen' Songwriters [D23 Expo 2017]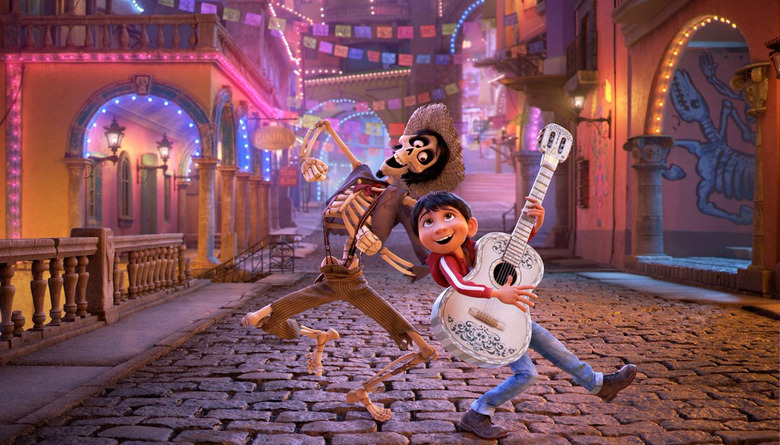 Pixar Animation has another film hitting theaters this fall, and it's unlike any movie they've made before. This time, the animation studio has assembled an all-Latino cast to bring to life the story of a young boy (Anthony Gonzales) who meets the deceased members of his family in The Land of the Dead after defying his living family's ban against music in the Land of the Living.
At the D23 Expo, Pixar provided two Coco clips for the audience to watch and announced details on the music that will be a key part of the movie, featuring new songs from Frozen songwriters Kristen Anderson-Lopez and Robert Lopez.
Check out our rundown of the news on the Coco songs and new footagebelow.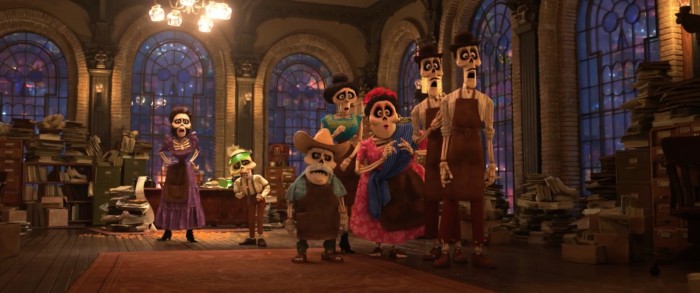 A Story About Ancestors in the Land of the Dead
The panel for Coco began with John Lasseter, Pixar's chief creative officer, saying that we are who we are because of the ancestors who came before us, and it's important that we honor them. That's the message of Coco, a story about a young boy who rebels against his family's wishes to keep music out of the household after a a rift was created in a previous generation of the family because of music.
That rift was actually created by Ernesto de la Cruz (Benjamin Bratt), Miguel's great-great-grandfather, who abandoned his wife decades earlier to follow his own dreams of performing, leaving Imelda (Miguel's great-great-grandmother) to take control as the matriarch of the now-thriving Rivera line. That's why music is banned in the family household.
Miguel learns of this connection between he and Cruz when he notices a photo with his father holding the same guitar that the famous musician played up until his untimely death. Miguel is supposed to play at a talent show in the town center and he's anxious to follow in his footsteps, but he can't find a guitar. He asks a statue of Cruz what he should do and follows his heart to a cemetery, where people are celebrating La Dia de Los Muertos. There he breaks into the tomb of Cruz to take his guitar, asking his grandfather's painting in the tomb to forgive him for stealing it.
The tomb ends up surrounded by townspeople with flashlights, ready to bust Miguel with the guitar. But when they come in, they can't see him. Miguel is like a ghost to them and everyone else in the land of the living, even his parents, who are visiting ancestors nearby. After Miguel falls into an empty grave, he's helped up by a glowing orange skeleton woman, who can see him. In fact, there are a bunch of glowing skeleton people who can see him.
As Miguel begins to walk around, he finds a bridge made out of flower petals that leads to the Land of the Dead, where all the skeletons go after they're done admiring the living people visiting their graves on La Dia de Los Muertos. There he meets a streetwise skeleton named Hector (Gael Garcia Bernal) who joins him on an adventure to track down his great-grandfather, solve some sort of family mystery, and earn the blessing of his family to perform. There's just one problem.
A Back to the Future Plot Device
It turns out Miguel only has a limited amount of time to do everything he needs to do. While walking through a massive, magical train station where the trains hang on rails from above, he learns that he's cursed because he stole his great-grandfather's guitar. In order to lift the curse, there's something he must do by sunrise or he will turn into a skeleton and be stuck in the Land of the Dead forever. Showing how much time he has, his hand is already starting to turn to bone, much like a disappearing Marty McFly in Back to the Future.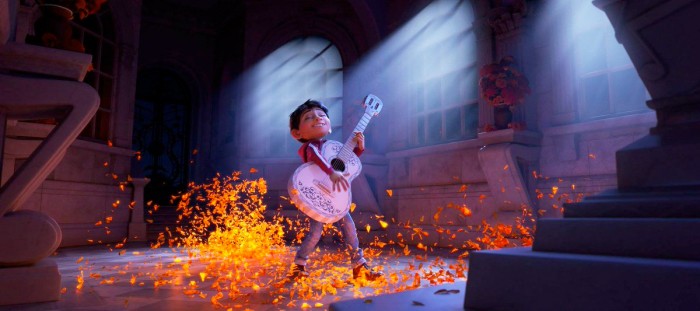 The Music of Coco
During the D23 Expo panel for Coco, it was revealed that Frozen songwriters Kristen Anderson-Lopez and Robert Lopez had worked on the music for the film, the song "Remember Me," a classic sort of Mexican song sung by Benjamin Bratt as Ernesto de la Cruz. Director Lee Unkrich says:
"Our film embraces a broad landscape of music. We were fortunate to have Kristen and Bobby create 'Remember Me'—it's the signature song made famous by Ernesto de la Cruz, and it embodies the key theme in our story: the importance of remembering loved ones both in life and beyond."
Along with Anthony Gonzalez, Bratt serenaded the crowd along with the Grammy-winning Mariachi Divas de Cindy Shea and Ballet Folklorico de Los Angeles under the direction of Kareli Montoya, and the Grammy-winning Gordon Goodwin Big Phat Band.
Furthermore, Michael Giacchino is doing the score (one of his tracks from Inside Out was used as a temporary soundtrack in one of the clips) and Germaine Franco wrote several other songs for the along with co-director Adrian Molina. The music consultant is Camilo Lara of the Mexican Institute of Sound, who is helping to keep the music authentic.
***
Though Coco has quickly been compared to The Book of Life because of the influence of Hispanic culture regarding the famous Day of the Dead holiday, we all know that Pixar has their own approach to even the most familiar stories. Pixar seems to have a different angle for this story, focusing more on family and ancestry, which should make things a little more emotional.
Honestly, for me, the visuals in Coco look more impressive as Pixar blends their familiar character design style with the aesthetic of Dia de Los Muertos. The more stylized animation from The Book of Life wasn't all that enticing to me, though it was vibrant and colorful. But again, hopefully the story is what stands out the most and makes the movie worth seeing this fall.
Coco is directed by Lee Unkrich with Adrian Molina serving as co-director. The cast includes Benjamin Bratt, Gael Garcia Bernal, Edward James Olmos, Gabriel Iglesias, and many more. If you want to see more from Coco, check out the most recently released theatrical trailer right here.
Disney brings the film to theaters on November 22.
Coco follows the secret musical ambitions of Miguel, who resides in a lively, loud Mexican village but comes from a family of shoemakers that may be the town's only music-hating household. For generations, the Riveras have banned music because they believe they've been cursed by it; as their family history goes, Miguel's great-grandfather abandoned his wife decades earlier to follow his own dreams of performing, leaving Imelda (Miguel's great-grandmother) to take control as the matriarch of the now-thriving Rivera line and declare music dead to the family forever.
But Miguel harbors a secret desire to seize his musical moment, inspired by his favorite singer of all time, the late Ernesto de la Cruz. It's only after Miguel discovers an amazing link between himself and De la Cruz that he takes action to emulate the famous singer and, in doing so, accidentally enters the Land of the Dead.
In the beautiful underworld, it's not long until Miguel encounters the souls of his own family — generations' worth of long-dead but no less vivacious Rivera ancestors, including great-grandmother Imelda. Still, given the opportunity to roam around the Land of the Dead, Miguel decides to track down De la Cruz himself. He teams up with another friendly (and skeletal) spirit — a trickster named Hector, — to find De la Cruz, earn his family's blessing to perform, and return to the Land of the Living before time runs out.
Note: a previous version of this article mistakenly named Germaine Franco as the music consultant, called Del La Cruz the great grandfather instead of the great great grandfather, and also said the tomb was surrounded by cops instead of townspeople.