'American Assassin' Trailer: Dylan O'Brien & Michael Keaton Are Chasing Taylor Kitsch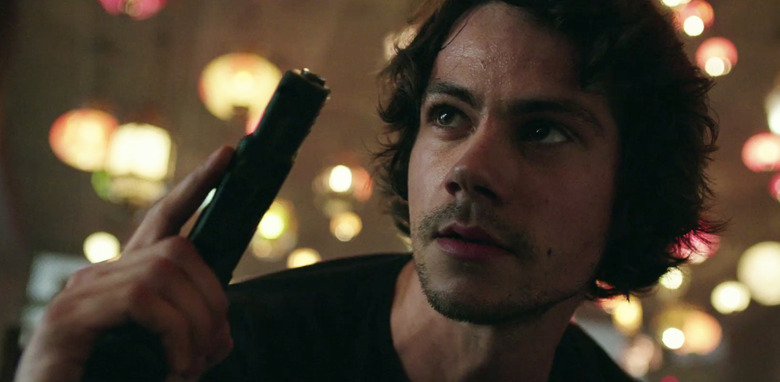 It's been some time since we've seen Taylor Kitsch, mostly because he starred in a stream of bad movies that included Battleship and Savages, as well as the sorely underrated and underseen box office bomb that was John Carter. He had a bit of an uptick by being part of the ensemble cast of Lone Survivor, but now he's playing for the bad guys in a new action thriller.
American Assassin adapts Vince Flynn's novel of the same name, which introduces us to CIA black ops recruit Mitch Rapp (Dylan O'Brien), a recurring character in 15 of the aforementioned author's books. Rapp is recruited by Cold War veteran Stan Hurley (Michael Keaton) to join his team, tasked by the CIA to find the source of some recent attacks on both civilian and military targets. As we learn in a new American Assassin trailer from our friends across the pond, it turns out that the man behind these attacks is a former trainee (Kitsch) of Hurley's, and that makes him quite the formidable opponent.
This latest trailer from the United Kingdom offers us the most plot details we've had yet on American Assassin. Sadly, it doesn't do much to convince me that this is a must-see, though the more footage of Michael Keaton in there, the more inclined I am to feel less begrudging about going out of my way to catch it.
No matter how many action sequences I see, it's still tough for me to buy Dylan O'Brien in this role. The disheveled hair and scruff on his face only go so far to convince me that he's had a rough go of it after his girlfriend was killed on a beach by terrorists, but otherwise he just looks too young to take on a role like this. He also has this innocent look about him, one that he's probably trying to shed by taking on roles like this, but I'm not sure it's going to work.
The rest of the cast features Sanaa Lathan as the deputy director of the CIA and Shiva Negar as a Turkish agent who teams up with our Black Ops team. Michael Cuesta (Kill the Messenger, Homeland) directs the film with a script by Stephen Schiff, Michael Finch and Edward Zwick & Marshall Herskovitz.
Watch the previous red band trailer for American Assassin right here.
American Assassin follows the rise of Mitch Rapp (Dylan O'Brien), a CIA black ops recruit under the instruction of Cold War veteran Stan Hurley (Michael Keaton). The pair are then enlisted by CIA Deputy Director Irene Kennedy (Sanaa Lathan) to investigate a wave of apparently random attacks on both military and civilian targets. Together the three discover a pattern in the violence leading them to a joint mission with a lethal Turkish agent (Shiva Negar) to stop a mysterious operative (Taylor Kitsch) intent on starting a World War in the Middle East.
American Assassin hits theaters this fall on September 15.