New 'Frozen 2' Details And An Early 'Olaf's Frozen Adventure' Reaction [D23 Expo 2017]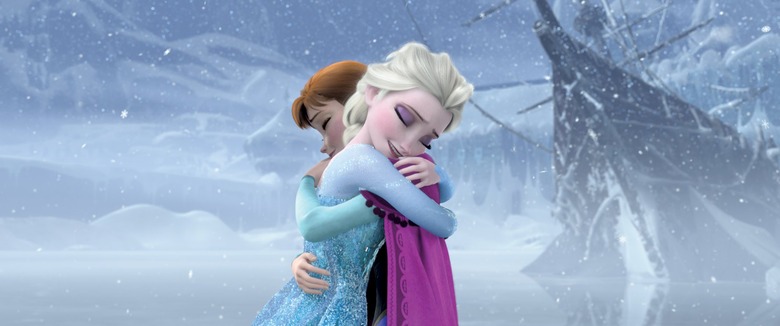 Disney Animation's D23 panel got started with a bang. Or maybe a blizzard. While we didn't learn much about Frozen 2, a little bit of light was cast on the mysterious sequel to the beloved 2013 hit, with stars Kristen Bell and Josh Gad taking the stage to chat...and to sing.
After joking that it would be titled Frozen Toe in its native language and that it won't be called Thawed, Bell noted that, for now, the sequel will just be titled Frozen 2. This could always change, of course.
Bell proceeded to talk about the film's development and how the filmmakers were inspired by some of the most beautiful locations on the planet. They embarked on trips to Norway, Iceland, and Finland for inspiration and the D23 crowd was treated to a video shot by the filmmakers showcasing their many adventures. Beautiful panoramas, glaciers, and waterfalls were among the images shared.
Before Frozen 2 even hits theaters, you'll be able to see more from the Frozen world. A new 21-minute short titled Olaf's Frozen Adventure will arrive in theaters alongside Pixar's Coco later this year. The film will feature four new songs from Elyssa Samsel and Kate Anderson and the entire original cast will return. The story follows Olaf as he attempts to bring some holiday cheer to Anna and Elsa after learning they don't have any holiday traditions.
Our own Peter Sciretta saw a clip from Olaf's Frozen Adventure at D23, where voice actor Josh Gad took the stage to perform live alongside footage from the film. The song finds Olaf going door-to-door, learning about (and making fun of) some fairly common Christmas traditions, like decorating trees and Santa Claus ("Hang up all your socks above an open fire...That sounds safe"). During the song, the animation changes style, transforming into a cross-stitch resembling a Christmas sweater. While Peter didn't love the song as much as anything in the Frozen feature film, he did note that the crowd of Disney fanatics was really into it.
You don't have to have kids or even be a fan of Disney's animated output to be familiar with Frozen, which opened to critical acclaim and $1.2 billion at the box office back in 2013. A sequel was inevitable and Disney has not made it a secret that they intend to keep Anna, Elsa, and the rest of their family and friends in the spotlight for the foreseeable future. A theme park ride set in the world of the film has opened at the Epcot theme park in Florida. An entire theme park land based on Frozen is coming to Tokyo Disneyland. A short film sequel premiered in 2015 and another will arrive later this year. Yeah, when it comes to Frozen, Disney isn't prepared to...let it go.
Plot details for Frozen 2 have been mostly kept under wraps, but Chris Buck and Jennifer Lee will return to direct alongside voice actors Kristen Bell, Idina Menzel, Jonathan Groff, and Josh Gad. Disney regular Alan Tudyk, who played a supporting role in the first Frozen, says he will also be return. The film is set to be released on November 27, 2019.