'Dunkirk' IMAX Featurette: You Must See This Movie On The Biggest Screen Possible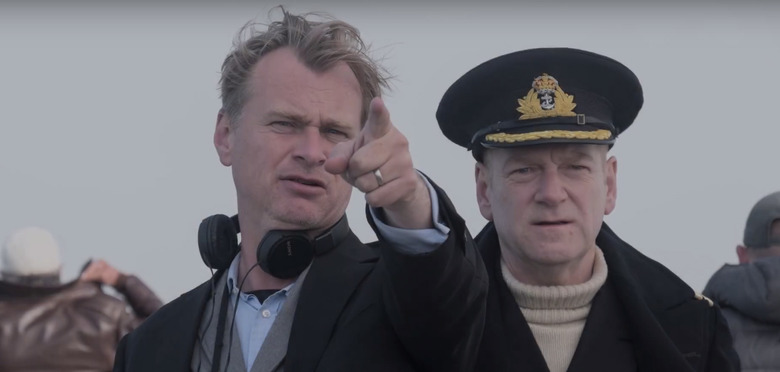 Next week brings Christopher Nolan's latest film to theaters in the form of Dunkirk, and you have a wide variety of formats in which you'll be able to see it. But easily the best way to see the movie will be on the largest IMAX screen possible, because the director shot the film with IMAX large format film cameras, creating a massive, rich image that Nolan describes as something akin to virtual reality without the goggles. If that's not enough to sell you on the movie, watch the Dunkirk IMAX featurette below for more convincing.
It's Christopher Nolan's involvement in the movie that has my interest, but I'm nowhere near as excited as I was to see Nolan's movies like Inception and Interstellar. Though I'm currently not psyched to see Dunkirk, seeing IMAX footage like this does have me curious to see what it's like to see this movie on the larger format screen. Plus, seeing how innovative they were with placing the camera in order to get unique shots, including on the sides of vintage war planes, is very cool.
If you want to make sure you catch Dunkirk on 70mm, as well as learn the difference between all the formats available for seeing the World War II drama, check out our previous post on the upcoming theatrical release right here.
Dunkirk arrives in theaters everywhere on July 21.
"Dunkirk" opens as hundreds of thousands of British and Allied troops are surrounded by enemy forces. Trapped on the beach with their backs to the sea they face an impossible situation as the enemy closes in.
"Dunkirk" features a prestigious cast, including Tom Hardy ("The Revenant," "Mad Max: Fury Road," "Inception"), Mark Rylance ("Bridge of Spies," "Wolf Hall"), Kenneth Branagh ("My Week with Marilyn," "Hamlet," "Henry V") and Cillian Murphy ("Inception," "The Dark Knight" Trilogy), as well as newcomer Fionn Whitehead. The ensemble cast also includes Aneurin Barnard, Harry Styles, James D'Arcy, Jack Lowden, Barry Keoghan and Tom Glynn-Carney.
The film is being produced by Christopher Nolan and Emma Thomas ("Interstellar," "Inception," "The Dark Knight" Trilogy). Jake Myers ("The Revenant," "Interstellar," "Jack Reacher") is serving as executive producer.
The behind-the-scenes creative team includes director of photography Hoyte van Hoytema ("Interstellar," "Spectre," "The Fighter"), production designer Nathan Crowley ("Interstellar," "The Dark Knight" Trilogy), editor Lee Smith ("The Dark Knight" Trilogy, "Elysium"), costume designer Jeffrey Kurland ("Inception," "Bullets Over Broadway"), and visual effects supervisor Andrew Jackson ("Mad Max: Fury Road").