Wild And Fresh 'Black Panther' Footage Wows Hall H [Comic-Con 2017]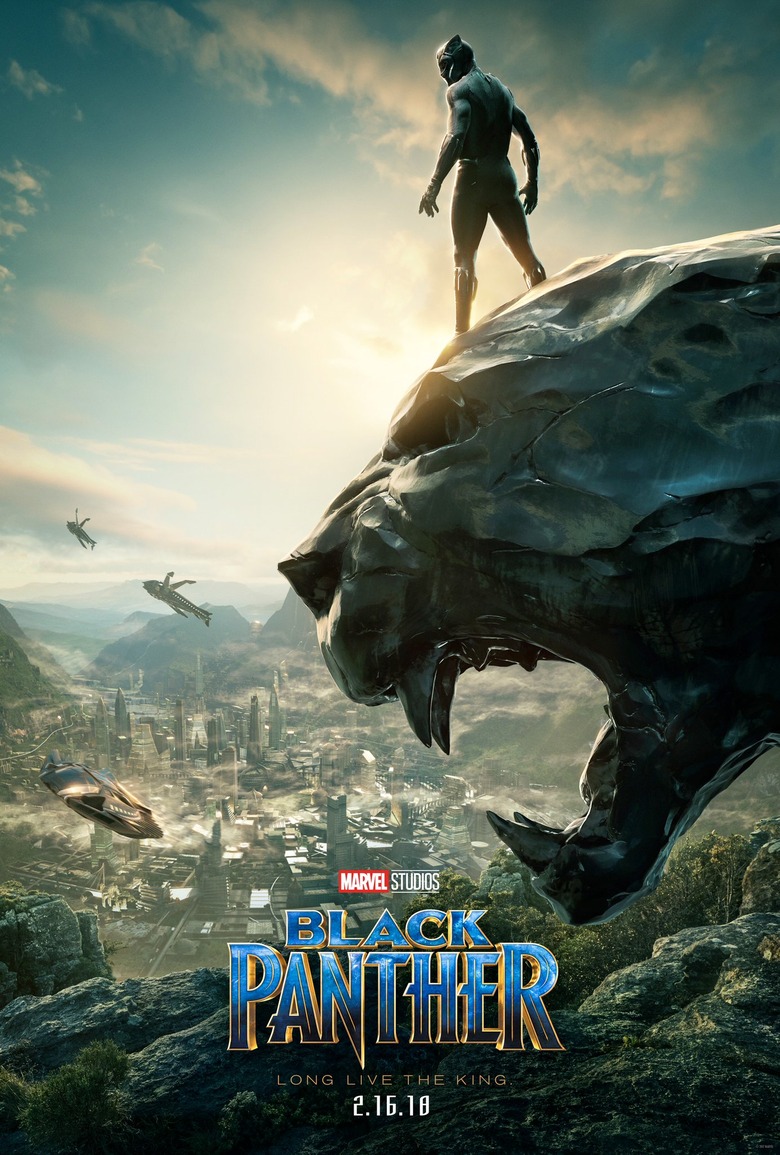 The Marvel Studios panel at Comic-Con was, as expected, the geek equivalent of a rock concert. And Black Panther, which is set to arrive early next year, received a rockstar's reception. In addition to a panel Q&A with director Ryan Coogler and members of the cast, the crowd was treated to a scene from the film and a brand new trailer (which we were told won't be online for some time).
But that's why we're here. We've got you covered. Here's what you need to know.
The Footage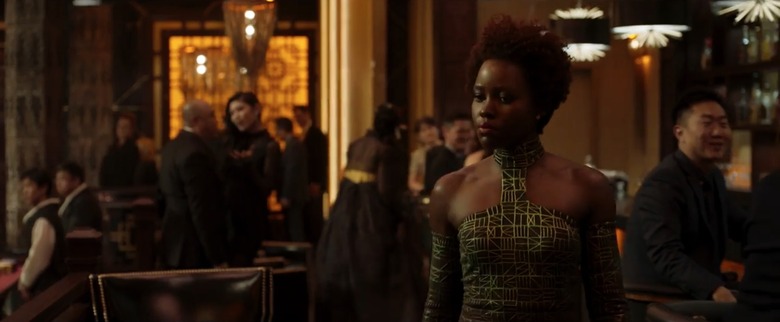 The Black Panther Comic-Con footage opened with an extended look at a scene glimpsed in the first trailer: a big brawl set in a casino after a covert operation goes horribly wrong. Martin Freeman's Everett Ross is arranging a deal with arms dealer Ulysses Klaue (Andy Serkis), while T'Challa (Chadwick Boseman), Okoye (Danai Gurira), and Nakia (Lupita Nyong'o) watch from a distance. As you'd expect, things go wrong. Weapons are drawn. The three Wakandan warriors kick a whole lot ass, decimating henchmen. It's a scene that feels like it was torn straight out of a James Bond movie...except that James Bond is played by three Marvel heroes with a flair for the acrobatic.
T'Challa corners Klaue, who has gone and gotten himself a new arm after losing it in Avengers: Age of Ultron. Fortunately for him, and unfortunately for T'Challa, this new arm hides a powerful beam weapon, which he charges and fires and...cue the Marvel Studios logo.
The rest of the footage was more of a traditional trailer, filled with lots of fast beats and quick shots. We see that T'Challa's Black Panther suit can materialize around him from under his clothes, allowing him to instantly armor up. We see Black Panther tearing a car apart with his claws, ending a car chase in a dramatic fashion. We see Michael B. Jordan's Erik Killmonger challenging T'Challa to a fight in front of a tribal ceremony...and later, we see him in his own set of Black Panther armor, lined with gold accents and looking very intimidating. The trailer concludes with T'Challa and Erik, both in their suits, tumbling into Wakanda's vibranium mines, trading blows as they fall.
In short, Black Panther still looks very cool. It's colorful and stylish and looks entirely unlike the other Marvel Cinematic Universe movies while clearly taking place in the same world. It's a tricky balance and I hope to see Ryan Coogler and company stick the landing early next year.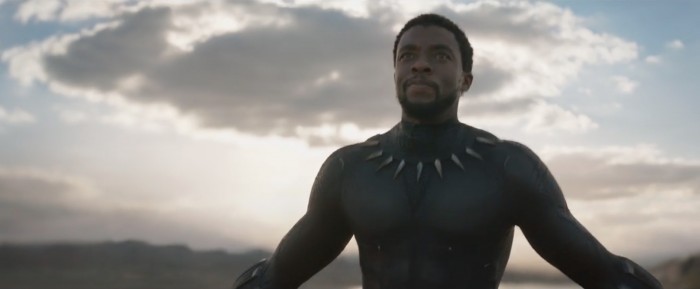 What We Learned
The panel itself consisted of director Ryan Coogler and stars Chadwick Boseman, Michael B. Jordan, Letitia Wright, Lupita Nyong'o, Forest Whitaker, Andy Serkis, Winston Duke, and Daniel Kaluuya. In true Marvel Studios fashion, everyone seemed relaxed but guarded, totally aware of what they can and cannot talk about. Let's run down what they all spoke about, shall we?
Ryan Coolger discovered Black Panther comics later in his childhood, long after he was already a fan of other other superheroes. He was inspired by how T'Challa got his power from the people around him and his nation's history, an aspect he wanted to bring to life in the movie.
Chadwick Boseman explained that Black Panther finds T'Challa returning to Wakanda after the events of Captain America: Civil War. He's still grieving his father and is still learning how to be a new ruler when enemies step in to challenge his power. How does a king defend his nation when he's not sure what kind of king he wants to be?
Letitia Wright plays Shur, T'Challa's sister and a technical genius. She's an innovator and a scientist, responsible for much of the new technology coming to Wakanda. Wright spoke proudly of being given the opportunity to play a smart, strong black woman in a big movie like this.
Although she didn't go into specifics, Danai Guria explained that Okoye, a member of the Dora Milaje and a personal bodyguard to T'Challa, is driven by her love of her nation and of her people.
Michael B. Jordan played mum about Erik Killmonger's motivations, but he noted that the villain has his own point of view and opinions on Wakanda and its government. He thinks he has a better plan for how it should function and has his eyes on the throne.
Forest Whitaker revealed that Zuri is a Wakandan spiritual leader and mentor to T'Challa. He's a spiritual warrior who was close to the former king and wants to help his new leader transition to the role.
Daniel Kaluuya plays W'Kabi, T'Challa's oldest friend and his head of security. Also fighting for Wakanda's interests: Lupita Nyong'o's Nakia, a "War Dog" who goes undercover and travels around the world to learn everything Wakanda needs to know about the world...while also making sure that the world knows nothing about Wakanda.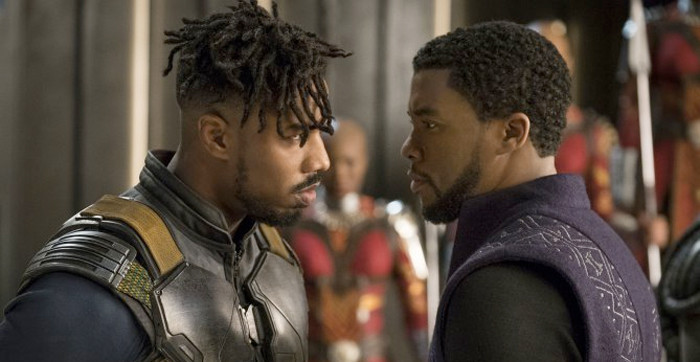 We first met Black Panther, also known as  T'Challa during the events of Captain America: Civil War, where he played a key role in the war between Iron Man and Cap. Even in his limited screen time, Boseman proved himself more-than-ready to lead his own solo adventure. This footage only has us more excited.
Black Panther is directed by Ryan Coogler, the talented filmmaker behind Fruitvale Station and Creed. And while this movie will undeniably follow the Marvel Studios template, the first teaser trailer showcased a world and a cast of characters unlike anything we have seen in the MCU so far. Even if the skeleton remains familiar, Black Panther looks to add some vibrant flesh to a tried and true universe.
Starring Chadwick Boseman, Michael B. Jordan, Lupita Nyong'o, Danai Gurira, Martin Freeman, Daniel Kaluuya, Letitia Wright, Winston Duke, Angela Bassett, Forest Whitaker, and Andy Serkis, Black Panther is set to open on February 16, 2018. Here's the official synopsis:
Marvel Studios' "Black Panther" follows T'Challa who, after the death of his father, the King of Wakanda, returns home to the isolated, technologically advanced African nation to succeed to the throne and take his rightful place as king. But when a powerful old enemy reappears, T'Challa's mettle as king—and Black Panther—is tested when he is drawn into a formidable conflict that puts the fate of Wakanda and the entire world at risk. Faced with treachery and danger, the young king must rally his allies and release the full power of Black Panther to defeat his foes and secure the safety of his people and their way of life.