'The Tick' Trailer: Amazon Brings The Big Blue Bug Back For A New Series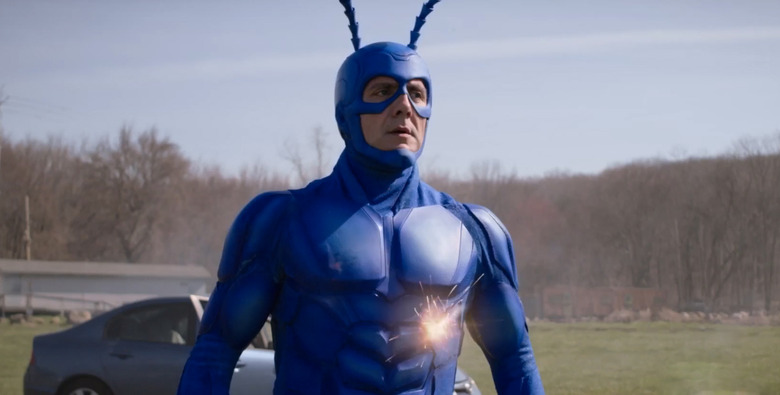 Attempting to bring a little more comedy to the superhero genre, Amazon Studios is reviving The Tick for a new live-action series that will be available exclusively for Amazon Prime members.
Our first look at The Tick arrived last summer, but since then, we haven't gotten much promotion for the show, which will arrive on Amazon in August. That changes today with the first trailer for the series that puts Guardians of the Galaxy and Shaun of the Dead supporting actor Peter Serafinowicz (who you might also know as the voice of Darth Maul in Star Wars: The Phantom Menace) in the big blue suit as The Tick. He's just a big, goofy delight.
Watch The Tick trailer below.
The spirit of both the animated series and the previous live-action adaptation of The Tick is present here, but this series iteration has more shine to it, clearly looking like it has more of a cable budget instead of the cheaper network budget that FOX gave it back in the early 2000s. Beyond that, it looks to be just as silly as fans were hoping for, lining up with a tone akin to Men in Black, which makes sense since director Barry Sonnenfeld is an executive producer on the show. The pilot is directed by Transcendence helmer and Christopher Nolan's trusty cinematographer Wally Pfister.
In addition to Peter Serfinowicz as The Tick, the series features Griffin Newman as his unlikely sidekick Arthur, whose moth wardrobe has been given a bit of a high tech upgrade in this series adaptation of the Ben Edlund comic, which debuted in 1988. The rest of the cast includes Jackie Earle Haley (Watchmen), Valorie Curry (House of Lies), Yara Martinez (Jane the Virgin) and Brendan Hines (Scorpion).
Will this series be more successful than the short-lived live-action series from 2001? That series has since become a cult favorite, but if this new adaptation is loyal to the comics, it just might finally give fans the show they've been waiting for.
In a world where superheroes have been real for decades, the new The Tick series follows an underdog accountant with zero powers who comes to realize his city is owned by a global super villain long-thought dead. As he struggles to uncover this conspiracy, he falls in league with a strange blue superhero called The Tick.
The Tick debuts on Amazon on August 25 and will have a big presence at the 2017 San Diego Comic-Con, so stay tuned.