'War For The Planet Of The Apes' Clip: Bad Ape Isn't A Fan Of Being In Danger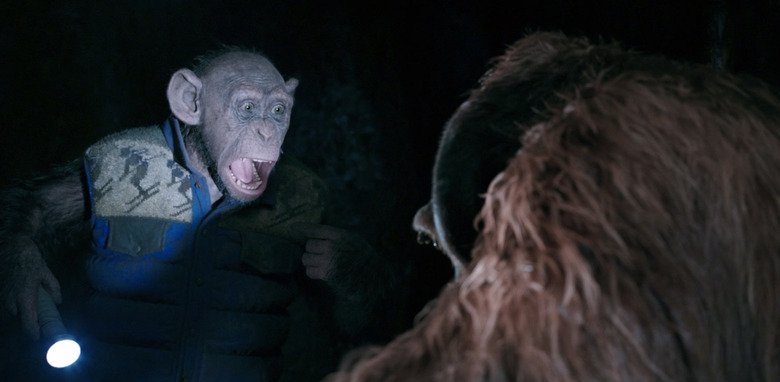 This week brings War for the Planet of the Apes to theaters, the third installment of the prequel trilogy that sets the stage for the 1968 classic starring Charlton Heston. The praise for this film has been off the charts, including my own review, where I called the film astounding and easily "one of the most significant blockbusters of the decade."
For those who just can't wait another day before the nationwide sneak preview screenings of War for the Planet of the Apes begin tomorrow evening, 20th Century Fox has a released a new clip from the movie. There's a new character named Bad Ape in the movie (played perfectly by Steve Zahn), and in this clip, we see that he's not exactly a fan of putting himself in harm's way during a key moment in the film with Caesar's ape ally Maurice (Karin Konoval).
Watch the War for the Planet of the Apes clip below.
If you're not sure what's happening in this clip, that's probably for the best. The reason Bad Ape and Maurice are underground with their young human counterpart Nova is probably best left secret until you see the movie for yourself. Just know that the place Bad Ape is going to be hoisted into from Maurice's back is dangerous, and Bad Ape isn't exactly the bravest simian.
Steve Zahn is surprisingly great as Bad Ape in this movie. The character definitely provides plenty of comic relief, but he's also played so tenderly and earnestly by Zahn that you can't help but love the little guy. Bad Ape is also an ape who is not part of Caesar's tribe. He became intelligent while in a zoo, showing that the advanced smarts of this new breed of apes has spread into places that our ape heroes didn't know about.
Make sure you go out of your way to see War for the Planet of the Apes this weekend. It's a blockbuster that packs an emotional punch, some stunning visual effects and damn fine storytelling from director Matt Reeves.
In War for the Planet of the Apes, the third chapter of the critically acclaimed blockbuster franchise, Caesar and his apes are forced into a deadly conflict with an army of humans led by a ruthless Colonel. After the apes suffer unimaginable losses, Caesar wrestles with his darker instincts and begins his own mythic quest to avenge his kind. As the journey finally brings them face to face, Caesar and the Colonel are pitted against each other in an epic battle that will determine the fate of both their species and the future of the planet.
War for the Planet of the Apes arrives on July 14.