'Star Wars: The Last Jedi' Cast, Director Gather To Dish On Making Of Film [D23 Expo 2017]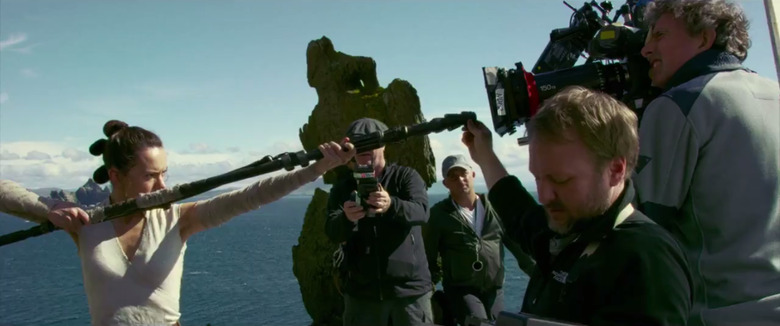 Lucasfilm is not going to be presenting at San Diego Comic-Con International this year, so D23 Expo is our last chance to learn more about the eighth chapter of the Skywalker saga before the marketing campaign enters full swing.
The cast and crew of Star Wars: The Last Jedi all congregated at D23 to give details on the newest Star Wars film, how they are dealing with Carrie Fisher's tragic passing, and what the new cast members feel about joining such a beloved blockbuster franchise.
Director Rian Johnson appeared at D23 to introduce the sprawling and talented cast of The Last Jedi. Returning cast members Daisy Ridley, John Boyega, and Gwendoline Christie joined him on stage to audience applause. They were soon joined by new cast member Kelly Marie Tran, who will be playing the Resistance mechanic Rose, as well as Laura Dern as Vice Admiral Amilyn Holdo and Benicio del Toro, who is playing a mystery character.
Lastly, Mark Hamill, who was recently awarded the Disney Legends title alongside Fisher, came on stage to a standing ovation. The cast and crew spoke somberly about how they were all "stunned and shocked at her passing," as photos of Johnson and Fisher talking on set flashed on screen behind them.
Kathleen Kennedy was notably not present, as she is in London for the Han Solo standalone film with newly hired director Ron Howard.
Johnson joked about how this is his first D23, but not his first time working for Disney — having produced "coming up" spots for Disney Channel. Back to business, Johnson announced that he is mixing The Last Jedi right now, which will take us beyond the literal cliffhanger that Star Wars: The Force Awakens left us on.
Hamill complimented Johnson's script, saying it had "so many unexpected elements," and that the film will be "a real game-changer."
Johnson dished that Finn (Boyega) "sees some action in this one," with a formidable opponent. One reported action scene will be with Captain Phasma, played by Christie, who looms feet above Boyega.
New cast member Tran was in awe throughout the whole production, "treating the whole thing like Mr. Rogers," Johnson joked. "She would pop into different departments asking, 'Hey, what do you guys do?'" Tran responded that she felt like Charlie in the Chocolate Factory with the golden ticket.
Official stills from the film show Finn looking sweaty — yet again — and worse for wear. We also saw a photo of del Toro's mystery character in a brown robe with gold details, sitting on a chair in a space ship. Another photo showed Dern with a smoking blaster — Johnson joked that she would get in trouble for saying "pew" when firing the gun, which reminds me of another former Star Wars cast member.
Looper/Brick filmmaker Rian Johnson wrote and direct the eighth installment of the Star Wars saga. Mark Hamill reprises his role as Luke Skywalker, the titular Last Jedi, who Rey (Daisy Ridley) has flown across the galaxy to meet. The story begins seconds after the conclusion of JJ Abrams' Star Wars: The Force Awakens.
Carrie Fisher returns in her last feature film appearance before her passing, reprising her iconic role of General Leia. Also returning from The Force Awakens, Adam Driver as Kylo Ren, John Boyega as Finn, Oscar Isaac as Poe Dameron, Lupita Nyong'o as Maz Kanata, Domhnall Gleeson as First Order General Hux, Anthony Daniels as C3PO, Gwendoline Christie as Captain Phasma, Andy Serkis as Supreme Leader Snoke, Benicio Del Toro as an unknown and possibly villainous character referred to by writer and director Rian Johnson as "DJ", Laura Dern as Vice Admiral Amilyn Holdo, an officer in the Resistance, and newcomer Kelly Marie Tran as a member of the Resistance maintenance crew named Rose Tico, who may be a love interest for Finn.
Rey took her first steps into a larger world in "Star Wars: The Force Awakens" and will continue her epic journey with Finn, Poe, and Luke Skywalker in the next chapter of the continuing Star Wars saga. "The Last Jedi" is written and directed by Rian Johnson and produced by Kathleen Kennedy and Ram Bergman and executive produced by J.J. Abrams, Jason McGatlin, and Tom Karnowski.
Star Wars: The Last Jedi hits theaters on December 15, 2017.
Which word do you find more provocative: "Jedi" or... "Last"? #TheLastJedi #StarWars pic.twitter.com/5VnYB3dXSz

— Mark Hamill (@HamillHimself) July 15, 2017
The General. #TheLastJedi pic.twitter.com/rCvQPT8kog

— Star Wars (@starwars) July 15, 2017
It's that time of the year pic.twitter.com/ly9GwDDxWh

— John Boyega (@JohnBoyega) July 15, 2017
Daisy Ridley Shared this poster on Facebook!?! All the symbolism. What does this mean. Cannot wait to find out! #StarWarsTheLastJedi pic.twitter.com/fYBA5SmcVe

— Jon Kenobi (@Grayson_Snow) July 15, 2017
Another teaser poster for #TheLastJedi from #D23Expo! 😱👌💯
It wouldn't be a party without Poe Dameron! 😆🎉@starwars #StarWars #D23 pic.twitter.com/ceV5NcY8Ox

— Hayley Mackay (@lilmac4) July 15, 2017
May the poster be with you: #AdamDriver's new #StarWars #TheLastJedi character poster has been revealed #KyloRen pic.twitter.com/za0Qipdvff

— The Future Of The Force (@futureotforce) July 15, 2017