'Guardians Of The Galaxy Vol. 2' Hits Home Video In August As Disney's First 4K Ultra HD Release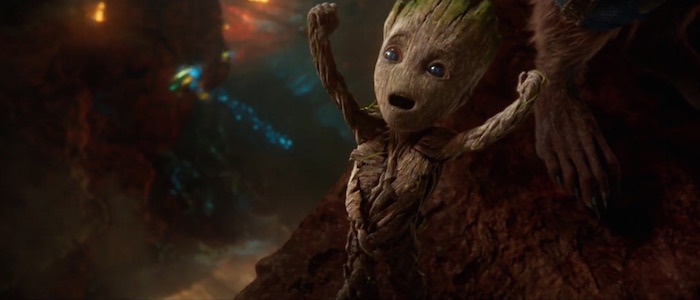 Guardians of the Galaxy Vol. 2 is still playing in theaters everywhere right now, and if you're like me, you've taken advantage of that a few times by now. But soon, you won't have to pay the high ticket prices to enjoy the Marvel Studios sequel over and over again.
Walt Disney Studios Home Entertainment and Marvel Studios have announced that Guardians of the Galaxy Vol. 2 will arrive on home video in August. Furthermore, one of the formats will be 4K Ultra HD, marking the first time Disney has released one of their movies in that format. Find out more about the Guardians of the Galaxy 2 home video release date below, including one goofy special feature that we can't wait to see.
Here's the Guardians of the Galaxy 2 home video release date trailer straight from Marvel Entertainment:
Guardians of the Galaxy Vol. 2 will arrive first on Digital HD on August 8, and then two weeks later you'll be able to get it on Blu-ray, DVD and 4K Ultra HD on August 22. The latter might not seem like a big deal since it's just the next step in high-definition home video formats, but since it's the first time Disney is releasing a movie in that format, director James Gunn is pretty excited about it. He posted as much on Facebook recently:
"4K UltraHD is almost certainly the best way you can see this movie at home. With more definition and the most vibrant colors possible on your home screen, and with the brightest brights and the blackest blacks. A being composed of light truly appears to be a being composed of light! This version is a roiling cinematic river of beauty and I've taken hundreds of hours personally making it look the best it can. This is one of the reasons why LIGHT and COLOR are such important elements of Vol. 2's story, and why we screened the World Premiere in Los Angeles in essentially this format."
So if you've got a 4K Ultra HD player, then you're going to be happy. If you don't, maybe this will be the movie that convinces you to buy one.
No matter which format you get Guardians of the Galaxy Vol. 2 on, you're going to be happy with the purchase, if only because of one special feature that James Gunn recently revealed. Here's what the director posted on Twitter this week:
That disco-style track "Guardians Inferno" from the Guardians of the Galaxy Vol. 2 soundtrack featuring the sweet voice of Star-Lord's fake father David Hasselhoff will have a full music video on the home video release. Also, if you look carefully at the people standing behind David Hasselhoff, those are the cast members of Guardians of the Galaxy 2 in full disco gear (though it looks like Bradley Cooper and Vin Diesel didn't get in on the fun).
That's the only special feature for the home video release that we know about right now, but we'll undoubtedly know more as the release date gets closer.