'Atomic Blonde' Featurette: Charlize Theron Fights Like A Girl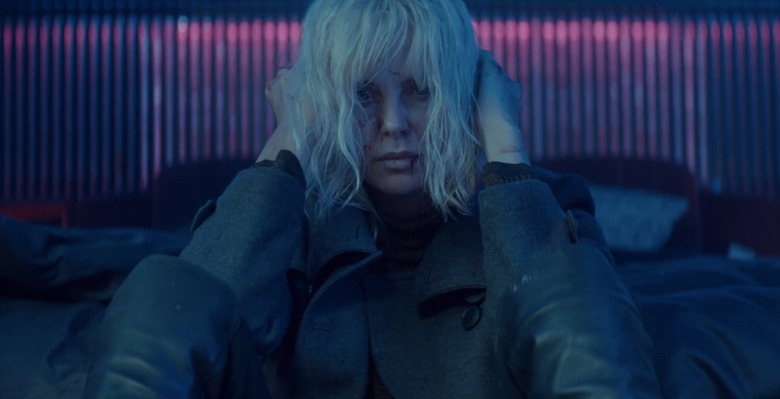 There was a time when saying that someone "fights like a girl" was considered an insult. Thankfully, that's become something that doesn't really sound all that lame anymore, especially when you have a superhero like Wonder Woman cleaning up at the box office. Adding to the power behind female punches will be a new action flick starring Mad Max: Fury Road's badass Charlize Theron.
Atomic Blonde stars Charlize Theron as an assassin working for MI6 who is stuck dealing with a city of traitors and killers trying to bump her off at every turn. She's being hailed as the female 007, and if the trailers are any indicator, this movie will be even more kick-ass than the last mission James Bond went on in Spectre. Now, a new featurette takes a closer look at the action in the flick, showing us just how much of the fighting Charlize Theron is doing herself.
Here's the Atomic Blonde featurette taking a closer look at Charlize Theron kicking ass:
As the featurette notes, the stunt coordinator was fully prepared to plan short spurts of action where they would only do a few moves before having to move the camera and begin a new shot with another round of moves. But during the training process, Charlize Theron proved that she could handle even more action in one shot without having to cut, and as we learned in our own Jacob Hall's review from SXSW, that certainly helps make the movie stand out.
Atomic Blonde also features James McAvoy, John Goodman, Til Schweiger, Eddie Marsan, Sofia Boutella and Toby Jones in the film based on the Oni Press graphic novel series"The Coldest City," adapted by Kurt Johnstad (300) and directed by John Wick helmer David Leitch.
Oscar-winner Charlize Theron explodes into summer in Atomic Blonde, a breakneck action-thriller that follows MI6's most lethal assassin through a ticking time bomb of a city simmering with revolution and double-crossing hives of traitors.
The crown jewel of Her Majesty's Secret Intelligence Service, Agent Lorraine Broughton (Charlize Theron) is equal parts spycraft, sensuality and savagery, willing to deploy any of her skills to stay alive on her impossible mission. Sent alone into Berlin to deliver a priceless dossier out of the destabilized city, she partners with embedded station chief David Percival (James McAvoy) to navigate her way through the deadliest game of spies.
Atomic Blonde arrives later this month on July 28.