Jon Favreau's 'The Lion King' Remake Casts John Oliver In The Perfect Role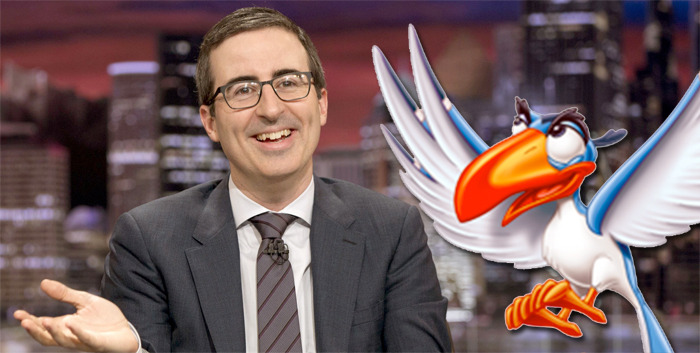 In Disney's original animated hit The Lion King, the future king Simba is followed around by a red-billed hornbill named Zazu. The bird serves as his father Mufasa's majordomo, or the the chief steward of a household staff, so he's tasked with keeping an eye on the lion cub who will one day inherit everything the light touches. The voice of the bird in Disney's 1994 animated classic was none other than Rowan Atkinson, best known for not having much of a voice at all in the British comedy series Mr. Bean. But now Zazu will have a new voice in Disney's live-action remake from director Jon Favreau.
The Lion King remake cast has picked up Last Week Tonight host John Oliver to play the loyal bird who keeps Simba in line, which is pretty much the perfect casting for the British comedian.
John Oliver has been on a hot streak ever since leaving The Daily Show on Comedy Central to start his own news satire program on HBO, and it's easily one of the most important shows on television right now. Beyond that, Oliver hasn't done much as much as you think he would have in the acting department. Oliver has lent his voice to plenty of projects, such as the live-action/CG hybrid film The Smurfs, as well as animated series like Rick and Morty, Robot Chicken, The Simpsons and Bob's Burgers, but this will easily be the most high profile role he's had on the big screen.
Oliver joins a cast that includes James Earl Jones reprising his role as Mufasa, Donald Glover as the up and coming king Simba, and comedy stars Billy Eichner and Seth Rogen as the meerkat and warthog duo Timon and Pumbaa. So far those are the only official cast members, announced, though there have been rumors that Disney has been trying to lock down Beyoncé to play Simba's childhood friend turned love interest, Nala. We've yet to hear if anything has come out of that yet.
The good news is that we might be getting The Lion King cast announced in full very soon. Disney's D23 Expo is happening this coming weekend, and there the studio will be announcing plenty of news about the projects they have coming to theaters over the next two to three years. That will likely include the full cast for The Lion King, so stay tuned for updates very soon.
The Lion King is slated to hit theaters on July 19, 2019.