'Logan Lucky' Clip: Daniel Craig Weighs The Pros And Cons Of Pulling Off The Heist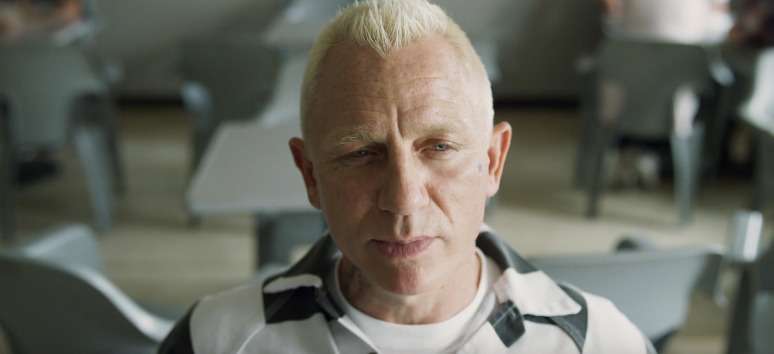 Daniel Craig is best known for tracking down international threats as the secret agent James Bond, but late this summer, he's going to break that image by playing a bleach blonde criminal with a Southern-accent in Steven Soderbergh's newest film.Logan Lucky finds Daniel Craig behind bars as Joe Bang, an expert thief (though I guess he can't be all that great if he got caught) who the Logan brothers (Channing Tatum and Adam Driver) are keen on recruiting to help them with robbing the Charlotte Motor Speedway during one of the biggest NASCAR races of the season. However, in a new Logan Lucky clip, Craig has to weigh the pros and cons of the heist to make sure it's worth pulling off first.
The more I see of Daniel Craig in footage, the more I am excited for the movie in general. I'm glad that Joe Bang isn't just a character who is over the top and crazy all the time, but rather has a more calculated and reserved side to him. The way he calmly explains to the Logan brothers how he approaches a new job is quite methodical, which makes me think the reason he got caught is because something went wrong, rather than him being a bad thief. Then again, he could be explaining things in a slow, relaxed way because he thinks the Logan brothers won't completely understand him otherwise (since he seems to regard them as a little dimwitted).
Logan Lucky has the feel of a redneck Ocean's Eleven, and that sounds absolutely fantastic to me. There's even a big ensemble cast to go with this one that includes Seth MacFarlane, Riley Keough, Katie Holmes, Katherine Waterson, Dwight Yoakam, Sebastian Stan, Brian Gleeson, Jack Quaid, and Hilary Swank. This will certainly be a fun way to wrap of the blockbuster summer in the middle of August.
If you want to see more from Logan Lucky, check out the most recent trailer right here.
The Logans are a hardscrabble family from the hills of West Virginia, and their clan has been famous for its bad luck for nearly 90 years. But the conniving Jimmy Logan (Channing Tatum) decides its time to turn the family's luck around, and with a little help from his friends, the Redneck Robbers, he plans to steal $14 million from the Charlotte Motor Speedway.
Logan Lucky hits theaters on August 18.