Con Of Thrones Recap: Three Days In The Water Gardens Of Tennessee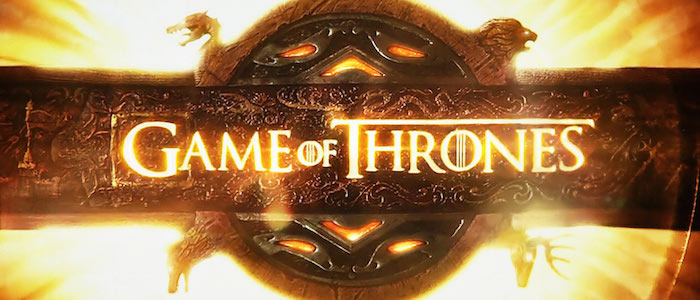 Game of Thrones is all about the brutality of war and the bloodthirstiness of familial rivalries – a gore-soaked fest of violence, rape, incest, and any other carnal human unpleasantry. Which is why Con of Thrones – a 3-day convention celebrating the beloved series – is such a conundrum. Under the canopied domes of Nashville's Gaylord Opryland Resort, among vacationers in flip flops and rhinestones, was nestled a group of people so lovely, loving, and friendly that their blood-soaked cosplay was of no mind.
I've walked my fair share of convention floor spaces, but have never before left one with such a heavy heart. Con of Thrones wasn't a massive or fully realized singular fan event on the scale of something like Star Wars Celebration, but it was a place where podcasters were a bigger draw than celebrities or where you might use the (gender neutral) restroom after a woman dressed as a statue, then go have a smoke with the actor who plays Syrio Forel. In contrast to the fluorescent halls of bigger cons, the fairytale setting of the Opryland – with its wild fauna and Disney-liked themed buildings – set the tone for an intimate, magical event. Every day felt like wading into the Dornish Water Gardens and drinking wine with friends.
It was the first year for Con of Thrones, billed as the "largest-ever convention for fans of Game of Thrones and A Song of Ice and Fire," an effort fronted by podcaster Zack Luye and Mischief Management, a convention-organizing group that's run entirely by fans. And for a first-year con, it was mighty impressive. The setting, as already mentioned, was beautiful and appropriate; the guests were, by my estimation, pretty top-notch; and I didn't once sit through a dull or uninteresting panel. But the real token of the event were the people I met, ranging from long-time Twitter acquaintances to complete strangers. This is absolutely the first convention I've ever attended where I left with half-a-dozen phone numbers and 20 new Twitter followers.
Instead of recapping the event day-by-day, I thought I'd pick out the major things I picked up on as an attendee, including highlights and lowlights.
Fun #Cosplay and shirts from #ConofThrones in Nashville, TN this past weekend. #costumes #convention #got #gameofthronesfandom #gameofthrones #gameofthronescosplay
A post shared by David Chen (@davechensky) on
Cosplay Was King
I cannot stress enough how insanely wonderful the cosplay was at this event. I've gone to big-wig conventions but have never seen the grandeur on display here. The costume contest Saturday was a neat parade of the some of the offerings, but walking the floor was a better way to encounter even more of the beautiful fabrics, props, and prosthetics fans blended together. Standouts for me were a woman dressed as the crypt statue of Lyanna Stark (she moved slowly, held a candle, and never broke character), a girl with neon hair as the Exploding Sept of Baelor, a man bearing an uncanny resemblance to Kit Harington in some of Jon Snow's most iconic costumes (he greeted guests at check-in with a "Traitor" sign), a giant Wun-Wun on stilts, a Hodor with a Bran doll on his back, a fantastic "Battle of the Bastards" Sansa, and an impressive Night's King and Child of the Forest. Wun-Wun – a huge hit on the convention floor – walked away with the cosplay content's top prize, but I saw a fair share of amazing creations that didn't even make it to the stage.
Because the Opryland Resort wasn't just home to Con of Thrones, it was pretty great to see other vacationers take in the sight of someone in full-on cosplay standing next to them at Starbucks or waiting casually for their elevator. At dinner one night, I heard a woman point to a girl in a Lyanna Stark childbirth costume – drenched in faux blood – and ask her husband, "I wonder what happened?"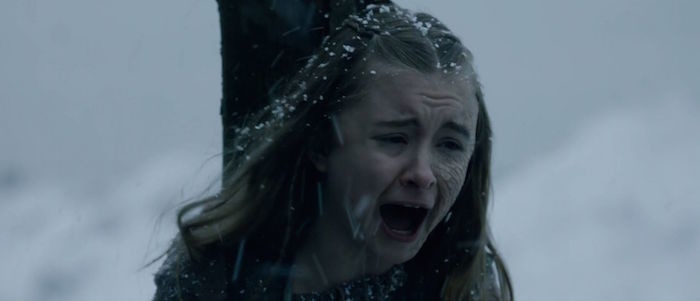 Ghosts Rule
I missed the Paula Fairfield panel, where the show's sound designer hinted that every episode in Season 8 might be feature-length, but I was able to see the Ghosts of Westeros panel that same day – which was a huge festival highlight for me.
Hosted by Vanity Fair's Joanna Robinson and /Film's own David Chen, several actors who played deceased characters on the show gathered to talk about their death scenes and what it meant to be on Game of Thrones – both professionally and personally. The actors included were Iwan Rheon (Ramsay Bolton), Sam Coleman (Young Hodor), Kate Dickie (Lysa Arryn), Kerry Ingram (Shireen Baratheon), Roger Ashton-Griffiths (Mace Tyrell), Miltos Yerolemu (Syrio Forel) and Aimee Richardson (the first Myrcella Baratheon). What could have been a formulaic chat was instead a hilarious and exhilarating one thanks to the excellent questions from the hosts and the chemistry of the actors on stage, who were all personable and relaxed, and had a great humor about leaving the show. Major props to Richardson, who was recast before her character's death but managed to talk about it with grace and maturity.
Robinson kicked off the panel by joking that there was some question about whether Yerolemu would be able to attend it, since Syrio might not be dead. "You're stirring up a lot of trouble," he joked with a cheeky grin. Fans have long-wondered if Syrio is actually a goner, or if he escaped to Braavos and will eventually reconnect with his water dancer, Arya. Yerolemu didn't spill the beans, but he did talk about season 7 with a certain knowingness. Maybe he's just insightful – or maybe Syrio really will show up.
The mechanics of each of the actor's death scenes were pretty fascinating. There were no real dogs in the room with Rheon when Ramsay kicked it, Ingram was actually surrounded by flames when Shireen was burned ("There was minimal CGI involved, and minimal acting," the actress deadpanned), Dickie – who's terrified of heights – was supposed to have a silent death but screamed on her way through the Moon Door, and Ashton-Griffiths told of a poignant final moment between Mace and his children that was cut for time.
Perhaps best of all was Rheon shutting down a fan question that wondered if Ramsay's final words to Sansa – "You can't kill me. I'm part of you now." – were an indication that she's pregnant with his child. After explaining that he took it to mean that he left an imprint on her psyche, he added, "And anyway, how the hell would Ramsay know?"
The Great Debates Were Great
The Ghosts of Westeros panel was in the main showroom, but the smaller panels were equally excellent. Props to the Con for securing podcasters, bloggers, cosplayers, and other passionate fan experts to lead the conversations. This was a crew of people who know the books and show inside out, and already dedicate their lives to writing and talking about them. They were able to smoothly guide the discussions, and the panels ranged from topics like religion and weaponry and dragons, to more character-focused conversations about Bran's mysticism, Sansa's divisiveness, Jon's parentage, and the ideologies of Varys and Littlefinger.
My favorite of the small-room panels were the Great Debates, hosted by Storm of Spoilers podcasters Joanna Robinson, Neil Miller, and Dave Gonzales. In a small meeting room, the hosts proposed a topic and the guests offered up suggestions, before the whole room voted on winners. Topics ranged from "who's the best ruler in Westeros?" to "what's the best idea for a Game of Thrones spin-off series?" As a friend of the hosts, I was asked to co-moderate Sunday's "who's the best fighter" panel, where I fought valiantly for Brienne of Tarth (who lost to Ser Arthur Dayne). Each panel was a healthy discussion among fans, who laughed and poked fun at each other, but remained diplomatic. Saturday's "most upsetting deaths" Great Debate had an unfair disadvantage when it was crashed by Sam Coleman and Kerry Ingram, the latter of whom convinced the audience that Shireen's death was the most tragic.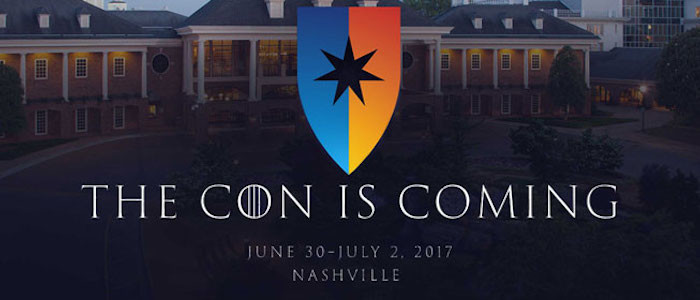 More Light in the Ball
One major complaint I heard was about the Saturday evening Ball on the Wall event, which was supposed to feature GoT-themed bands and belly dancers. I didn't make into the ballroom because I was too busy catching up with attendees in the hall outside, where drinks were being poured, cosplayers were acting out sketches, and everyone was able to chat in good lighting. The ball, however, was in a large, dark, and loud room that prevented mingling. My one big suggestion for next year – apart from filling in the Marketplace, which featured impressive vendors but far too few of them – is to host a big mid-event party that encourages conversation over spectacle. This is a crew of people from around the word who want to meet up and make friends, and one big moment that encourages and promotes that would have been great. Luckily, the fans sort of did that themselves outside of the hall, but it felt awkward to ignore the show inside.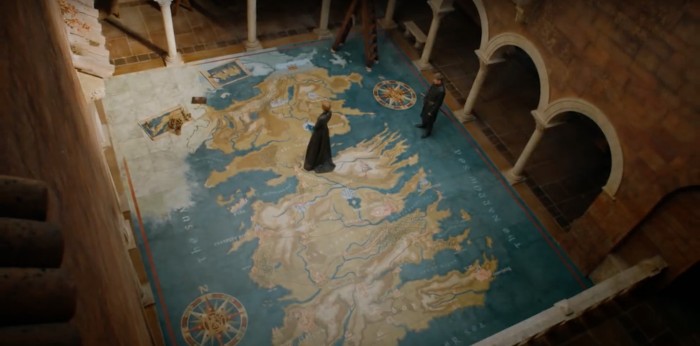 The Greatest App in the Realm
I don't know what I would have done without the awesome Con of Thrones app attendees were encouraged to download upon purchasing tickets. After creating an account, you could view the daily schedules, set up reminders, see speakers and vendors, look at an interactive map, and – best of all – chat with other con-goers in the main activity stream. I've never seen a con app full of so much love and constant streams of communication. You could literally see friendships being born, as solo guests looked for people to hang with and were met with a barrage of dinner invites. Attendees posted photos, asked for directions, and had access to panel hosts and creators who could answer direct questions. Three days later, and people are still using the app, organizing chatroom discussions for Season 7 and meet-ups at other conventions.
Beware the Night King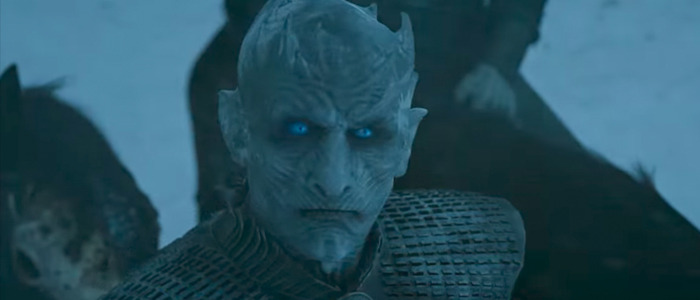 I'd say the biggest surprise of the weekend for me, in terms of book/show-related discourse, was just how curious fans are about the mysterious Night King, a character who exists as a menacing blue-horned villain on the show but does not exist in George R. R. Martin's books. (A similarly named "Night's King" is referenced in the books but is not the leader of the White Walkers and appears to be an entirely different character.) At almost every panel I attended, the Night King was brought up by fans, many wondering how he'll factor into the final two seasons, why he's so interested in Jon Snow, and whether or not he'll marry Sansa (no, really). I'll admit that the character never really intrigued me beyond being an impressive-looking bad guy, but after hearing some of the wild theories this weekend, he's high up on my list of big questions.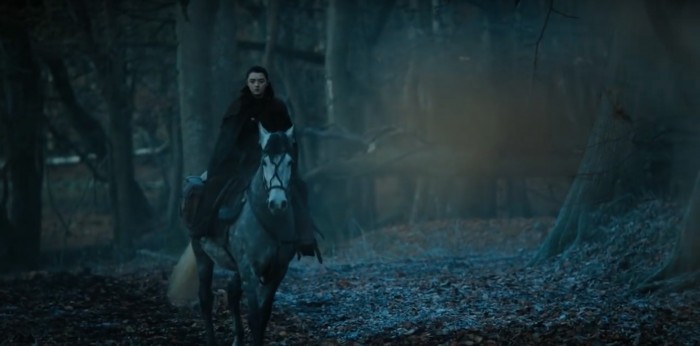 Last Thoughts 
Overall, Con of Thrones was an amazing experience, especially if you value intellectual and personable discussions over just the awe and spectacle that comes with tentpole events like SDCC. I preferred that it was small-scale and intimate, and loved putting faces to online names I've known for ages – like Sue of Watchers on the Wall and the Bald Move guys. I heard some dissent about the lack of big-name stars (like Kit Harington, Emilia Clarke, and Peter Dinklage), but I never expected those people to be there, especially two weeks before the series returns when they're deep in the throes of promotion. And it was a blast to have people like Kate Dickie there instead – because she's not under the limelight pressures of Harington and Clarke, she walked the floor casually, and even hung out with fans at the afterparties. (As did Sam Coleman, who I learned is super political, even running for a council position in his English hometown, and is also a musician and poet. Hodor for the win!)
Because the resort wasn't primarily a convention center, there was some occasional disarray when it came to finding panels. A few hosts seemed spread a little thin – it'd be nice to see some more variety so that a handful of people aren't cramming so many duties in at once. It'd also be nice to have some more food and drink options – the Opryland has plenty of restaurants, but most of them are on the pricier side, and it was hard to track down something simple like a cup of coffee or a granola bar.
But those are the wrinkles of a first-time event, and I imagine – given the apparent success of this one – that they'll even out by the next outing, which has yet to be announced. Given the fan and guest enthusiasm – tweets from the attending cast were insanely positive – I'm sure they'll lure in even more talent next year, especially if the rumors are true and there's a year-long gap between seasons. With two seasons and two books left, it's the best-possible time to be a Game of Thrones fan. Con of Thrones came at just the right moment.