'War For The Planet Of The Apes' Tracking For $65 Million Opening, New Featurettes Recap The Series So Far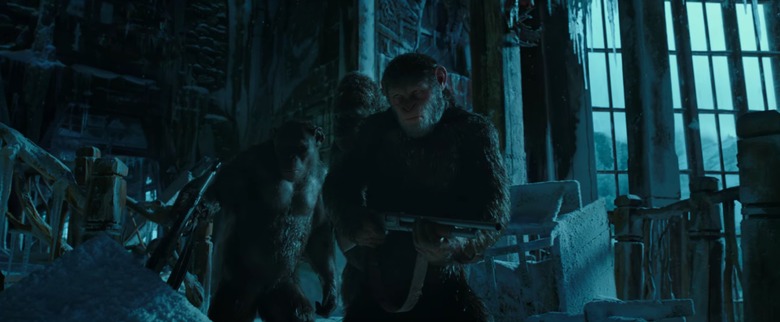 Director Matt Reeves' War for the Planet of the Apes was /Film's most anticipated movie of the summer and it hasn't let any of us down yet. In his full review, Ethan Anderton gave it a rare 10 out of 10. Ben Pearson named it one of the 10 best movies of 2017 so far. Hoai-Tran Bui had some reservations, but even she threw around words like "brilliant" to describe its craftsmanship. Heck, I'm one of the only members of the team who hasn't seen the movie yet, so I can only write about these new featurettes and the box office tracking and say "Yeah, it still looks pretty great."
Let's start with the box office tracking. According to Variety, War for the Planet of the Apes is eyeing an opening weekend of $55 million to $65 million, which puts it on similar ground with the previous two movies in the series. Rise of the Planet of the Apes opened to $54 million back in 2011 while Dawn of the Planet of the Apes opened to $72 million back in 2014. Both films ended up growing strong legs and became big hits at the domestic and international box office, so expect the third film to follow suit.
In fact, in a summer where Baby Driver exceeds box office expectations and Transformers: The Last Knight fizzles out, I wouldn't be surprised if War for the Planet of the Apes is the refreshing change of pace audiences have been looking for. Like Wonder Woman before it, it's easy to imagine this one becoming one of the biggest movies of the summer.
Perhaps because they've realized that people who missed the first two movies may find their way into a theater showing War for the Planet of the Apes, 20th Century Fox has released two featurettes recapping everything you need to know from the first two movies. This first one explores the man-made virus that increases the intelligence of apes but has the nasty side-effect of killing humans and has wiped out the majority of the Earth's population.
For a more emotional recap, this longer video touches on the most important beats from Rise of the Planet of the Apes and Dawn of the Planet of the Apes. If you haven't re-watched these movies in a little while, you may find this to be a useful reminder of where this all started and how it all came to this.
War for the Planet of the Apes opens on July 14, 2017.