Find Out Where To Catch 'Dunkirk' In 70mm, Learn The Difference Between All Formats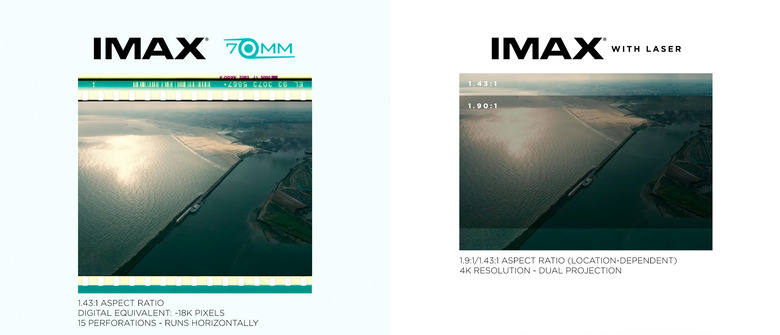 Hot on the heels of a new trailer for Dunkirk touting the availability of tickets for 70mm screenings of the World War II drama from director Christopher Nolan, we have the full list of theaters where you'll be able to catch the movie in the giant format.
For those of you who don't know why it will be worth it to seek out Dunkirk on 70mm, a format guide explains how much more of the image you'll be seeing from the large format camera that Christopher Nolan used to shoot the film.
Get the full list of Dunkirk 70mm locations below.
Before the full list of Dunkirk 70mm locations, here's a guide to the different formats of the movie: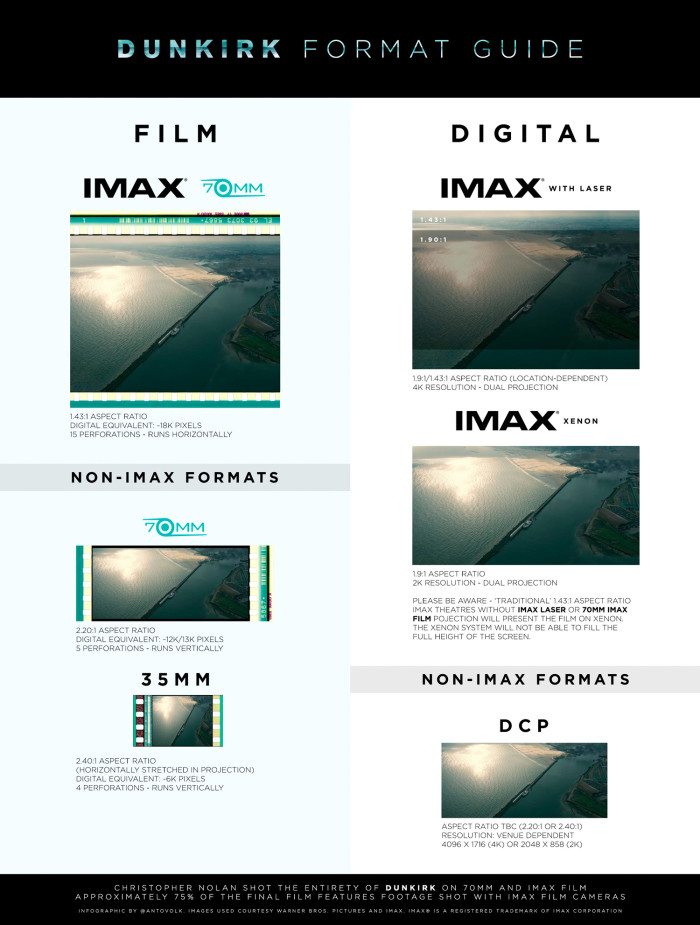 As you can see, the IMAX 70mm will be the best format, but the IMAX Digital is a massive picture as well. There's also a non-IMAX 70mm, so make sure you're buying tickets for the correct 70mm version whenever you make your purchase. The rest of the formats will look great, but nothing will compare to an image was captured with a giant IMAX camera. As we found out this morning, tickets are on sale now, and the full list of theaters has been unveiled (via Nolan Fans):
ALBERTA
Scotiabank Chinook 16 IMAX (Calgary)
Scotiabank IMAX (Edmonton)
ALABAMA
IMAX Dome Theater (Birmingham)
US Space Center IMAX (Huntsville)
ARIZONA
AMC Westgate (Glendale)
Grand Canyon IMAX (Grand Canyon Village)
Harkins Tempe Marketplace (Tempe)
Loft (Tuscon)
BRITISH COLUMBIA
Cineplex Colossus IMAX (Langley)
Cineplex Park (Vancouver)
CALIFORNIA
AMC Burbank 16 (Burbank)
Century Daly City (Daly City)
Regal Hacienda 20 IMAX (Dublin)
ArcLight Hollywood (Hollywood)
Regal Irvine Spectrum IMAX (Irvine)
ArcLight 14 (La Jolla)
Grossmont Center 10 (La Messa)
Regal Long Beach Stadium (Long Beach)
Cinemark 18 (Los Angeles)
Landmark 12 (Los Angeles)
Timko Grand Lake 4 (Oakland)
Regal Ontario Palace 22 IMAX (Ontario)
Sagewood Camelot (Palm Springs)
Esquire IMAX (Sacramento)
Tower Theatre (Sacramento)
AMC Mission Valley (San Diego)
Alamo Mission 5 (San Francisco)
AMC Metreon IMAX (San Francisco)
Cinemark San Francisco Center (San Francisco)
Century Oakridge (San Jose)
Hackworth IMAX (San Jose)
AMC Mercado (Santa Clara)
ArcLight Sherman Oaks (Sherman Oaks)
AMC Del Amo 18 (Torrance)
Cinemark Union City 25 (Union City)
AMC Citywalk IMAX (Universal City)
COLORADO
Regal Contiental (Denver)
AMC Westminster 24 (Westminster)
CONNECTICUT
INDLF Maritime IMAX (Norwalk)
WASHINGTON D.C.
Regal Gallery Palace Stadium 24 (D.C.)
FLORIDA
Cinemark Palace (Boca Raton)
Coral Gables Art Cinema 1 (Coral Gables)
Cinemark Paradise Park 24 (Davie)
AMC Disney Springs 24 (Lake Buena Vista)
AMC Aventura (Miami)
Regal Waterford Lakes (Orlando)
AMC Veterans (Tampa)
AMC Parisian (West Palm Beach)
GEORGIA
Regal Atlantic Station (Atlanta)
Regal Mall of Georgia 20 (Buford)
IOWA
Sci Dome IMAX (Des Moines)
ILLINOIS
River East 21 (Chicago)
Keresotes Showplace Icon (Chicago)
Music Box (Chicago)
Cinemark Evanston (Evanston)
INDIANA
White River IMAX (Indianapolis)
KANSAS
AMC Town Center (Leawood)
LOUISIANA
AMC Elmwood Palace (New Orleans)
MASSACHUSETTS
AMC Boston Common (Boston)
Coolidge Corner 2 (Brookline)
Somerville 5 (Somerville)
MARYLAND
AMC White Marsh (Baltimore)
Maryland Science Center IMAX (Baltimore)
Cinemark Egyptian (Hanover)
AFI Silver 3 Theatre (Silver Springs)
MICHIGAN
AMC Livonia (Livonia)
AMC Forum 30 (Sterling Heights)
MINNESOTA
Great Clips IMAX (Apple Valley)
ARC Willow Creek 12 (Plymouth)
MISSOURI
OMNIMAX (St. Louis)
Marcus Ronnies (St. Louis)
NORTH CAROLINA
Discovery Place IMAX (Charlotte)
Regal Stonecrest (Charlotte)
AMC Southpoint (Durham)
NEW JERSEY
AMC Cherry Hill (Cherry Hill)
AMC Hamilton 24 (Hamilton)
AMC Garden State (Paramus)
NEW MEXICO
Cinemark Rio 24 (Albuquerque)
NEVADA
AMC Town Sqaure (Las Vegas)
NEW YORK
Alamo Drafthouse Downtown Brooklyn (Brooklyn)
Farmingdale 14 (Farmingdale)
Regal New Roc City (New Rochelle)
AMC Lincoln Square IMAX (New York)
City Cinemas East 86th St. (New York)
Cinema 1,2,3 (New York)
Village East 7 (New York)
Regal E-Walk Stadim (New York)
OHIO
Gateway Film Center 7 (Columbus)
Cinemark Valley View (Valley View)
OKLAHOMA
AMC Quail Springs (Oklahoma City)
ONTARIO
Cineplex Coliseum IMAX (Mississauga)
Cineplex Varsity 12 (Toronto)
Cineplex Colossus IMAX (Woodbridge)
OREGON
Hollywood 3 (Portland)
Regal Bridgeport (Tigard)
PENNSYLVANIA
AMC Neshaminy 24 (Bensalem)
Regal King of Prussia 15 IMAX (King of Prussia)
Tuttleman IMAX (Philadelphia)
AMC Waterfront (West Homestead)
QUEBEC
Cineplex Banque Scotia 12 (Montreal)
RHODE ISLAND
Providence Place IMAX (Providence)
SASKATCHEWAN
Kramer IMAX (Regina)
TENNESSEE
Regal Pinnacle Stadium (Knoxville)
Regal Opry Mills 20 IMAX (Nashville)
TEXAS
Studio Movie Grill 9 (Arlington)
Alamo Drafthouse Ritz (Austin)
AMC Northpark 15 (Dallas)
Look 11 (Dallas)
Studio Movie Grill Royal Lane 9
Cinemark 17 IMAX (Dallas)
OmniaMAX Fort Worth (Fort Worth)
AMC Gulf Pointe (Houston)
Regal Edwards Freenway Grand Palace (Houston)
Cinemark Tinseltown (Pflugerville)
Cinemark West Plano (Plano)
Santikos Palladium 19 (San Antonio)
VIRGINA
AMC Hoffman Center (Alexandria)
AMC Tyson's Corner (McLean)
WASHINTON
AMC Pacific Place 11 (Seattle)
Cinerama (Seattle)
WISCONSIN
Marcus Majestic Cinema of Brookfield (Waukesha)
Tickets for the 70mm screenings at the above locations are available now, and it's the widest release for a film in the format, even more than The Hateful Eight. As for the regular format showings, they will go on sale at 9:00am ET on Friday, July 7. If you're outside of the United States and Canada, check out this link for international 70mm showings of Dunkirk.