Cool Stuff: 'Jaws' Gets A Mondo Vinyl Release With Phantom City Creative Artwork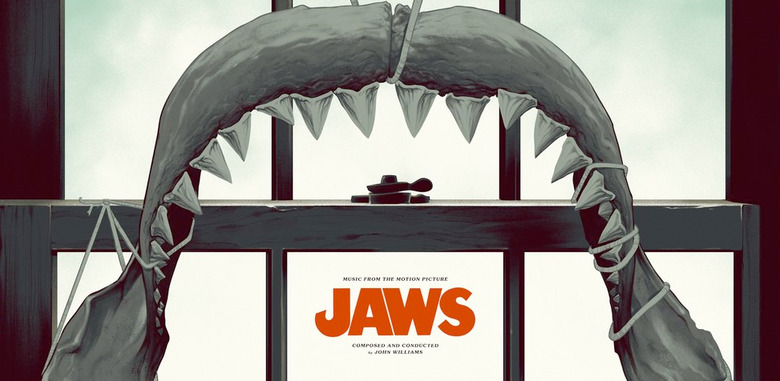 Back in 1975, Steven Spielberg made the beach terrifying to families enjoying a day off on the 4th of July by bringing Jaws to theaters. Helping to make the prospect of a shark-infested beach that much more scary was the iconic, suspenseful notes that John Williams composed to add even more suspense to what became the first summer blockbuster.
Now you can bring the famous Jaws theme home on vinyl thanks to Mondo's latest commemorative release of the score, complete with artwork by Phantom City Creative. Though the score has been available on vinyl before, it was only ever offered as a re-recording. This is the first time the score, as composed and recorded for the actual film, has been made available on vinyl, and it looks glorious.
Get a glimpse of the Mondo Jaws vinyl down below.
Here's the Mondo Jaws vinyl 2XLP with Phantom City Creative artwork and ocean blue vinyl discs:
The Jaws score was restored, edited and mixed by album co-producer Mike Matessino, making this quite the fantastic vinyl release for Mondo. If for some reason you don't want the ocean blue vinyl pictured above, you can also get it on black vinyl as well. The pre-order is up now, but the vinyl won't ship until October.
If you're not a vinyl collector, Phantom City Creative's artwork was also released as a limited edition print, but the bad news is that they went on sale while you were cooking out and shooting fireworks on July 4th. They still sold out extremely fast, so now if you want to get our hands on one of those prints, you'll have to hit the secondary market and likely pay a hefty price.
For those who maybe aren't ready to drop that kind of cash but would still like a new collectible from Mondo to commemorate their love for Jaws, check out this enamel pin set designed by Oliver Barrett: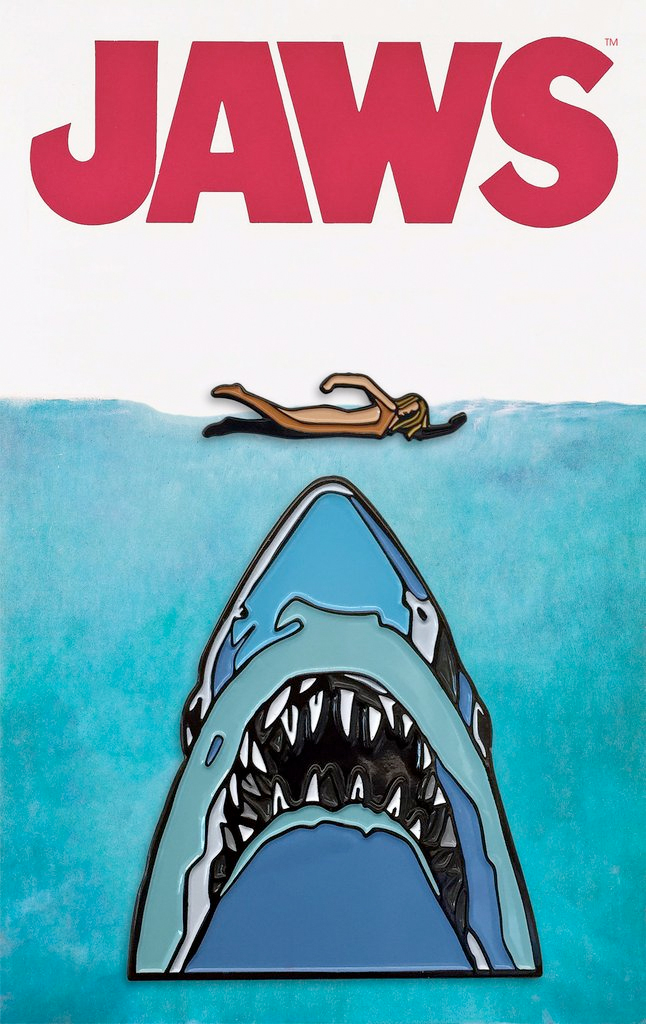 Inspired by the original teaser poster, the pin set features the iconic shark coming to the surface, as well as the helpless skinny dipping woman who becomes his dinner. The shark is 1.75 inches high while the swimmer is 1.15 inches wide. You can pre-order the Jaws pin set now, and it will ship in four to six weeks.