New 'Dunkirk' Trailer: Christopher Nolan Takes The Fight To The Beaches And Streets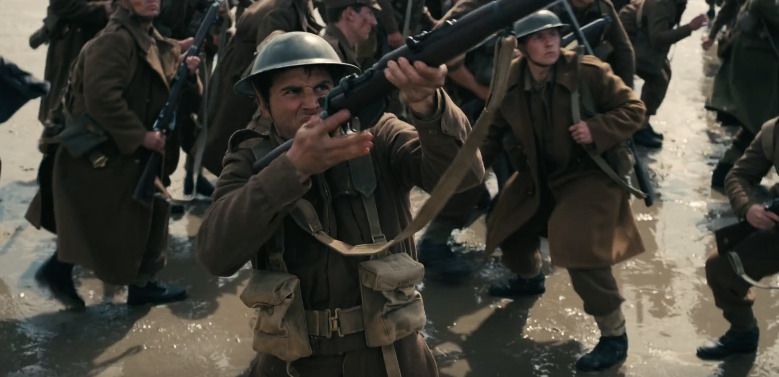 With all the chatter about summer blockbusters this year, it seems like everyone needs a reminder that Christopher Nolan has a new movie coming out this summer. It's not a comic book sequel or even a heady sci-fi flick, but rather a World War II drama with an impressive ensemble cast.
Dunkirk is based on the true story of a rescue operation where thousands of British and Allied troops found themselves trapped on a beach, pushed into a corner by the enemy, leaving citizens to help them survive and escape. A new trailer has just arrived, pushing the intensity of the war, as well as the special 70mm engagements that viewers will be able to catch when the film hits theaters later this month.
Here's the new Dunkirk trailer straight from Warner Bros. Pictures:
This is the most fast-paced, exciting trailer for Dunkirk yet, really putting an emphasis on the suspenseful battle these soldiers endured. The ticking clock certainly adds an element of urgency, and there look to be at least a handful of sequences offering some kind of tense moment that we haven't seen in a war drama like this before, which should make the proceedings feel more refreshing than they otherwise might.
As the trailer says at the end, tickets for special 70mm engagements go on sale today, while tickets for the rest of the showings will be available this Friday. There doesn't appear to be an active link to buy tickets yet, but stay tuned to the Dunkirk website for those tickets to be available or check with the nearest 70mm location to see if they're already on sale. There probably won't be quite as big of a rush for these tickets as there was for Christopher Nolan's films in The Dark Knight trilogy, but it will still draw a big crowd.
For more about Dunkirk, watch the recent theatrical trailer right here, and check out this roundtable discussion about the film with cast members Fionn Whitehead, Harry Styles, Tom Glynn Carney and Jack Lowden as they discuss their experience making the film with Christopher Nolan and more:
"Dunkirk" opens as hundreds of thousands of British and Allied troops are surrounded by enemy forces. Trapped on the beach with their backs to the sea they face an impossible situation as the enemy closes in.
"Dunkirk" features a prestigious cast, including Tom Hardy ("The Revenant," "Mad Max: Fury Road," "Inception"), Mark Rylance ("Bridge of Spies," "Wolf Hall"), Kenneth Branagh ("My Week with Marilyn," "Hamlet," "Henry V") and Cillian Murphy ("Inception," "The Dark Knight" Trilogy), as well as newcomer Fionn Whitehead. The ensemble cast also includes Aneurin Barnard, Harry Styles, James D'Arcy, Jack Lowden, Barry Keoghan and Tom Glynn-Carney.
The film is being produced by Christopher Nolan and Emma Thomas ("Interstellar," "Inception," "The Dark Knight" Trilogy). Jake Myers ("The Revenant," "Interstellar," "Jack Reacher") is serving as executive producer.
The behind-the-scenes creative team includes director of photography Hoyte van Hoytema ("Interstellar," "Spectre," "The Fighter"), production designer Nathan Crowley ("Interstellar," "The Dark Knight" Trilogy), editor Lee Smith ("The Dark Knight" Trilogy, "Elysium"), costume designer Jeffrey Kurland ("Inception," "Bullets Over Broadway"), and visual effects supervisor Andrew Jackson ("Mad Max: Fury Road").
Dunkirk arrives on July 21.