'Fantastic Beasts' Sequel Plot Details And New Cast Members Surface As Shooting Begins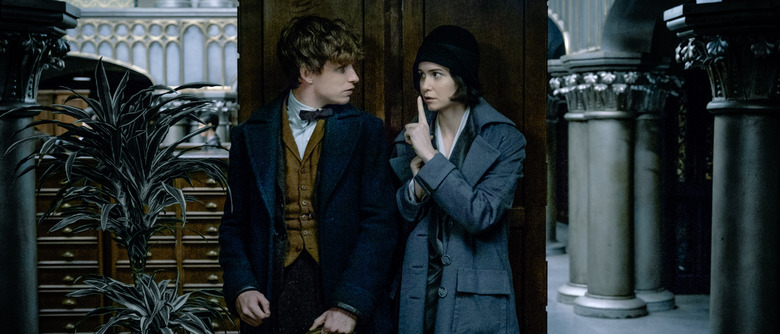 While tomorrow will be a magical day in the United States as many Americans take the day off to celebrate Independence Day with cookouts, fireworks and other assorted tomfoolery, today is a magical day across the pond for an entirely different reason.
The currently untitled Fantastic Beasts and Where to Find Them sequel started production at Leavesden Studios today, which is where all of the Harry Potter movies have been filmed since the beginning of the franchise. Warner Bros. Pictures sent out an official press release about the start of production, and with it comes some new details on the story, as well as notes on a handful of new characters coming into the fray. Find out everything you need to know about the Fantastic Beasts sequel plot and more below.
Eddie Redmayne is back as magizoologist Newt Scamander in 1927 New York City, just a few months after helping MACUSA discover and capture the famous dark wizard Gellert Grindelwald (Johnny Depp), who was hiding in plain sight, disguised as the auror Percival Graves (Colin Farrell). In those months, Grindelwald has somehow escaped, allowing him to amass even more followers to his cause of wizard superiority over Muggles, or No-Majs, as the Americans call them.
Enter Albus Dumbledore (Jude Law), once Grindelwald's dearest friend, who enlists the help of Newt Scamamder, his new wizard friends Tina Goldstein (Katherine Waterston), Queenie Goldstei (Alison Sudol) and the scene-stealing No-Maj baker Jacob Kowalski (Dan Fogler), to help him with a new mission that will "test their loyalties as they face new perils in an increasingly dangerous and divided wizarding world," taking the adventure from New York to London and Paris.
Throughout the sequel, we'll see a cast of returning and new characters, including the "mysterious return" of Ezra Miller, something that was almost teased much more obviously at the end of the first Fantastic Beasts movie. We'll also get a more proper introduction to Zoë Kravitz as Leta Lestrange, a woman who had a complicated relationship with Newt in the past that seems to have left him a bit emotionally scarred.
There's also Callum Turner as Theseus Scamander, Newt's brother who is a war hero and auror, making him quite a different man than Newt. He'll likely be a point of frustration for Newt, and presumably Theseus will be a bit humbled when Newt steps up to be an unlikely hero again. Finally, another new key character is Claudia Kim as an unnamed woman we first meet as a featured attraction at a wizarding circus. Could she be unnamed because she'll have a more direct connection to the Harry Potter universe? That's just a guess on my part, but the press release does indicate "some surprising nods to the Harry Potter stories that will delight fans of the books and film series," so it's not out of the realm of possibility.
Other cast members revealed from the fantasy ensemble include William Nadylam as a wizard named Yusuf Kama, Ingvar Sigurdsson as a bounty hunter named Grimmson, Ólafur Darri Ólafsson as Skender, master of the wizarding circus, and Kevin Guthrie as Abernathy, Tina and Queenie's boss at MACUSA.
J.K. Rowling is again scripting the Fantastic Beasts sequel, and she's also producing along with David Heyman, Steve Kloves and Lionel Wigram, with Tim Lewis, Neil Blair, Rick Senat and Danny Cohen serving as executive producers.
Harry Potter franchise director David Yates is on board to direct what will be the second entry in a five film series, and he brings with him an impressive crew that includes director of photography Philippe Rousselot (A River Runs Through It), Oscar-winning production designer Stuart Craig (the Harry Potter films), BAFTA Award-winning editor Mark Day (who worked on the last four Harry Potter films), Oscar-winning costume designer Colleen Atwood (Fantastic Beasts and Where to Find Them), Oscar-winning visual effects supervisor Tim Burke (also of the Harry Potter franchise) and Oscar-nominated visual effects supervisor Christian Manz (from Harry Potter and the Deathly Hallows: Part 1)
With production underway, hopefully we'll be learning more about the sequel as shooting continues. The yet-to-be-titled Fantastic Beasts and Where to Find Them sequel will hit theaters next year on November 16, 2018.