'Star Wars: The Last Jedi' Is Not Coming To San Diego Comic-Con 2017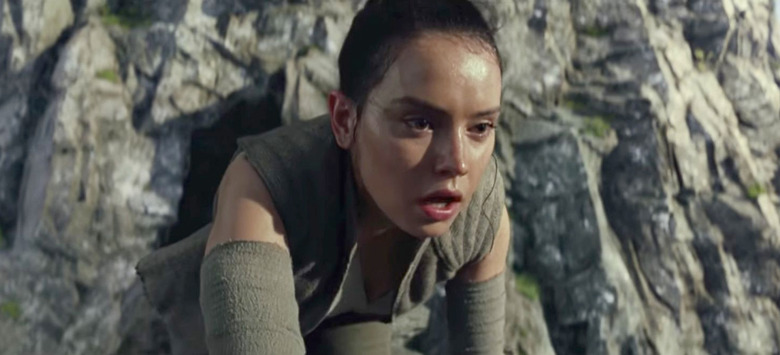 Later this month, the /Film crew will be heading to San Diego for our annual coverage of the biggest pop culture convention in the world. The San Diego Comic-Con is the big show for fans of all things sci-fi, comics, fantasy and more, but this year, it will be missing something big.
Despite the fact that Star Wars: The Force Awakens came to Comic-Con back in 2015, it sounds like Lucasfilm isn't bringing Star Wars: The Last Jedi to Hall H for fans to drool over footage. However, that may not necessarily be bad news, because it means we'll likely get a big reveal from the next chapter in the Star Wars saga sooner than later.
The lack of Star Wars The Last Jedi at Comic-Con was confirmed by The Unofficial San Diego Comic-Con blog after our pal Germain Lussier said there would not be a panel dedicated to the sequel while appearing on their podcast recently. The good news is that Lucasfilm will still be at Comic-Con, but as a spokesperson from their publicity department said, "Our presence at SDCC 2017 will be focused on our booth on the convention floor, so there will be no press events or interview opportunities this year."
There will be plenty of Star Wars hype to take advantage of at Comic-Con, just as there is every year, but it's a bit of a bummer that we won't get a Star Wars: The Last Jedi panel. Though Star Wars: The Force Awakens made a splash at the convention in 2015 with an awesome panel and a surprise outdoor concert afterwards, that was done partly as a celebration of Star Wars' first appearance at Comic-Con back in 1976.
Though this may be disappointing for Star Wars fans heading to San Diego for Comic-Con, there is a silver lining to this news. The week before Comic-Con is Disney's D23 Expo, and you can bet there will be some kind of Star Wars: The Last Jedi reveals happening there. In fact, there's a good chance that the next trailer for The Last Jedi will debut from D23, if only to help cover up the worry that came from the set of the Han Solo spin-off (which also obviously won't have a presence at Comic-Con) over the past couple weeks.
We'll be covering D23 and all the news that comes out of it from July 14 through July 16, so stay tuned for all the big updates about Star Wars, Marvel Studios and Disney's upcoming slate as well. For an idea of what to expect, check out the full schedule of panels right here.