'Spider-Man: Homecoming' Featurette Lets Michael Keaton's Vulture Take Flight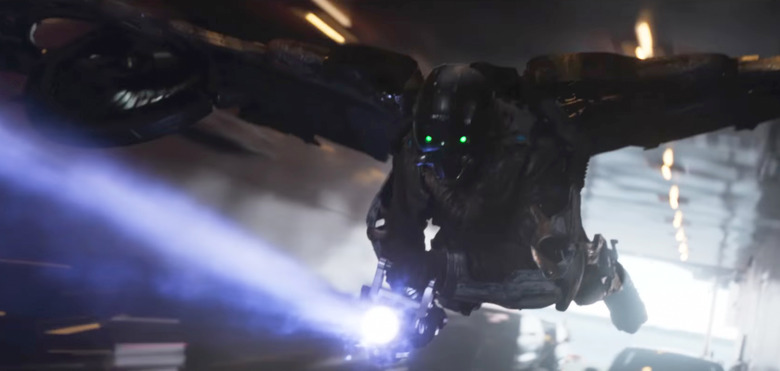 We're less than a week out from seeing Spider-Man return to theaters in a big way for his first solo outing since being brought back into the Marvel Cinematic Universe in Captain America: Civil War. The good news is that Spider-Man: Homecoming is an exciting revival of the webslinger's franchise that takes full advantage of his new place in a larger world. The even better news is that it brings a villain to the table that is easily one of Marvel's best yet.
Michael Keaton plays Adrian Toomes, aka The Vulture. Screwed out of a contracting deal by Tony Stark, Toomes turns to a life of crime, selling weaponized Chitauri technology to small-time criminals in order to effectively provide for his family. Of course, Spider-Man can't stand for this, but not even the webslinger's do-good principles will keep a man from keeping his family afloat.
Watch a new Spider-Man Homecoming featurette below to find out more.
Michael Keaton's Vulture is an outstanding villain, one who opposes Tom Holland's Peter Parker in some surprising and effective ways. Though initially it seemed like Vulture was a villain who should be one of Iron Man's bad guys instead, it's really Spider-Man who ends up creating more problems for the bad guy.
Vulture also has a criminal team to support him, which includes Michael Chernus as the Tinkerer, the man who turns all the alien technology into weapons and also created our chief villain's flight suit. Then there's also Bokeem Woodbine and Logan Marshall-Green as his armed and dangerous salesman, each playing a street-level version of a certain Marvel villain. Combined, they are one of the most grounded threats that any Marvel Studios superhero has faced, even if the technology they wield is a little out of this world.
A young Peter Parker/Spider-Man (Tom Holland), who made his sensational debut in Captain America: Civil War, begins to navigate his newfound identity as the web-slinging super hero in Spider-Man: Homecoming.  Thrilled by his experience with the Avengers, Peter returns home, where he lives with his Aunt May (Marisa Tomei), under the watchful eye of his new mentor Tony Stark (Robert Downey, Jr.). Peter tries to fall back into his normal daily routine – distracted by thoughts of proving himself to be more than just your friendly neighborhood Spider-Man – but when the Vulture (Michael Keaton) emerges as a new villain, everything that Peter holds most important will be threatened.
Spider-Man: Homecoming arrives in theaters on July 7.