'Atomic Blonde' Trailer: Charlize Theron Is Not F**king Around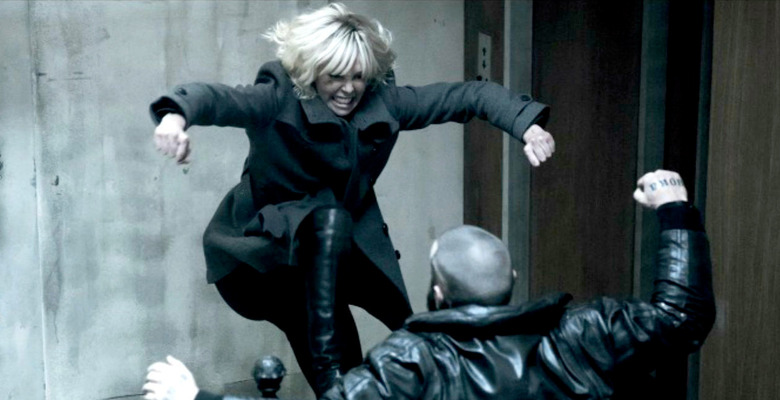 Keanu Reeves returned to the big screen in John Wick: Chapter 2 earlier this year, bringing the badass assassin back in an even bigger way. However, Charlize Theron isn't far behind with her own action flick, and she's got one of the filmmakers behind John Wick coming with her.
Atomic Blonde finds the Mad Max: Fury Road star as an assassin in 1980s Berlin who must deal with an endless array of bad guys as she attempts to complete her latest mission. A new trailer for the movie from director David Leitch (who is hard at work on Deadpool 2) has arrived and it showcases even more of Charlize Theron's kick-ass action.
Watch the new Atomic Blonde trailer below.
Our own Jacob Hall caught Atomic Blonde at SXSW earlier this year, and while he noted "the general plottiness of Atomic Blonde that sometimes drags it down and you can feel the shape of a leaner, faster movie lurking within the slightly-too-long running time," he also said, "once the action kicks in, it becomes easy to forgive just about everything else." The action certainly looks to be of the highest caliber, as fast-paced, meticulously choreographed and hard-hitting as John Wick. You can read his full review over here.
What I've loved most from the trailers so far is the presence of glorious synthesized pop rock, and apparently the soundtrack is full of 1980s tunes to add to the action. At SXSW, David Leitch even said that the soundtrack was a key part of the movie's style. We can now consider this a trend: action movies that make their soundtrack a more integral part of the proceedings than usual, just like Guardians of the Galaxy and, on an even more extreme level, Baby Driver.
The cast also features James McAvoy, John Goodman, Til Schweiger, Eddie Marsan, Sofia Boutella and Toby Jones. The film is based on the Oni Press graphic novel series The Coldest City, by Antony Johnston & illustrator Sam Hart, adapted by Kurt Johnstad (300).
Oscar winner Charlize Theron explodes into summer in Atomic Blonde, a breakneck action-thriller that follows MI6's most lethal assassin through a ticking time bomb of a city simmering with revolution and double-crossing hives of traitors.
The crown jewel of Her Majesty's Secret Intelligence Service, Agent Lorraine Broughton (Theron) is equal parts spycraft, sensuality and savagery, willing to deploy any of her skills to stay alive on her impossible mission. Sent alone into Berlin to deliver a priceless dossier out of the destabilized city, she partners with embedded station chief David Percival (James McAvoy) to navigate her way through the deadliest game of spies.
Atomic Blonde opens in theaters July 28.