Watch Video Of Walt Disney World's Updated 'Pirates Of The Caribbean' Auction Scene [Updated]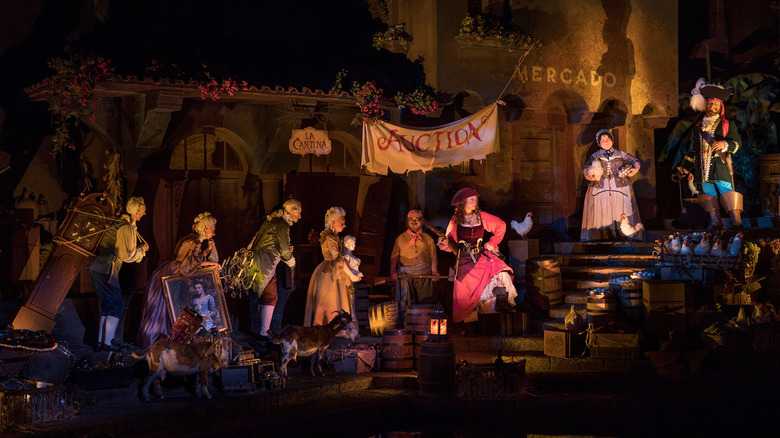 Update: Walt Disney World's Pirates of the Caribbean has re-opened today with its updated auction scene. You can check out video of the tweaked scene, and its new female pirate character, below.
Whenever Disney tampers with their most beloved and iconic theme park rides in any way, fans have the habit of decrying whatever adjustments are being made and shouting "Walt would never have approved this!" Sometimes, the outrage is justified. Sometimes, it's not.
But it's no wonder that news of a major alteration to a famous scene in the Pirates of the Caribbean rides is buried at the bottom of a blog post. This one is going to prove controversial – the "wench auction" is being removed and replaced with a new scene.
Update: Here is the new auction scene in all of its glory!
For those of you who have never ridden Pirates of the Caribbean, which opened at Disneyland in 1967 before spreading to Walt Disney World and the various other Disney theme parks, the bulk of the attraction is a boat ride through a pirate attack on a costal town. Riders are witness to the initial assault and the plundering that follows, with much of the action depicted in a humorous tone (and set to the ear-worm that is "A Pirate's Life For Me").
It's a politically incorrect ride from a different era, which is certainly part of its charm, but one scene has been raising eyebrows for some time now: the wench auction. Via those lifelike audio animatronic characters, we watch a pirate sell off women at auction, with the crowd chanting "We want the redhead!" It's a weird and shocking thing to see in a Disney theme park in the year 2017, especially since this ride has inspired an entire series of blockbuster movies.
And now it's undergoing a makeover. The news was buried at the bottom of a Disney Parks Blog news post (via Mashable) that is mostly focused on the extensive refurbishment of the Pirates attraction at Disneyland Paris, but here's the gist: the Disneyland and Walt Disney World versions of the ride will now feature a "loot" auction, with various pirates buying and selling stolen goods. And in a modern twist, the redheaded woman, previously up for auction in the original scene, will be re-dressed as the female pirate running the new auction.
You can see concept art for the new scene in the gallery below.
This is not the first time Pirates of the Caribbean has undergone extensive refurbishments. In 1997, scenes of pirates chasing women were modified to remove the sexual connotations (women are now chasing looting pirates and pirates are now chasing women carrying food). When the Pirates of the Caribbean movies became enormous hits, characters from the films were added to the ride, with Captain Jack Sparrow and Captain Barbossa now popping up throughout the narrative. Disney fans have argued back and forth about how these changes have weakened the attraction's thematic heft, transforming a tonal piece into a movie spin-off, but the attraction has endured and remains as wildly popular as ever.
Still, expect Disney theme park fans to have heated debates over this change. After all, Pirates of the Caribbean was the final attraction that Walt Disney himself had a personal hand in before his death in 1966, which makes it sacred ground. Others will note that a change like this, with its empowered female pirate, is a move toward modern political correctness and a step away from the attraction's original mission statement of plunging riders into the middle of a horrible event. /Film's own Peter Sciretta rolled his eyes this change.
But I'll just be honest: I have a hard time taking issue with this alteration. This scene has been making women uncomfortable for a long time and the juxtaposition of those singing pirates and the ride's freewheeling tone with a scene that implies sexual assault really does feel out-of-step with modern sensibilities. Yeah, I'm going to miss this scene because it's a fascinating time capsule depicting what was totally okay for a family attraction over 50 years ago. At the same time, this move ensures that millions of men, women and children will continue to enjoy Pirates of the Caribbean in the years ahead without Disney having to deal with any potential outcry.
The updated Pirates of the Caribbean is expected to open in 2018.