'Rick And Morty' Season 3 Finally Gets A Release Date Along With A New Trailer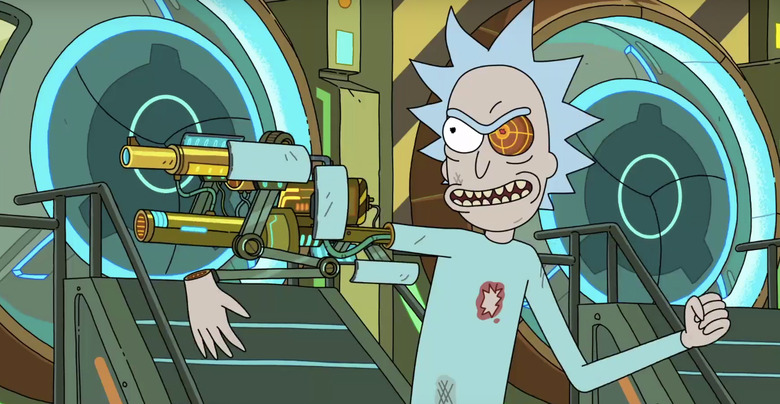 Wubba lubba dub dub! Attention, Rick and Morty fans, we officially know how much longer you'll have to wait before seeing the rest of the third season of the Adult Swim animated series. Fans have been desperate for more from the sci-fi comedy series ever since the surprise season premiere on April Fools' Day, and despite rumors behind the scenes that co-creators Dan Harmon and Justin Roiland were feuding, causing a delay in production, it was really just a matter of the duo taking too much time to get the season written and ready to go.Now you can find out the Rick and Morty season 3 release date and get a taste of what's coming in the rest of the season with a new trailer.
First up, the official release date was announced in a livestream hosted by Adult Swim and then posted here:
JULY 30.

— Rick and Morty (@RickandMorty) June 30, 2017
During the livestream, co-creator Justin Roiland revealed that there will be 10 episodes in the third season, arriving at 11:30pm ET on July 30. Though he hinted that a fourth season was already in the works, he wouldn't quite go so far as to confirm it, saying, "Not to say there's a season 4. There's a PR person freaking out right now."
To get a taste of what these new episodes will bring later this summer, here's the new trailer:
That song you hear in the trailer is by Dizzee Rascal and Armand Van Helden and it's called "Bonkers," which seems appropriate since Rick says in the trailer that this is the duo's "darkest year of adventures." Some of the insanity on display includes seeing Rick and Morty fighting green, perhaps undead versions of themselves, a machine that makes Summer big, and a literal call to adventure from something called The Vindicator.
Beyond that, we get to see tidbits of stuff that we've already seen before, like Rick transformed into a pickle, as well as some scenes from the third season premiere, including SEAL Team Ricks kicking some major ass. But one of the most promising teases is an episode that appears to take place in a world that's stylized like the Wasteland in Mad Max: Fury Road. That should make for a fun episode.
There have been a lot of theories about some of the stuff that will happen in the third season of Rick and Morty, especially after the season premiere. Will any of them be proven true, or are we just getting too obsessed with this show? We'll find out starting on July 30.