Darth Vader (As An Action Figure) Almost Had A Cameo In 'Guardians Of The Galaxy'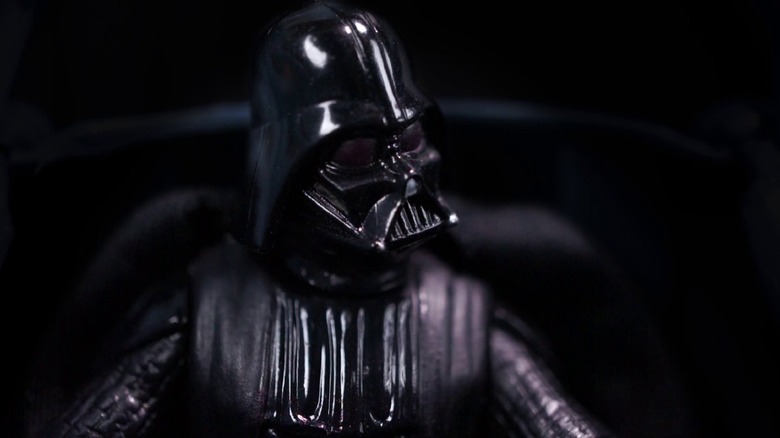 Guardians of the Galaxy almost wasn't the musically-driven ode to the '80s that we know and love today. Instead, the film's nod to Peter Quill being the lone human in a wacky space opera would have been a Darth Vader cameo. Or rather, a Darth Vader action figure cameo.
Marvel Studios President Kevin Feige is famously a huge Star Wars nerd and wanted to originally incorporate that into 2014's Guardians of the Galaxy. However, at director James Gunn's suggestion, that brief appearance of Darth Vader — a moment of corporate synergy Feige thought of before Disney had even acquired Lucasfilm — was replaced by Peter Quill's Walkman. And we were immediately hooked (on a feeling).
Feige revealed to Mashable that the original plan to characterize Peter Quill as a pop-culture savvy human in space was to have a Darth Vader action figure accidentally slip out of his bag in one scene:
"Always, we wanted to reveal at a certain point in the movie that Peter Quill was a human from Earth. And for a long time, I really thought it was going to be the greatest thing in the world that you're in a spaceship and he's talking to one of the alien characters and he knocks over his bag and one of the alien characters bends down and picks up — and it was a Darth Vader action figure — [and] goes, 'What's this?"
This is a far cry from the '80s-saturated soundtrack we eventually got. Peter's endearing passion for pop culture would be relegated to a single moment rather than the entire movie — which defined Guardians of the Galaxy and turned it into Marvel's surprise hit in the late summer of 2014. The Vader cameo, though cute, would definitely not have made Guardians one of the most successful Marvel Cinematic Universe films, critically and commercially, to date.
So how did Feige change his mind? He said:
"To make a long story short, James Gunn was basically like, 'I got a better idea. What if he had a Walkman and listened to music?' And it was like, 'Oh, that's a million times better. Because the 'Star Wars' thing was just a nerdy reference in a single moment, and obviously, the conceit of the music redefined the entire movie."
Gunn later confirmed that this was true on Twitter.
While a Star Wars moment would have been a sweet crossover, it doesn't match up to Peter Quill's Walkman and his iconic opening dance that set the zippy and irreverent tone of the first Guardians of the Galaxy, which was so influential that films like Suicide Squad tried to replicate it, to a much less successful degree. Now the Awesome Mixes are an essential part of the Guardians of the Galaxy and the Guardians of the Galaxy 2 lore — and arguably brought back the popularity of the audio cassette.