'Thor: Ragnarok' Gets The 8-Bit Trailer Treatment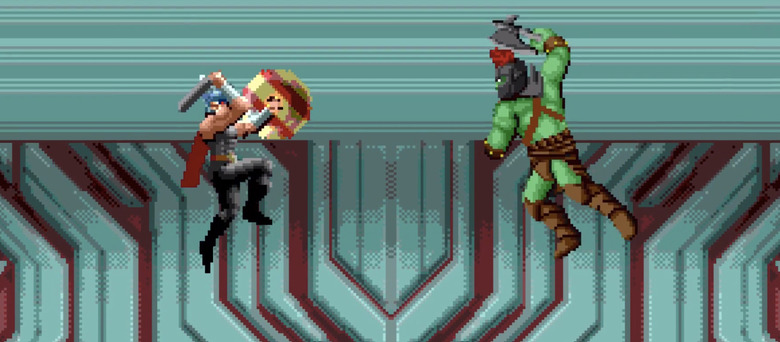 Fans of the Marvel Cinematic Universe will get Spider-Man: Homecoming in theaters next week, but after that it'll be four months until we get to see Thor: Ragnarok. The teaser trailer for the third installment of the God of Thunder's own film franchise blew the roof off, complete with the smashing of Mjolnir and the rocking of Led Zeppelin's signature tune "Immigrant Song."
Now while we're waiting to get our glimpse of new footage from Thor: Ragnarok (which should be during San Diego Comic-Con next month), we can enjoy the 8-bit version of the first trailer, complete with an awesome electronic version of the trailer's killer soundtrack. Watch the Thor: Ragnarok 8-bit trailer just below.
Admittedly, the end of the trailer (which is technically 16-bit instead of 8-bit) doesn't pack quite the same punch without Chris Hemsworth's enthusiastic shouting as soon as Hulk is revealed to be on the other side of the arena door on the planet of Sakaar. But even so, as usual, this kind of 8-bit trailer makes us wish there was some kind of retro game that we could play for this and all the Marvel Cinematic Universe movies.
Watch the real teaser trailer for Thor: Ragnarok again right here.
Thor (Chris Hemsworth) is imprisoned on the other side of the universe without his mighty hammer and finds himself in a race against time to get back to Asgard to stop Ragnarok – the destruction of his homeworld and the end of Asgardian civilization – at the hands of an all-powerful new threat, the ruthless Hela (Cate Blanchett). But first he must survive a deadly gladatorial contest that pits him against his former ally and fellow Avenger – The Incredible Hulk!"
Thor: Ragnarok arrives on November 3.