'Valerian And The City Of A Thousand Planets' Early Buzz: What Are The Critics Saying About Luc Besson's Sci-Fi Epic?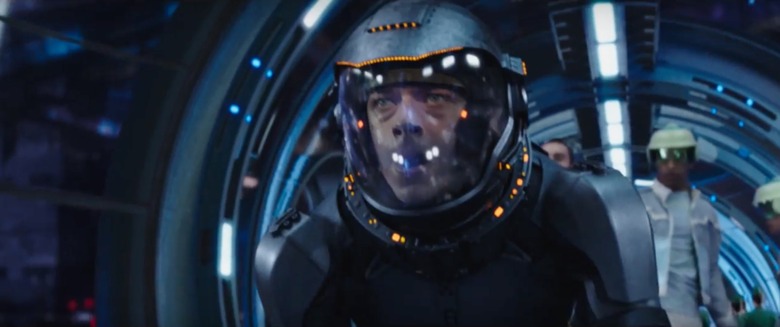 Valerian and the City of a Thousand Planets may prove to be a tough sell for audiences unfamiliar with the source material: the French comic book series Valérian and Laureline by writer Pierre Christin and artist Jean-Claude Mézières. However, those eye-popping trailers should grab the attention of regular moviegoers and the involvement of Leon, The Fifth Element, and Lucy director Luc Besson should ensure the attention of cinephiles.
But now, the film has begun to screen for critics and the social media embargo has come down. What are the first reactions? Is Valerian and the City of a Thousand Planets going to be a breath of fresh air for a summer where even the best movies feel a little familiar? Or is it just going to be more of the same?
So far, the reactions have been mixed-to-positive. Everyone seems to agree that the visuals are just as impressive in the context of the film as they are in the trailers, but some critics are taking issue with the generic story and stilted dialogue. At the very least, this movie sounds like it's going to be a true visual treat worth seeing on the big screen.
First, here's the mixed but ultimately positive reaction from our own Peter Sciretta:
The first half of #Valerian is visually stunning, gleefully inventive, unpredictable and bonkers insane....

— /Film (@slashfilm) June 29, 2017
Each sequence is filled w/ creatures & concepts you've never seen before. #Valerian's 2nd half becomes more formulaic, far less exciting...

— /Film (@slashfilm) June 29, 2017
Despite its problems, #Valerian needs to be experienced in 3D on the biggest screen possible. I want to experience more of this world.

— /Film (@slashfilm) June 29, 2017
And here's what other critics and writers are saying (we'll update this list as more reactions arrive):
#Valerian is the batsh*t kinda sci-fi, stuffed w/ wildly colorful & inventive sequences. Story is OK but some of the action blew my mind 👍 pic.twitter.com/WMSz1dZcoA

— Erik Davis (@ErikDavis) June 29, 2017
oh I saw VALERIAN!! it's one of my favorite movies of the year

— David Sims (@davidlsims) June 29, 2017
to elaborate: I def don't think it'll be for everyone. the dialogue is hella clunky as is the central romance. still loved every minute

— David Sims (@davidlsims) June 29, 2017
it's driven by the same good-hearted, humane philosophies that drove THE FIFTH ELEMENT. and every single set piece is wonderfully baroque

— David Sims (@davidlsims) June 29, 2017
mixed on Valerian, BUT: this movie is god damn SPECTACULAR to look at. if you're going to fork out extra $ for 3D, do it for this.

— oliver whitney (@cinemabite) June 29, 2017
Dug opening sequence of #Valerian, has amazing 3D look. Flavor of FIFTH ELEMENT but not the same payoff. Luc Besson fans are gonna luv it.

— Jason Guerrasio (@JasonGuerrasio) June 29, 2017
#Valerian: Inventive world-building and some awesomely unique set pieces. Runs out of steam eventually, but overall a fun, worthwhile romp.

— Angie J. Han (@ajhan) June 29, 2017
Valerian and the City of a Thousand Planets stars Dane DeHaan, Cara Delevingne, Clive Owen, Rihanna, Ethan Hawke, Herbie Hancock, Kris Wu, and Rutger Hauer. The film is scheduled to hit theaters on July 21, 2017. Here's the official synopsis:
In the 28th century, Valerian (Dane DeHaan) and Laureline (Cara Delevingne) are a team of special operatives charged with maintaining order throughout the human territories. Under assignment from the Minister of Defense, the two embark on a mission to the astonishing city of Alpha—an ever-expanding metropolis where species from all over the universe have converged over centuries to share knowledge, intelligence and cultures with each other.  There is a mystery at the center of Alpha, a dark force which threatens the peaceful existence of the City of a Thousand Planets, and Valerian and Laureline must race to identify the marauding menace and safeguard not just Alpha, but the future of the universe.