'Logan Lucky' Trailer: Channing Tatum & Adam Driver Are Redneck Robbers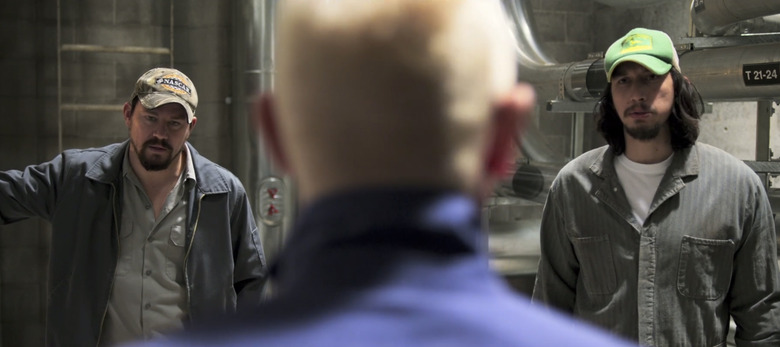 After planning three heists in Ocean's Eleven, Ocean's Twelve and Ocean's Thirteen, the formerly retired Steven Soderbergh is back behind the camera for a new heist, and he's brought his Magic Mike star with him.
Logan Lucky follows Channing Tatum as Jimmy Logan, a thirtysomething man fired from his job, looking to turn the bad luck of the Logan family around once and for all by pulling off a heist at the Charlotte Motor Speedway. But he'll need the help of his reluctant, one-armed brother Clyde (Adam Driver) and an incarcerated robbery expert named Joe Bang (Daniel Craig) to help him out. It's the kind of comedic crime you'd expect from Steven Soderbergh, and a new trailer just arrived with a bunch of new footage.
Watch the new Logan Lucky trailer below.
This trailer gives us some more details about the story, including the fact that Channing Tatum has a daughter that he's desperate to see again (his wife keeps them apart because he's bit of a screw-up). Plus, we get to see a little more of how the so-called "hillbilly heist" is being pulled off.
After dealing with more serious territory for awhile, it's nice to see that Steven Soderbergh hasn't lost his touch for comedy. The first Logan Lucky trailer was extremely entertaining, and it roll called the impressive cast that also includes Katherine Waterston, Riley Keough, Seth MacFarlane, Sebastian Stan, Katie Holmes and Hilary Swank. Plus, we'll also see Blue Ruin star Macon Blair and Dwight Yoakam popping up at some point.
However, the scene stealer here seems to be Daniel Craig, who may end up taking the entire movie with him. Craig's comedic roles are essentially non-existent,and his time spent as host on Saturday Night Live did not yield great results. But he looks to be positively hilarious in this, and it makes me hope that he makes the time to do more comedies in the future. Not that Craig needs any doors opened for him since he's already James Bond, but once Channing Tatum showed his comedy chops, he had a whole wealth of new opportunities at his disposal.
The Logans are a hardscrabble family from the hills of West Virginia, and their clan has been famous for its bad luck for nearly 90 years. But the conniving Jimmy Logan (Channing Tatum) decides its time to turn the family's luck around, and with a little help from his friends, the Redneck Robbers, he plans to steal $14 million from the Charlotte Motor Speedway.
Logan Lucky hits theaters on August 18.