AMC Dials The Number For 'Better Call Saul' Season 4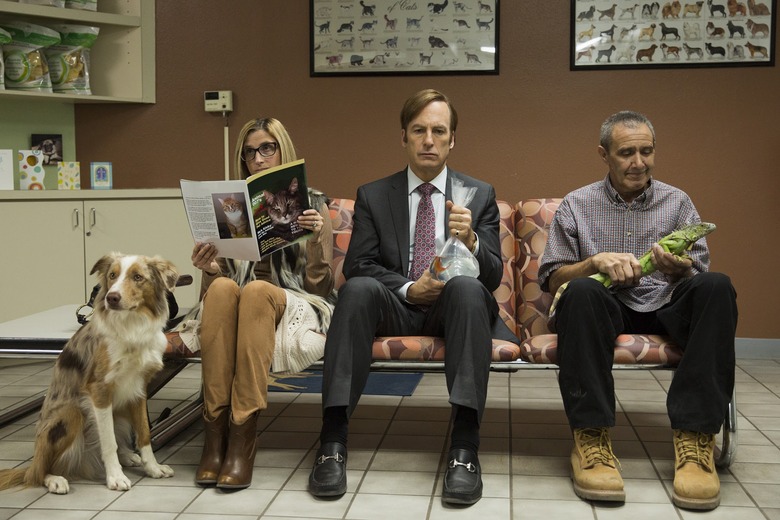 Better Call Saul, quite possibly the best show currently airing on television, has been renewed for a fourth season by AMC. This news comes shortly after a third season finale that summed up the show in a nutshell: it was hilarious, unnerving, inventively shot, loyal to Breaking Bad without leaning on it, and primed to give even a healthy viewer a panic attack.
AMC announced today that Better Call Saul season 4 will premiere in 2018 with a 10-episode season. No other details were announced, but the same cast and creative team are expected to remain on board. Charlie Collier, president of AMC, SundanceTV and AMC Studios, offered this statement:
Supporting artists we respect and admire; delivering truly outstanding character development and nuanced dramatic twists and turns; continuing a legacy of bold creative choices; loving writing that is the best in the business: Truly, 'S'all good, man. 'Congratulations to Vince, Peter, Bob and everyone involved with 'Better Call Saul.' Bring on season four!
Vince Gilligan and Peter Gould's drama shook off the "Breaking Bad prequel" label within its first season and has been unafraid of doing its own thing ever since. The trials and tribulations of Jimmy McGill are as bold, daring, emotionally crushing as anything we saw Walter White endure, even if the scale is smaller and far less violent. While the series has been a ratings success for AMC, it has never been as flashy or as pulpy as its parent show – it's been happy to exist in a more low-key space, wowing those who watch it with its transcendent performances, thoughtful plotting, and a subtle turning of the screws that makes each hour an emotional roller coaster.
Breaking Bad was a show about a bad man shaking off the guise of being a good person and embracing his inner monster – Better Call Saul is show about a good person slowly growing into a monster despite his best intentions. Bob Odenkirk's Jimmy McGill has yet to complete his transformation into "Saul Goodman," the "criminal lawyer" who had Walter White's back during his time as a drug kingpin, and I spend each episode silently wishing he never will. This is a show of unexpected warmth, startling cruelty, and acidic black comedy. It's just about perfect.
The second season of Better Call Saul was nominated for seven Emmy Awards last year and if there is any justice in the television awards season, it'll see a similar number of nods later this year. And of course, the third season's heartbreaking cliffhanger makes next year's season premiere a must-watch.