'Spider-Man: Homecoming' Clips: Peter Parker Deals With Teen Angst, Supervillains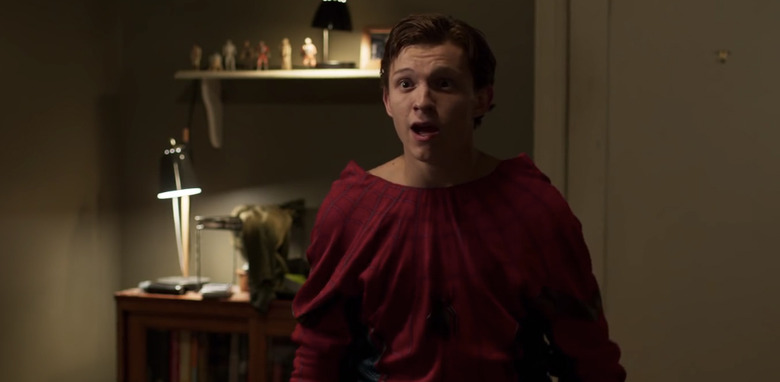 Spider-Man: Homecoming opens in less than two weeks, but if you absolutely, positively cannot wait another minute to see more of Tom Holland's Peter Parker and his ongoing adventures in the Marvel Cinematic Universe, we've got you covered. Four new clips from the film have arrived online, offering a look at the quieter, more awkward moments of Spider-Man's existence.
While the trailers tease plenty of big action and CGI showdowns between Spidey and the Vulture, these clips showcase the side of the movie that was praised after the film's initial screenings. While it will most definitely hit the beats you'd expect from a superhero movie, Homecoming has been essentially pitched as a John Hughes riff, a high school comedy, set in a world where superheroes frequently battle over the fate of the planet. These clips show off that side of the picture.
Well, most of them do. This first clip spends a moment with Michael Keaton's Adrian Toomes, whose salvage operation is threatened by Tony Stark's new "Damage Control" initiative. With the market in recovered alien goods being swiped out from under him, of course he's going to use his remaining extraterrestrial tech to build a powerful wing suit and become a super villain terrorizing the streets of New York City. That's just what you do.
The second clip gives us a look at the relationship between Marisa Tomei's Aunt May and Peter, and it's significantly different than what we've seen in previous Spider-Man movies. No longer an old maid, this May is younger and hipper and all about enjoying foreign cuisine with her brainy nephew...although she doesn't seem to approve of that Spider-Man fellow.
This clip is my favorite of the bunch, mainly because Martin Starr's character, a high school science teacher, gets to cap it off with a hilarious, deadpan line about protesting. Otherwise, this clip shows off some of Peter's classmates, including Tony Revolori's Flash Thompson and Zendaya's Michelle.
This final clip is probably the most spoiler-y of the bunch, but it's still mostly comedic business, not straight-up plot stuff. As is often the case, Peter Parker has a hard time keeping his identity a secret, but it's rarely been revealed in such an awkward and embarrassing way. From this clip, it seems like Jacob Batalon's Ned will make for some pretty fine comic relief.
Spider-Man: Homecoming opens on July 7, 2017. The early reactions have been almost unanimously positive, so it may be time to start getting your hopes up for this one.