Alec Baldwin Will Still Play Donald Trump On 'Saturday Night Live' Next Season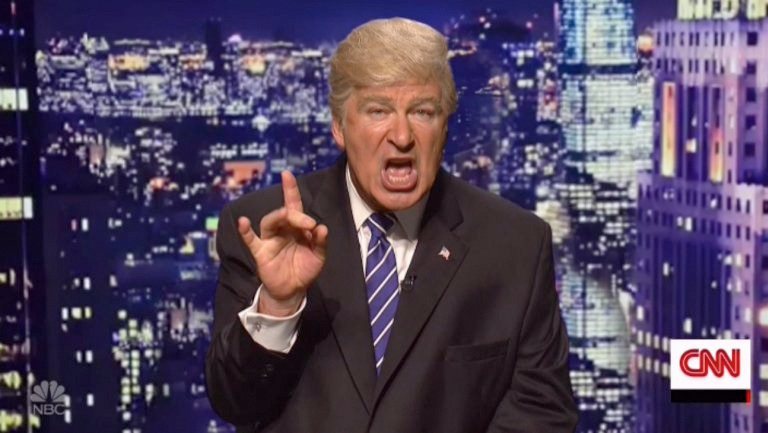 Back in the spring, while Saturday Night Live was still in the middle of its 42nd season, Alec Baldwin indicated that he might not keep playing Donald Trump much longer on the late night sketch series. Though his portrayal of the unqualified President of the United States of America resulted in some of the most consistently high ratings SNL had received in recent years, Baldwin said:
"I think the maliciousness of this White House has people very worried, which is why I might not do it much longer, by the way, that whole impersonation. I don't know how much more people can take it."
Because the reality of any given situation at the White House can be too hard to swallow and thus difficult to effectively parody, the actor was right to question whether it was something he could viably keep doing. But it turns out he either feels a responsibility to keep pissing off reality-show-host-in-chief, or he's getting paid handsomely to keep playing the role, because we'll keep seeing Alec Baldwin as Donald Trump on Saturday Night Live this fall.
Donald Trump's favorite news network, CNN, has word from Alec Baldwin himself that he will reprise his satirical turn as the 45th President of the United States of America for the upcoming 43rd season of SNL that begins this fall. However, he indicated that he might not be popping up as much as he did last season. When asked about his possible return, Baldwin said, "Yeah, we're going to fit that in. I think people have enjoyed it." He added, due to his busy fall schedule, that his appearances would be more akin to "a couple celery sticks" rather than a "whole meal" of orange, wrinkly mockery.
Considering how well Saturday Night Live did in the ratings last season, it comes as no surprise that Lorne Michaels has figured out a way to keep Alec Baldwin around as Donald Trump. Whether that's with a considerable paycheck or just with some friendly begging is unclear, but it's good to know that we won't have to go through a transitional period where SNL figures out how to handle the character that is Donald Trump.
Back when Alec Baldwin offered up the possibility of stepping away from the role, we offered up some possible ideas to replace him, and honestly, the most appealing one still seems to be having a different guest star play Donald Trump every week. Sure, Alec Baldwin is good at the role, but eventually he's going to get tired of it. Or maybe everyone is just banking on Donald Trump getting impeached this year. Of course, many assumed Trump could never win the presidency and we're all unfortunately seeing how that turned out now.
Another important question still waiting to be answered is how much of Melissa McCarthy will we see as Sean Spicer this season? Since the White House press secretary has taken to shilling his nonsense off-camera recently, that doesn't provide much material for mockery. But surely SNL can still find a way to bring that fantastic impression back to the show.
Now that we know Alec Baldwin is sticking with Trump, the focus should be on how many (if any) new cast members join the show this season. Last season saw the departure of Bobby Moynihan and Vanessa Bayer with a grand send-off, as well as a less ceremonious farewell to Sasheer Zamata. We'll likely we'll see a couple new featured players this season, but we'll be waiting a couple months before we find out who they are. Stay tuned.